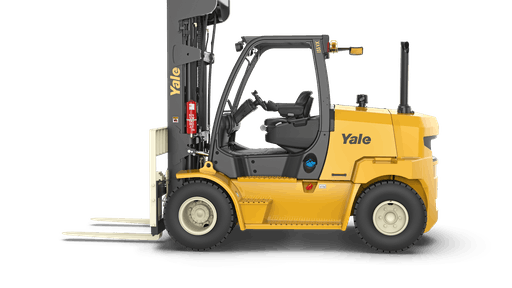 Yale Materials Handling Corp.
Lift truck operator training is becoming a bigger focus for many food and beverage operations. And, it's no wonder why.
Labor turnover in the U.S. warehousing industry reached a five-year high of nearly 60% last year, according to the Bureau of Labor Statistics, and in a survey commissioned by Yale to understand the top challenges in food and beverage distribution, the shortage of skilled labor was identified by survey respondents as their single greatest concern.
The labor turnover rate is so high and the skilled labor shortage is so challenging that companies must hire and train new employees quite frequently. What's more, with skilled labor so scarce, they need employees that they do have to be trained for success from the start, operating with proficiency as early as possible.
Training challenges
Operator training is quite the task. In fact, onboarding costs associated with a single new hire can often reach into the thousands. A company needs to have assigned trainers that can provide theoretical training, but that's not all. OSHA requires practical, hands-on experience too, so in addition to classroom instruction, trainers must observe and advise operators, usually in a live work environment.
Time to train operators is also a major factor. For many companies, training a single operator often requires 16-20 hours, and that's a conservative estimate. Because many operations cannot afford to set aside designated training-only equipment, lift trucks often need to be taken out of service to be utilized for training when they may otherwise be used to drive productivity on the shop floor. Space can also be a challenge, as trainers must constantly be on the lookout in live work settings to prevent interference with regular operations and potential risk of injury or damage to the equipment, product or facility.
Forklift simulators
Virtual reality (VR) may still sound like a futuristic technology, but it can already be found in everyday settings. Simulators are used as a powerful learning tool in a wide range of settings, and lift truck operator training is no exception.
Lift truck simulators provide an immersive experience that allows operators to make mistakes and learn in a realistic, yet controlled environment. Often, the floor platform moves in a manner that mimics an actual truck, and the controls that trainees use in the simulator are in fact the genuine controls from the piece of equipment they will be operating.
An efficient, cost-effective supplement
For food logistics operations frequently hiring and training new operators, forklift simulators can not only support a more efficient training framework, but can also help achieve recruitment savings and boost the applicant-to-employee conversion ratio. That's because simulators can be used as a screening tool to identify the best talent, helping to provide trainers with a better understanding of what's necessary to get operators to a more productive status. They can also enable operations to reduce recruitment costs, since only candidates that pass the VR simulation need to progress through interviews, background screenings and other hiring steps. Some systems are even so compact that they can be set up in a front lobby where applicants come to inquire about jobs, and they can be packed up and shipped via courier for use across several locations or at recruiting events.
Systems are also intuitive, so much so that a curious applicant can commence training and complete multiple levels very quickly. How can VR manage to accelerate learning? An immersive VR experience has been found to enhance memory recall. In fact, research into VR use in soft skills training found that VR learners were four times more focused than their e-learning peers.
Of course, virtual training alone is not sufficient – new operators must still satisfy other OSHA-mandated training requirements, including classroom instruction and hands-on experience, but VR can help augment a training program.
VR in practice
Most reputable lift truck partners offer the assistance and guidance needed both on-site and remotely to help set up simulators and use them to their full potential.
Once set up, virtual training programs require a slightly different support system, skillset and approach than traditional training formats. Where trainers once relied on subtle social cues indicating comprehension or confusion on the part of the trainee during traditional face-to-face classroom training, virtual reality equips the trainer with a data-based view of how the trainee is progressing and where they would benefit from additional support.
Companies can also follow the results of trained employees and help identify areas where they may require additional training or celebrate effective techniques. Operations can also use simulators to help employees refresh skills, experience new procedures or get a taste of new equipment features, such as fork-mounted cameras used for video pick-and-place enablement.
Customization and integration
As with any technology, maximizing value requires understanding not only its function, but how it can be tailored to best fit your business. For example, VR simulators can be customized to mimic the particular environment in which trainees will work, complete with racking layouts, aisle widths and more. To reap the full efficiency benefits of simulators, it is also important to consider the documentation, record-keeping and escalation protocols a VR system offers. Can it be used to track applicant information and record where they excel and where they need further reinforcement? Does it push pass or fail status into your HR or applicant tracking systems?
Finally, most technology solutions need upgrading from time to time, often in the form of software maintenance upgrades. Be sure to understand how the VR solution stays updated and how any future customizations or enhancements are implemented.
This is only the beginning for VR in the supply chain
Food and beverage operations and the broader supply chain are quickly warming to the opportunities presented by virtual reality. In fact, according to MHI, VR is expected to become increasingly common through 2030 and beyond, and lift truck operator training is just part of the picture. As businesses face continued pressure to optimize their performance and preserve slim margins, the technology is positioned to offer value in a range of other applications, from enhancing lift truck technician training to fostering collaboration in maintenance service and support functions. Suffice to say, virtual reality is very much a growing reality for the supply chain.