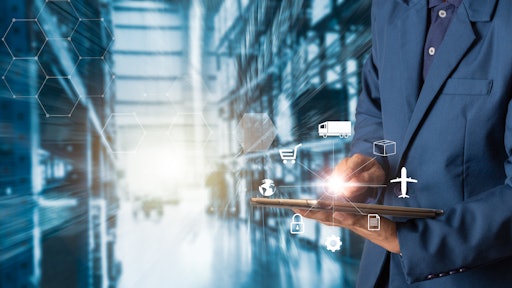 Getty Images
Supply chain interruptions and shifts in consumer behavior caused by the Coronavirus disease (COVID-19) have created new challenges for those in the food industry. A 54% increase in online U.S. grocery sales in 2020 required companies to adapt their operations to accommodate changes in consumer shopping habits.
Grocers also struggled with supply chain interruptions that caused out-of-stocks for many products to shoot sky high. As of January, out-of-stocks remained four times higher than pre-pandemic levels. Meanwhile, restaurants dealt with the operational challenges caused by capacity restrictions and stay-at-home orders.
Food industry players quickly learned that better visibility into supply chain operations is essential. That prompted an exploration into track-and-trace technologies to enhance visibility into all parts of the supply chain – from manufacturing to delivery to the end consumer.
Track and trace enables companies to identify holes in their supply chains. It also helps them determine how to get products to consumers faster. And finally, trace and trace is vital in attaining the most important goal -- keeping the food supply safe for customers. Leading companies are harnessing technology to better adapt in this fast-changing world.
Serving fresher food with better inventory management
During the early days of the pandemic, restaurants were forced to serve fewer customers and completely rethink their inventory approach. Many quick-service restaurants (QSRs) in particular, have said the volume of food consumed each day was reduced significantly, making it exceedingly difficult to ensure food stayed fresh. Going forward, many savvy restaurant operators are ditching error-prone, time-consuming pen and paper inventory checks to solve this problem. And, they are increasingly turning to radio frequency identification (RFID) technology to streamline inventory management.
RFID technology tracks the location of inventory using smart tags that can be automatically monitored by readers strategically placed throughout a food service facility or by handheld scanners powered by associates. Food is "checked in" as it arrives at the restaurant and "checked out" as it moves from storage to the kitchen or the front of the house for grab-and-go service.
The batch processing facilitated via RFID allows restaurants to dramatically improve inventory accuracy. With more profound insights into product details such as production date, expiration date and sales status, workers can improve product rotations and inventory turns to better ensure the safety and freshness of every dish they serve. Since inventory tracking is automated, fewer labor resources are required. These labor savings are critical in an environment where workforce challenges were high before the pandemic and have worsened since restaurants started reopening.
Eliminating expiration issues and reducing recalls
While restaurants were adjusting to lower volumes, grocers were encountering higher sales volumes. As consumers stayed home in 2020, U.S. grocery sales overall increased by 11% compared to the previous year – a $6 billion increase in monthly sales. With higher food volumes moving through their operations, food companies needed ways to accomplish routine tasks such as organizing inventory according to shelf life – in both warehouses and retail stores. Instead of relying on time-consuming manual processes, they turned to handheld RFID readers to speed up operations, such as checking expiration dates.
Armed with RFID readers, workers can read tagged items in seconds and quickly identify foods that have expired or are close to expiration. This improves food safety by protecting consumers from purchasing expired foods and also helps reduce waste by allowing grocers to arrange displays or food storage to expedite the sale of food close to expiration. Continuing to leverage this tool long term could result in significant cost savings for grocers given that food waste makes up 30% of a grocery store's trash.
RFID can also help food companies ranging from grocers to restaurants comply with food recalls, which is critical to preventing foodborne illnesses that make 48 million Americans sick and costs more than $15.6 billion each year. RFID technology allows companies to quickly identify and locate any recalled food in their inventories, so they can quickly pull it from their shelves or storage rooms.
Reduce spoilage through temperature monitoring
Another important way to improve food safety is through temperature-monitoring solutions, which help confirm temperature-sensitive foods have been appropriately handled and stored from packaging to final delivery. These solutions received increased scrutiny during the COVID-19 crisis due to the strict temperature control requirements of multiple vaccine formations. It soon became clear that not all temperature-monitoring solutions are the same.
When it comes to monitoring food temperature, older temperature monitoring solutions rely on devices that require users to download data via a USB connection to a computer. That data is then emailed to the quality control team for much-delayed compliance analysis.
In sharp contrast, emerging high-tech labels and Bluetooth-enabled sensors can deliver up-to-the-minute temperature readings of products, pallets and shipping containers to workers – often via the cloud for remote access by teams responsible for product quality monitoring and data trend analysis. The ability to maintain around the clock visibility into product temperatures is key to avoiding food safety-related losses in the future.
In the warehouse or grocery store, as inbound items are checked in, technologies such as RFID can communicate with the warehouse management system (WMS) or other inventory management system to automatically alert dock workers that temperature-sensitive items have arrived and must be immediately transferred to a temperature-controlled area.
When adapting to change becomes the "New Normal"
Food supply chain players will continue to face big changes and challenges in the months and years ahead. Supply chain interruptions and shifts in consumer behavior are likely to continue, and food supply chain companies must adapt to changes in regulations that are part of the Food and Drug Administration's (FDA) ongoing New Era of Smarter Food Safety initiative.
Fortunately, nine out of 10 industry decision makers recognize that technology gives them a competitive advantage, and 93% plan to increase their investments in food monitoring technology, according to a study from Zebra Technologies.
These companies realize that track-and-trace technologies can make it easier to monitor food handling and storage, preserve food quality, improve food safety and shift operations to meet changing business and regulatory requirements.