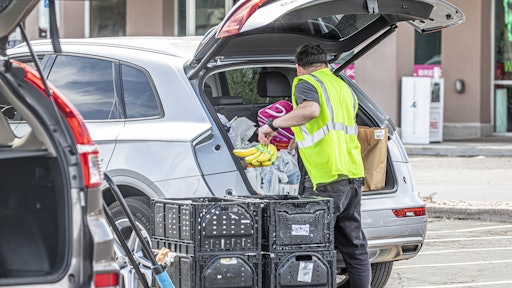 AdobeStock_340095827
Where are the in-store customers? The grocery store experience is not what it was at 2019's end. More and more, customers are opting for online shopping with contactless pick-up options. Grocery e-commerce is expected to augment from 3% in 2019 to 21% by 2025, with 40% of current online grocery retail shoppers likely to continue shopping online, according to Incisiv's Grocery Digital Maturity Benchmark 2020. This is leaving grocers and food and beverage retailers wondering if in-store purchasing will ever return to pre-COVID-19 levels. While the answer to this burning question is a resounding no, what will this mean for grocers moving forward, and how will they continue to delight the customer in an increasingly hybrid grocery shopping environment?
2021 grocery goals
It has become clear that pull-back for grocers is not going back to where it used to be. Knowing this, there are a few goals that grocers need to bear in mind in order to continue to delight a customer that has become accustomed to new ways of shopping.
The big four for grocers will be:
1. Real-time enterprise inventory (available to sell and available to promise). Many grocers neglect in-store inventory tracking, which subsequently impacts online inventory availability to promise.
2. Processes and technology that work symbiotically. Integrating technology that supports optimized processes to create a seamless customer experience and enhance customer loyalty.
3. Effective time compression. Minimizing the amount of time it takes to pick and deliver the product to the customer
4. Optimal inventory positioning. Making sure the right product is in the right place at the right time
Ultimately, positioning inventory closer to demand signals is going to be the grocer's best approach toward delighting and enhancing the customer experience. Perhaps the most effective way of achieving this is via a dark store. The dark store is not a new concept, and while a fairly simple concept, is not always obvious and requires a lot of moving parts. To start, let's dive into exactly how dark stores will not only operationally benefit grocers but also delight their customers.
Benefits of a dark store
Time compression. Time compression is critical for grocers. Some will try to make up time with speedier transportation, which ultimately drives up costs and reduces efficiency. Dark stores are a great way to increase time compression by moving inventory closer to demand signals and creating an environment that is configured specifically for ecommerce picking. In this sense, grocers have the opportunity to utilize the hub and spoke model for micro-fulfillment, with one or two large distribution centers – the hubs –accompanied by several dark stores – the spokes – that are strategically placed where demand merits.
Using the hub-and-spoke model, grocers can avoid the transportation costs of shipping complex orders from distant distribution centers and utilize order management technology and direct-to-consumer strategies to enable omnichannel pick up options such as buy-online-pickup-in-store (BOPIS) and curbside.
Dark stores or micro-fulfillment centers can come in many flavors. As the name implies, a dark store can be a store within a store that operates without traditional store labor. Additionally, it can be an abandoned, non-productive store that has been converted to a dark store to perform order fulfillment or a stand-alone, semi-automated or automated warehouse positioned within the geographical market to service online customers. Most importantly is that dark stores do not have to be an "all or nothing" endeavor. Grocers can employ a hybrid model, in which same and next-day orders are picked and fulfilled in the dark store, while other demand gets picked and fulfilled in the main hub.
Inventory positioning
The "perfect order." In grocery e-commerce, keeping the customer promise means minimizing substitutions and getting as close as possible to providing your customer with the perfect order. This is especially challenging in grocery, with the wide variety of SKUs and temperature-controlled items, putting grocery e-commerce orders as one of the most difficult to fulfill. According to Incisiv's report, grocery customer satisfaction is only at 48% for inventory visibility, which is to be expected when e-commerce inventory is being pulled from the same selection as in-store inventory. However, in a dark store where the inventory is allotted completely to online orders and positioned near the right demand signals, substitution rates are near zero, which results in higher customer satisfaction. Ultimately, dark stores increase the 'perfect order' rate and overall customer satisfaction.
Shopping experience. In the above scenario, while online grocery shoppers are satisfied with near-perfect orders, in-store shoppers are also being catered to for the optimal customer experience. Rather than forcing customers to compete with online shoppers over the same inventory, inventory is positioned strategically to reduce competition, store crowding and order dissatisfaction.
The nitty gritty
Dark stores are fairly simple in concept, but all of the above benefits come with a lot of moving parts and details that need to be nailed down in order to ensure that the dark store strategically benefits the business. Ensuring that the right inventory is in the right place is crucial. Demand planning, or understanding what demographics require what items, will ensure certain items are in stock in the right places, so whether it be an online or in-store shopper, they are able to find what they need, when and where they need it.
Additionally, labor planning plays a large role in the implementation of a dark store model. Understanding where you will need more labor for picking and fulfilling online orders and where automation could supplement will be key to maintaining the most efficient dark store.
Having the right technology and processes in place that work symbiotically to create a seamless experience is the final piece. This ranges from order management technology, which will enable truly agile omnichannel fulfillment to labor management technology, which will ensure that the operational processes run smoothly.
Conclusion
At the tail end of a difficult year, the only way out is forward, and dark stores seem to be the light at the end of the tunnel for grocers. Once you determine the right people, processes and technology, delighting the customer has never been easier.