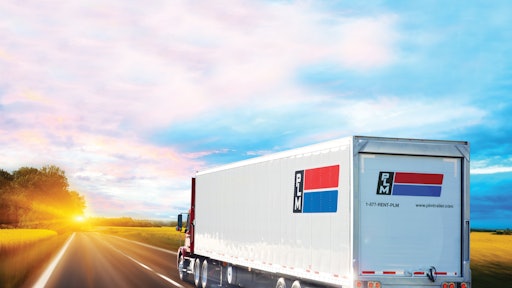 Spotting existing and potential problems like these—and finding fixes for them—falls on the PLM Customer Solutions Team, the Newark, NJ-based provider of fleet consulting and management services that also ranks as the largest lessor of refrigerated and frozen food trailers in the U.S. with over 9,000 units.
Simply put, the PLM team investigates a company operation and reports. They won't fine you, cuff you or put you in jail, but they can prevent that from happening—and save your company serious time and money in the process.
The Food Safety Modernization Act—a Game Changer
Of course, saving time and money is important for food producers, shippers, distributors and retailers that operate on slim margins. What's equally important is remaining compliant with the U.S. Food and Drug Administration's Food Safety Modernization Act (FSMA).
Signed into law in 2011, FSMA ushered in the most significant changes to U.S. regulations on food production, handling and safety in nearly eight decades. For refrigerated food transportation and, in particular, food handling, FSMA specifies new risk and hazard analysis, recordkeeping, procedures, and technology to ensure compliance with FSMA's regulations.
Some startling statistics were influential in driving FSMA and the resulting food safety regulations. Annually in the U.S., some 48 million people are sickened due to tainted food—roughly one in six Americans—while another 128,000 are hospitalized and 3,000 die from foodborne illnesses, like salmonella, according to the U.S. Centers for Disease Control and Prevention. Causes include improper processing and cross-contamination, as well as refrigeration.
"A game changer," says Andy Bailey of KeHE Distributors, when describing the impact of FSMA. Bailey, the company's director of transportation, based in Dallas, Texas, says PLM's ColdLink telematics system, which enables control, monitoring and documentation of trailer temperatures throughout deliveries, is key to FSMA compliance.
When it comes to compliance, "PLM has truly been a great partner in helping us put together a FSMA program," he says. "They've assisted by providing information, data, and recordkeeping information so that we can stay ahead of the game and remain compliant."
PLM takes its role as a partner seriously and is committed to helping customers manage regulatory changes such as those associated with FSMA.
Aside from the signing of FSMA into federal law, another turning point occurred in 2011, when Keith Shipp took over as president and CEO of PLM.
Some of Shipp's significant contributions include the implementation of a strategy focusing on customer needs and leveraging PLM's core strengths, as well as improving communication throughout the company. He has worked to develop, motivate and retain staff while simultaneously giving them more input in the creation of new products and processes to better serve the customer. Investing in new state of the art systems and software solutions to digitize processes to save customer time and identify fleet operating savings, is one example. In addition, Shipp carefully analyzed the expertise inherent at PLM and the requirements of its customers, ultimately identifying eight core areas to focus on in order to help customers increase efficiency and cut costs while also bolstering the bottom line.
These solutions, part of Shipp's long-term strategy for PLM, include fleet planning, application & design, maintenance, reports & analysis, safety & compliance, rental, disposition and financial policy.
Never Say No
According to the International Foodservice Distributors Association, food distributors' margins are less than 2 percent. For a sector that survives on such slim margins, partnering with a refrigerated fleet solutions firm that is hyper-focused on its customers' needs is critical.
Where does this focus start? One area is the deep freeze.
During a recent visit to KeHE's Dallas distribution center, PLM's Don Durm, vice president of customer solutions, was seemingly unfazed in a freezer chilled to 10 degrees below zero, when he described the PLM Foodservice Trailer Needs Analysis (FTNA).
PLM utilizes a defined process as part of the FTNA to analyze customer operational procedures during the product handing and transportation process. This process has consistently identified areas of concern, defects in the process and ultimately ways for PLM to help the customer improve food safety and save significant amounts of time and money based on their final recommendations. Not only are Durm and the PLM team vigilant about identifying customer solutions, but they are considered experts on FSMA rules. In fact, he helped the International Transportation Refrigeration Association draft a best practices guide for FSMA's Sanitary Transport of Food regulation.
"We try to learn our customers' business to properly design a refrigerated trailer that meets their specific application," Durm says. "PLM is able to leverage its extensive expertise in key areas to serve our customers' specific needs, and our customers tell us that is unique in the industry."
Indeed, the noteworthy difference in PLM's success is not financing, but something seemingly more mundane—albeit critical—and that's trailer application and design, points out Mark Domzalski, PLM's senior vice president.
Trailer application and design provides an indisputable competitive differentiator. At the same time, PLM offers customer focused, flexible financial solutions and terms that rivals do not provide, which reduce costs for customers.
PLM's Domzalski sums up the company's client culture the best, "We never want to tell a customer 'No.' We will work on a joint solution to meet everyone's need so our customers can continue to grow and succeed in their market."