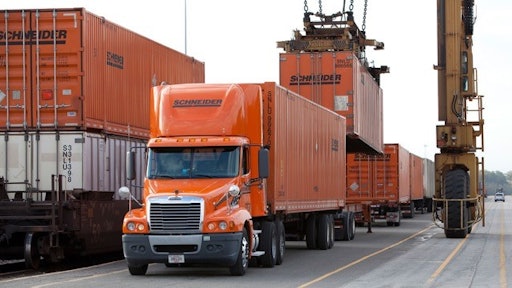 Day in and day out, food and beverage shippers are faced with numerous decisions regarding their business. The constant barrage of choices and considerations can be overwhelming, especially when a key contributor to the stress is selecting the right transportation provider.
Along with moving your products from Point A to Point B, the right transportation provider allows your supply chain to hum, while also protecting your brand. So, it goes without saying that selecting the right one is essential and maybe downright daunting—but it doesn't have to be.
Here are three easy steps in assessing the carrier that is the right fit for your business needs.
1) Understand the benefits of large support networks to protect your brand. Bigger doesn't always mean better, but the old expression holds true when it comes to transportation support networks. Carriers with large support networks use their own capacity and have more sophisticated resources and expertise to provide shippers with the best and most efficient ways to move freight.
For instance, carriers with large networks often employ load engineers who assess whether the appropriate resources are in place to ensure freight is loaded, blocked and braced correctly for transportation. The value of load engineers, however, dovetails into a larger quality control issue. They evaluate food and beverage product conditions during transit and how external transportation issues can affect the quality of the product once it's at its destination.
A driving factor for quality was laid out by the U.S. Food and Drug Administration's (FDA) Food Safety Modernization Act (FMSA), which aims to ensure food is safe by shifting the focus from responding to food contamination to preventing it. Shippers are responsible for ensuring that the correct equipment is being used and appropriate controls are in place when delivering food products—information that should be shared with their carriers to ensure protocol is followed and contamination is mitigated.
In conjunction with a shipper's FMSA standards, load engineers consistently take weather and altitude variables into consideration when shipping food and beverage products to ensure that the integrity of the product is maintained throughout the journey. Without this insight, the quality of the product, once it gets to its final destination, can mean added claims per load if the product has been compromised. Several claims per delivery can add up over time, needlessly contributing to the total cost of transportation. A carrier who has the expertise in place to properly load and ship food and beverage products can minimize unnecessary damages and claims. That's good news for the bottom line and your brand.
A transportation network with the right resources and expertise knows how important cargo security is for food and beverage shippers. Asset providers track their equipment tightly and monitor how the commodity is treated during transit. Knowing that freight is safe and tracking toward its end destination brings peace of mind. The key to security success lies not in a single silver bullet but rather a sophisticated layering of processes and technologies, providing strategic overlap so that the cargo is always covered. These networks can create more capacity with highly trained drivers available to keep time-sensitive freight safe and strategically moving.
The importance of freight safety cannot be reiterated enough—it is more than just a financial claim. When product is stolen or compromised in some way, the brand reputation takes a hit, as well. Tainted products stick in consumers' minds, making reputation issues just as bad—if not worse—than the actual theft itself. If a shipper can't ensure that its product is safe, consumers won't trust what ends up in front of them.
2) Opt for options backed by assets. When it comes to transportation, shippers have a lot of questions about how they should run their business. One of those questions is whether they should use asset- or non-asset-based carriers to manage their freight. Recently, food and beverage manufacturers have experienced margin compression due to the potential of lost market share, driven by the lack of consumer loyalty. That means finding any cost savings in the supply chain can make a significant—and necessary—impact.
Feeling the fiscal pinch, shippers may turn to using non-asset-based carriers to take advantage of potentially lower prices in the spot market. This approach allows shippers to cast a wide net when it comes to using brokerage providers. The drawbacks? Many times it is unknown who is moving the product, whether the drivers are ELD or CSA compliant, or if they'll be able to meet businesses needs on a consistent basis. An asset-based carrier with a controllable fleet mitigates those risks and offers capacity, flexibility and consistency, all of which help keep supply chain costs in check and ensure product availability for consumers.
When using third-party logistic providers (3PL), look for those that are backed by or include asset-based options. Engaging in a long-term agreement with an asset-based provider or reputable 3PL yields service efficiencies and consistency in product forecasting. This is beneficial because shippers experience more consistent rates year-round, and they can use the data gleaned over the length of the term to more accurately predict freight costs in the future.
Another factor to consider when selecting a transportation provider is whether it has the ability to provide multimodal solutions for shippers. This flexibility and advanced mobility keeps product moving, because it can accommodate for extenuating circumstances. Major closures due to construction or weather conditions can negatively impact shipping timelines and product availability. Using a carrier with robust offerings can allow for freight nimbleness that non-asset providers may not be able to deliver.
Lastly, applying a centralized procurement strategy eliminates a piecemeal regional procurement approach, which often results in a larger overall transportation spend. Shippers need to assess their total transportation cost, not just parts of it, and determine whether a fractured transportation approach makes sense. Being consistent with several core carriers across an entire business or parent company can produce greater consistency and savings.
3) Find ELD-compliant carriers. The deadline for ELD compliance is quickly approaching, and with that comes an unsurprising tightening of capacity, as carriers are either still noncompliant or struggling to adeptly implement and use the devices. The electronic solution will monitor drivers' hours of service (the hours a driver is legally allowed to drive), making it easier to track, manage and share records of duty status data.
Beginning Dec. 18, roadside enforcement personnel will begin documenting ELD violations. With the new regulation, non-compliant carriers/drivers will be issued citations, and eventually be put out of service. This means if your product is on one of these trucks, it's going to be delayed for an undetermined amount of time. With cargo that has a limited shelf life, 10 hours (at least) is a lot to lose.
To maximize efficiency, shippers should find a multimodal carrier that is an early adopter of ELDs and has already worked through the productivity, driver compliance and acceptance issues associated with this technology. Navigating the issues early, and being confident in the required compliance, ensures that drivers can do their job as efficiently as possible. Shippers who opt to use a non-compliant carrier can even be held liable if the driver is stopped, cited or involved in an accident.
Because ELDs will help track hours of service, food and beverage shippers should work with ELD-compliant carriers now to discuss any necessary transportation changes. Due to changes with the mandate, current non-ELD-compliant drivers will see a reduction in miles driven. Assessing the impacts to business from an ordering and fulfillment process will help identify required timeline changes and provide visibility into whether there is merit in restructuring the transportation plan. This could include converting some truckload business to intermodal for maximum efficiency. Keeping food and beverage items moving is important, so using carriers that are compliant is imperative, especially as a capacity crunch looms.
Turning the Transportation Tables
While the logistics of shipping food and beverage products can seem overwhelming, choosing the right carrier for the job can actually be an easy mark to check off a shipper's lengthy to-do list. Working with carriers that have large support networks and are already ELD compliant alleviates the burdens that come with managing a supply chain—and often save on cost, too. Because these types of carriers are better prepared to meet the unique needs of the industry, shippers can worry less about how their products get from A to B, and focus more on finding new ways to grow their business into tomorrow.