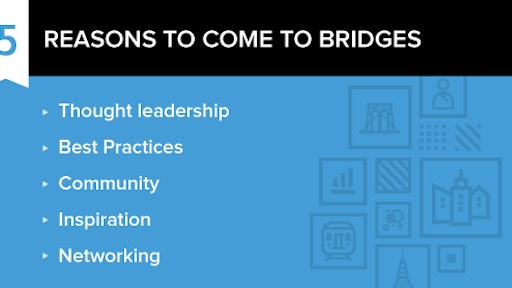 Editors note: The following blog post was originally published by GT Nexus.
The GT Nexus team at Infor is excited to host its annual conference, Bridges at Inforum, in New York City, July 10-12, 2017. For over a decade, Bridges has been a fixture of supply chain executives' calendars, from all over the world. The event has spanned both North American coasts, and brings together leaders from the largest global companies.
There are plenty of reasons why you should attend Bridges. Here are our top five.
Reason #1 - Thought Leadership
Bridges started out as a GT Nexus user conference, but it's evolved over the years into a thought leadership forum with an unparalleled agenda. Today's Bridges is jam-packed with executive customer keynotes from Helly Hansen, CNH International, Caterpillar, Rockport and Electrolux. These visionaries will provide key insights on how to manage and mitigate supply chain risk, use global logistics control towers, define visibility, consolidate systems, and set up new supply chain operations for spinoff companies.
We are also thrilled to work with the AWESOME nonprofit organization this year and will host a special panel discussion, "Leveraging Technology and Building Connections to Compete in a Networked Future," powered by AWESOME and featuring executives from Starbucks, Johnson & Johnson, Sims Metal Management and Boeing.
And all of that is merely who's speaking on the mainstage.
Reason #2 - Best Practice Sharing
Not to be outdone, Bridges track sessions are filled with customers and partners discussing business issues, best practices and cloud-based solutions for the modern world. These interactive panel discussions will include supply chain professionals from Kiabi, Solvay, Del Monte, Ecolab, Cabelas, Accenture, Tompkins International, KSA and many more.
Take a behind the scenes look at cutting edge supply chains, and learn all there is to know about industry buzzwords such as blockchain, sustainability, servitization and digital transformation.
Reason #3 - The Community
Bridges has a community unlike that of any other supply chain event. Bridges draws top level supply chain executives from the largest companies in the world into an atmosphere that fosters education, collaboration and good old fashioned fun. What's more is that these supply chain executives share a common thread, they are all optimizing their global supply chains on the GT Nexus platform. This provides an excellent opportunity for attendees to learn from one another.
Reason #4 – Be Inspired
Back by popular demand, the Women's Infor Network (WIN) session has become a fan favorite for all attendees (regardless of gender). In our 2017 session, "The Change Makers: Closing Technological, Societal and Political gaps," we welcome a diverse group of women to speak to their experiences solving difficult problems, including Susan Rice, former U.S. national security adviser and ambassador to the United Nations.
From addressing a lack of diversity in the tech workforce, to a panel discussion on challenges of the current geopolitical climate, to the latest advances in diagnosing and preventing medical disorders, this year's session will leave you feeling both inspired and informed.
Reason #5—Network and Connect
The Hub is where all of Bridges and Inforum converges, connects and intersects. Here is where you can connect with Infor's sponsors and exhibitors, learn from software and product experts, explore innovation, and participate in structured and free flowing activities and discussions.
Bonus – Have a Little Fun!
Bridges offers daily opportunities to network with the leading minds in supply chain innovation. In 2017, attendees will have the opportunity to experience our private dinner, lounge and casino at the iconic Rainbow Room at the top of the Rockefeller Center. We also will host a number of networking receptions, and finish the event with a private performance by a celebrated Grammy-winning, Hot 100-chart-topping singer, songwriter, producer and musician.
So, for all these reasons—and dozens more—register now.