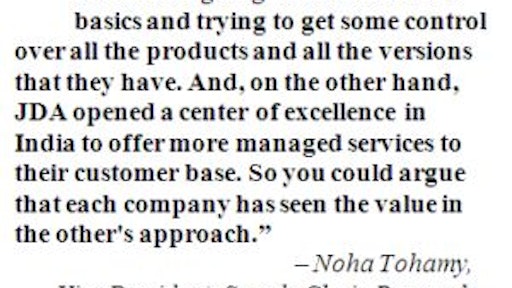 Scottsdale, AZ — November 5, 2009 — Supply chain solution provider
JDA Software Group
announced today that it has signed a definitive merger agreement to acquire
i2 Technologies
in a deal valued at nearly $400 million net, completing a journey that the two companies began last year when JDA initially set its sights on the rival software company.
The acquisition gives JDA a stronger foothold in the manufacturing (particularly discrete) supply chain space, where i2 was strong. JDA historically had been strong in the retail supply chain space but had targeted a strong position in manufacturing, including with its previous acquisition of i2 rival Manugistics.
In fact, at least one analyst suggested that the i2 acquisition puts JDA in a much stronger position to compete with ERP heavyweights SAP and Oracle, which have been busy building their own supply chain portfolios. The deal also puts i2 customers on more secure ground that the software company — and its solutions — will remain a viable alternative to SAP and Oracle.
History of the Deal
JDA had initially inked an agreement to acquire i2 in August 2008 for about $350 million net, but the two put the deal on ice in December after i2 said that it received a proposal from JDA to lower the price of the deal. JDA previously had acquired Manugistics in July 2006, enabling the company to beef up its offering for demand management, pricing optimization, and transportation and logistics management.
JDA's purchase price for i2 this time around is $434.4 million, or $18 per share. Net of i2's cash and the retirement of preferred stock, the price tag on the deal works out to about $396 million.
"Our strategic rationale for acquiring i2 is even more compelling today than it was a year ago," said JDA CEO Hamish Brewer in the companies' statement on the deal. "The challenges of the economic crisis have focused the market's attention on the disciplines of supply chain planning, and JDA has established a leading role in this active market. Integrating i2's solutions and expertise will only expand our opportunity to build substantial new shareholder value over the coming years."
i2 reported this week revenue for its third quarter was $54.6 million against $64.8 million in the third quarter of 2008, a decrease of $10.1 million or 16 percent. However, its net income of $10.8 million for the most recent quarter was a sharp increase over the $2.2 million net income reported for the same period last year.
Impact on i2 Customers
The combined company will have more than 6,100 customers, spanning manufacturing, wholesale and retail. While JDA had traditionally been focused on the retail sector, its recent acquisitions, including of Manugistics, had driven the manufacturing side of its business to around 40 percent of revenues. The i2 deal should push that figure to well over 50 percent, given i2's heavy focus on the discrete manufacturing space.
i2's chairman, president and CEO,
Jackson L. Wilson, Jr.
, called the deal "a powerful combination" in the companies' statement. "Our customers will be supported by a team of supply chain professionals that is unmatched in the industry. Innovation will accelerate. Our expanded geographic footprint will enhance sales penetration and service delivery. This is the right transaction for our customers, partners and employees."
Noha Tohamy
, vice president for supply chain research with Boston-based analyst firm
AMR Research
, said that the combination of the two companies should provide some comfort to i2 customers that might have had doubts about the future of the company and its offerings over the long haul. "Viability is probably the biggest win for i2 and its customers," Tohamy said.
Tohamy also pointed to Brewer's comments in an analyst call today regarding the acquisition that JDA and i2 customers would continue to see updates and upgrades across all products from the combined company. "None of customers will have to go backwards in functionality or on a forced march to make a change to their solutions," Tohamy said.
The challenges for JDA in the acquisition, Tohamy noted, will be that i2 comes to the table with a wide range of complex solutions that target specialized problems in industries like high tech and automotive. "Over the years, their products have proliferated quite a bit, and that makes it difficult to manage i2 as a software company," Tohamy said. In the analyst regarding the acquisition, Brewer himself said that it could take years to rationalize the two companies' products.
However, over the past year, i2 and JDA have moved closer in terms of their culture, Tohamy said. "With Jack Wilson, i2 has been more focused on going back to software basics and trying to get some control over all the products and all the versions that they have. And, on the other hand, JDA opened a center of excellence in India to offer more managed services to their customer base. So you could argue that each company has seen the value in the other's approach."
Challenging the Heavyweights
JDA said that the acquisition "creates the world's largest provider of supply chain management software," and Tohamy suggested that the acquisition puts JDA on more solid footing to compete with SAP and Oracle, the two 800-pound gorillas of the ERP space for large enterprises. "From a revenue standpoint, the big players are SAP, Oracle and now JDA," Tohamy said.
For SAP and Oracle customers, she added, the game hasn't really changed as a result of the acquisition announcement, with the key question facing them being whether to stay with a best-of-breed solution like Manugistics or i2, or to standardize on SAP or Oracle across their technology landscape.
Tohamy also noted that the acquisition is another sign that the supply chain space has "arrived" or "grown up" as an industry. Right now, she said, many companies are still trying to get more value out of their investments in supply chain technology, so the JDA-i2 hookup does not necessarily a new round of innovation in the space. But it will mean more stability in the vendor base, which, she concluded, "hopefully will mean higher adoption of supply chain management solutions."
Companies in this article