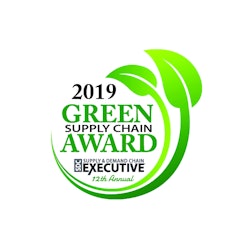 Sixteen-year-old environmental activist Greta Thunberg had the globe talking about the importance of sustainability this year as climate change became the topic of several headline-inducing political debates. Though the teenager's call for sustainability gained recognition worldwide, it is an issue that the supply chain profession has been addressing for several years now.
The 2019 recipients of Supply & Demand Chain Executive's Green Supply Chain Award have made it their goal to make their supply chains more ecofriendly, focusing on ways to reuse or recycle items throughout their operations. Each company proves its commitment by creating solutions that not only improve the environment, but also its bottom line. Those that made notable additions this year are listed below. To view the full list of winners, please click here.
3GTMS
3GTMS' transportation management solution (TMS) uses proprietary routing algorithms to help customers increase the efficiency of their routes. The technology responds in real time to dynamic routing factors and ensures that customers are maximizing route efficiencies no matter what last-minute changes may occur. As more customers implement the solution, fewer miles have been reported because of more optimized routes and truckloads. In addition, the company's clients now have the ability to consolidate more orders and deliver them in the most cost-effective manner possible in terms of miles driven and money spent.
ALOM
Supply chain sustainability and environmental protection is a core mission in ALOM's internal operations. Two years ago, the company focused its sustainability efforts on technology solutions to increase the efficiency and speed of order management, which reduced transportation costs and distance traveled for both supplied materials and orders shipped. Meanwhile, the company has kicked its sustainability program into high gear, opening a 50,000 square-foot production and fulfillment facility in Indianapolis to meet growing regional demand, further shortening fulfillment times to Midwest and Eastern destinations. Within a year, ALOM outgrew its available capacity and has since moved to a new 160,000 square-foot building. When ALOM first signed the lease, the building was just a cement slab floor with tilt-up cement walls and a roof. This provided the company's operations planners with the opportunity to design the facility from the ground up and incorporate high-efficiency, energy-saving technology. The company will be monitoring energy usage closely in the months ahead, with sustainability a key metric of its report.
The overall design of AutoStore impacts a green initiative. Traditional warehouse design is with human workers in mind, while AutoStore condenses space down and removes wasted space around inventory. The AutoStore system has two product lines that include five modules: the grid, robots, the controller, bins and ports. Individual AutoStore modules include green technology as well as the entire system providing end-users a way to enhance their company's green mission. Both product lines use rechargeable batteries, while its robot lines can be charged when it has no tasks. Many of the company's clients have seen immense savings in their electric costs.
Cass Information Systems provides solutions through the utilization of technology to obtain cost and process efficiencies for its customers. These solutions help them meet green supply chain goals, which include accelerating the amount of electronic data interchange (EDI) between customers, their freight carriers and Cass. This results in a reduction of paper transactions and maximizes EDI without sacrificing controls and accuracy. In addition, the company's centralized business intelligence manages the supply chain more efficiently and provides further positive environmental impact for its customers.
Cloudleaf
Supply chain waste includes the obvious areas that appear on the balance sheet, such as materials and energy. By reducing waste along the entire supply chain, secondary waste can also be disposed. Cloudleaf is working to close the visibility gap into supply chain waste, which they estimate averages 20 percent for most companies. This blind spot can account for preventable waste anywhere in the supply chain. Cloudleaf has developed a true end-to-end solution that increases waste visibility. The company is currently working with companies in various industries to increase waste visibility, while reducing costs so that all can benefit.
DSC is committed to the sustainability of its customers as well as their customers. DSC has a goal to eliminate waste and cost within its supply chain, making sustainability a core component of its strategy. The company has reduced utility metrics on average by 8 percent year over year across all locations in the DSC network. To maintain its goals, the company has created a monthly transportation consolidation status report, which tracks and evaluates its activity. In 2018, DSC achieved an 11.6 percent reduction in carbon emissions.
Elemica helps customers improve and achieve their measurable sustainability goals through the automation of manual processes, reducing the usage of paper. By automating business processes for sourcing, procurement, order management, inventory and logistics, the company has streamlined operations, boosting efficiencies and reducing errors. The company's Elemica Move for Logistics Management helps its clients lower their carbon footprint and fuel usage by optimizing shipments and loads. In addition, it allows businesses to connect and collaborate with all logistics service providers so trucks are shipped fuller and to the right location. Successful first-time deliveries lower costs by eliminating the need to use expedited freight, eliminating wasteful idling of trucks and lowering carbon emissions.
Fleet Advantage serves companies within the supply chain by providing a turn-key asset management solution for companies with corporate transportation fleets. The solution encompasses many facets of sustainability, including optimizing vehicle specification, specifying lighter components and allowing for longer maintenance intervals, while disposing of pre-owned equipment to a secondary market for more fuel-efficient vehicles. The software allows organizations to leverage data analytics to lower fuel costs by monitoring various metrics in fuel economy, thus conserving fuel resources while also reducing emissions, lowering costs and creating a cleaner environment.
JAGGAER provides a software platform for end-to-end management of all supply chain and procurement processes and spend categories. The company assists in implementing these processes for its clients to help meet their sustainability strategies at key points in the supply chain. Meanwhile, JAGGAER can help its clients' green supply chain strategies on projects across the globe by providing a technology platform that enables customers to adhere closely to local guidelines and directives.
Noodle.ai's mission is to create a world without waste using advanced Enterprise AI®. Current systems are failing to give supply chain leaders precise predictions and probabilities, leading to excessive amounts of waste. The company provides an Enterprise AI application to its clients that uses a sophisticated proprietary machine learning algorithm to predict and optimize critical operational variables. This allows managers to make better decisions while using both internal and external data. Noodle.ai's applications are intuitive user interfaces to help educate leaders on what actions they may take to reduce buffer sizes, be more responsive and increase flow.
OpenText is a global provider of cloud and software-based Enterprise Information Management solutions. A core part of the company's offering allows customers to fully digitize their supply chain operations through digitized, paper-based transactions in combination with EDI and electronic fax-based solutions. By helping companies digitize their supply chains, OpenText is helping them significantly remove paper-based transactions from internal and external flow, reducing CO2 emissions.
The Raymond Corporation has prioritized incorporating sustainability into its supply chain by several measures. The company has upgraded its software and controllers to an automated logic and lighting controls programs to zone and control factor and office lighting, heating and air conditioning based on utilization. It has implemented sustainable packaging using sustainably sourced materials, while also dedicating five workers to minimize the waste stream. Raymond has also established a program with its Sales & Service Centers to recycle metal skids and cradles. The program takes shipping cradles, sorts the metals, palatizes them and ships them back to the cradle manufacturer. The recycled metal is then used on new shipping cradles, thus preventing reusable materials from ending up in a scrap yard. To date, over $200,000 in rebate checks have been sent to multiple sales and service centers from the cradle manufacturer.
Schaefer Systems International Inc.
SSI SCHAEFER has helped numerous companies meet sustainability initiatives with its reusable packaging. The company allows its clients to trade in old packaging products and receive a credit toward new reusable packaging solutions. Clients can then go to the ssitote.com/sustainability website and submit a plastic recycling request. To date, SSI SCHAEFER has had numerous clients take advantage of the program, which allows shipping directly to a recycling facility. Reusable packaging is then implemented within their supply chain, keeping materials out of landfills.
Trinity Fruit Company
Trinity Fruit Company is a member of the Sustainable Packaging Coalition (SPC) as well as the How2Recycle label program. This program offers unique labeling on packaging, showing clear and concise instructions about a product's recyclability. This educates the company's consumers on how to recycle its products and empower them to focus less on deciphering recyclability and more on enjoying the product. Since joining the programs, Trinity Fruit Company has begun to eliminate unnecessary plastic packaging of its products and is also evaluating alternatives for single-use plastics.