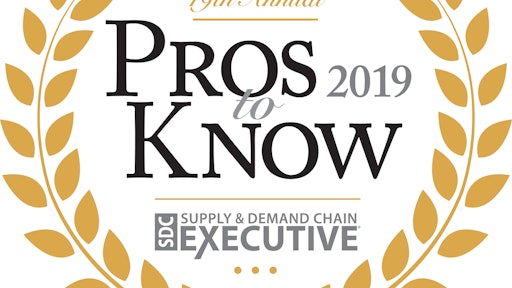 Supply & Demand Chain Executive, the executive's user manual for successful supply and demand chain transformation, is pleased to announce the 19th annual listing of Pros to Know in the supply chain industry.
The annual award recognizes Provider Pros and Practitioner Pros, including teams. The Provider Pros to Know is a listing of individuals from a software firm or service provider, consultancy or academia who helped their supply chain clients or the supply chain community at large prepare to meet the significant challenges in the year ahead. This year's list includes nearly 200 qualified Pros to Know.
The Practitioner Pros to Know is a listing of exceptional corporate executives at manufacturing and non-manufacturing enterprises who are leading initiatives to help prepare their companies' supply chains for the significant challenges in the year ahead
To see the entire list of Pros to Know, please click here. Featured recipients are as follows:
Providers to Know
Phil Marlowe, Founder, CEO and Chief Logistician, Acuitive Solutions
Phil Marlowe has been a respected thought leader of transportation management software solutions for over 25 years. Customers place their trust in him knowing that he understands their businesses and international transportation challenges intimately— having been on both sides of the equation. Clients often claim that there is "Nothing Phil doesn't know about inbound logistics and transportation!" No matter the challenge, Marlowe proves to customers that he can solve the problem. With his personable leadership skills, he understands the customer's business processes and is able to look at the big picture, truly making him a unique expert in the industry.
Kaushal Dave, Global Vice President of Solutions Development and Customer Engagement, Aera Technology
Kaushal Dave combines his technological prowess with deep expertise across the full supply chain life cycle, making him known for his intellect, leadership, tireless work ethic and outstanding communication skills. For over a decade, Dave has worked with more than 700 organizations to design and implement solutions that deliver multi-million-dollar payback in supply chain optimization. These days, Dave spends his time across Europe, Asia and North America, working one-on-one with business and IT leaders of Aera clients, providing expert guidance in mapping out supply chain pain points, whiteboarding options, and designing and implementing solutions that are generating tremendous payback in operational efficiencies and insight.
Hannah Kain, President and CEO, ALOM
Hannah Kain continues to make her career as a supply chain executive notable. Just in 2018, Kain spearheaded a strategic growth initiative to address projected capacity increase requirements from existing and new business. She accomplished this by establishing a European headquarters operation and by expanding North American production and inventory capacity by 62 percent. In the looming trade war against China, Kain positioned ALOM to procure greater amounts of pre- or low-tariff imports and offered insight as an industry insider on the trade war to several media outlets. Kain is personally involved in advocating career opportunities through ALOM membership and support of several industry groups. She continues to host events and open houses at ALOM for student groups and speaks on industry panels across the U.S. to promote career opportunities in the supply chain.
Edward Smith, Managing Director of Arkieva Europe, Arkieva
With over 25 years of experience in the supply chain industry, Edward Smith leads the implementation of a multitude of optimization products as the managing director of Arkieva Europe. He has led numerous supply chain optimization projects with several big-named global manufacturing businesses. His vast knowledge and experience in the supply chain and operational domain allows him to bring a unique perspective to each client project and implementation. Smith understands that businesses are looking for a faster response time and helps clients look for ways to improve collaboration and implement real-time forecasting methods that can meet changing customer demands in a quick but efficient way.
Jason Averill, President & CEO, Avercast
Jason Averill is a second-generation forecasting and demand planning expert with more than 20 years in the industry. In his tenure, he has consulted with numerous Fortune 500 companies on supply chain practices. As the President and CEO of Avercast, he works directly with many industry executives and practitioners to advance industry research, collaborate on new theories and improve available technologies.
Sami Peltonen, VP Products and Business Management of North America, Basware
Sami Peltonen is a product management guru, boasting two decades of experience developing and delivering solutions that streamline daily tasks for procurement and finance professionals, enabling them to achieve greater efficiencies within their organizations. As a thought leader in the payments and procurement fields, he is a frequent speaker and author. In his role, Peltonen helps customers learn how to leverage technology to improve their supply chain and gain a competitive advantage.
Jake Barr, CEO, BlueWorld Supply Chain Consulting
Jake Barr is known for being a supply chain innovator in the industry and has been an outspoken champion of moving business processes to the cloud to simplify work, drive organizational design and achieve efficiencies. He advocates for leveraging both artificial intelligence and machine learning to drive change in how businesses deliver on performance. Barr is known throughout the industry for his vision and pragmatic ways to help customers. He continues to serve on industry councils, think tanks, academic forums and conference panels to push the pace of innovation in the space.
Pervinder Johar, CEO, Blume Global
Pervinder Johar has a deep and diverse background in supply chain management and technology, spanning more than 30 years. Serving as the CEO of Blume Global, he has provided innovative solutions to the global supply chain and logistics industries, as well as managed global supply chain systems for companies. Johar is guiding Blume's next wave of transformative solutions for the supply chain marketplace. He has vast experience building strong, lasting relationships with companies as well as clients.
Mark Pluta, Chief Technology Officer, Blume Global
As chief technology officer at Blume Global, Mark Pluta leads artificial intelligence platform development and science teams, while driving architectural strategy for the cloud, AI and machine learning-based Blume Digital Platform. He has a passion for building products that help change the world, which drives his love for supply chain technology. In addition to his passion for technology, Pluta enjoys innovating with customers and prefers to interact directly with them about their vision for the future and how they can build products differently. His drive and passion is infectious at Blume Global as he continues to maintain his goal of changing the way the supply chain is done.
Lisa Penn, Strategic Account Manager of Fashion Vertical, B-Stock
On a daily basis Lisa Penn delivers reverse supply chain support for today's biggest apparel retailers and brands. As the strategic account manager for the fashion vertical at B-Stock, she has immersed herself in providing solutions for the company's biggest clients and advising on auction strategies for clients' B2B liquidation marketplaces. Under her guidance, these marketplaces allow the retailer to increase recovery rates on returned and excess merchandise while ensuring brand protection and a controlled channel for how the merchandise enters the secondary market. Penn advises her retail clients on how to best assemble lots and will go the extra mile to ensure each of her client's marketplaces are operating seamlessly.
Michelle Vazquez, Director of Listings, B-Stock
Michelle Vazquez delivers reverse supply chain support for today's biggest brand names. She provides listing strategy for returned, excess and other liquidation inventory that is sold into the secondary market through the retailer's B2B liquidation marketplace. Vazquez has played a vital role in developing lotting strategies to optimize recovery and provide visibility into inventory without having to read every line of a manifest. In addition, she has established guidelines for internal stakeholders and external clients, covering every stop of the listing's creation and review process.
Jennifer Wehrmaker, Vice President of Marketing, B-Stock
As B-Stock's vice president of marketing, Jennifer Wehrmaker delivers daily reverse supply chain support for today's biggest retailers and manufacturers. In her time at the company, she has built a robust marketing team that has immersed itself in providing clients with hands-on marketing support and strategy. Wehrmaker has also been instrumental in building the B-Stock brand, such as rebranding the company's website and other communications activities. She recently green-lit the "Everybody Liquidates" campaign that includes a series of videos targeted at Fortune 500 retail executives.
Bill McCouch, Senior Vice President of Procurement Services, Corcentric
Bill McCouch has used his 40 years of expertise in supply chain operations and transportation to help Corcentric's customers make more strategic decisions when it comes to their direct and indirect spend. He currently oversees all sales, operational and financial planning activities for Corcentric's procurement solutions. His relationship with both buyers and suppliers enables him to understand the needs of both stakeholders and find a solution that is advantageous to both.
Bill Harrison, President, Demand Management Inc.
Bill Harrison doesn't just address the needs of the company, he and Demand Management deliver solutions that help manufacturers and distributors successfully run their businesses. Harrison is leveling the playing field by making sophisticated supply chain planning functionality available to growing organizations. He believes every decision made about the supply chain will have an effect on other areas of business, and with the right tools and strategies, he is committed to ensuring that every company achieves greater supply chain efficiency.
Charles Adams, EVP of Delivery and Professional Services, DiCentral
Charles Adams has been working to improve supply chain efficiency through the use of electronic data interchange (EDI) for over 25 years. He has supervised thousands of projects that connect hundreds of companies with both their suppliers and customers. In addition, he provides guidance on global projects, having worked to improve supply chains internationally. His efforts have saved millions of dollars for companies. Adams has developed a specific project methodology for the delivery of cloud-based EDI solutions and was recently cited as a contributor to Accidental Project Manager.
David Morgan, Founder and CEO, D.W. Morgan Company
David Morgan has built D.W. Morgan Company into a global supply chain transformation business that partners with some of the world's top manufacturers. He has innovated several services to drive and transform supply chain efficiency. Under his leadership, the company has won many awards, including the SDCE100.
Doug Waggoner, Chairman of the Board of Directors and CEO, Echo Global Logistics
Since becoming CEO of Echo Global Logistics, Doug Waggoner has built the company into a leading publicly-traded, billion-dollar provider of multimodal, technology-enabled transportation management. His prior experience with LTL transportation helped turn Echo into a premier provider of LTL in the 3PL space. He has led over 20 acquisitions and has helped Echo develop strong solutions that provide clients with integrated, flexible proprietary technology, dedicated account management, continuous process improvement and transparent communication.
Michael Johnson, CEO, Elite Transit Solutions
Michael Johnson is a nationally-recognized trailblazer in the freight management industry. While the freight management industry is antiquated and relies on generations-old processes and technology to transport the groceries we eat and buy, he realized that Elite must bring the industry to modern times. Through the innovative use of technology, errors are minimized and clients can focus on managing customer relationships and tackle the nuanced challenges a computer is incapable of. His vision has helped attract top-notch talent for the company and is poised to revolutionize the market.
Roger Counihan, Vice President of Sales, Fortna Inc.
Roger Counihan brings more than 12 years of experience to Fortna. As vice president of sales, he works with pharmaceutical and medical device firms, as well as food, beverage and apparel companies to improve their operations. He contributes to numerous leadership articles on emerging technologies and is a sought-after speaker for industry events such as Promat, Modex, and for organizations including the Chief Robotics Officer Review.
William King, Group Vice President of Integrated Technology Solutions, Fortna Inc.
William King is a senior executive with over 27 years of experience in the industry, focusing on warehousing, distribution, transportation and manufacturing. He has an extensive background in software package implementation, software and client support, system integration, project management, material handling application and software/equipment sales. He is responsible for the delivery and support of the warehouse execution software that is used by many of the world's largest brands. In addition, King developed technology roadmaps for clients in conjunction with complex automated systems and deployment of warehouse execution systems.
Tom Tiede, Vice President of Professional Services, Fortna Inc.
With more than 25 years of supply chain experience, Tom Tiede has been guiding business transformation and performance initiatives in the disciplines of lean manufacturing, advanced planning, procurement and distribution. At Fortna, he sustained growth in the supply chain consulting practice areas of distribution network design, facility operational design, contractual pricing and procurement, program management and client engagement leadership. Tiede has also led creation, training and roll out of several project delivery methods. He currently has overall leadership responsibility for global pricing, contracting and procurement for Fortna.
Michael Shaw, CEO & Founder, Global Council for the Advancement of Women in Procurement
Michael Shaw led the effort to establish the Global Council for the Advancement of Women in Procurement. Since being founded in January of 2018, membership has already reached 2,000 individuals. Shaw believes in eliminating gender unfairness and mistreatment in the profession. Under his leadership, the organization aims to improve and change the outcomes by utilizing communication that includes all genders and excludes none.
Christopher Nadeau, Founder and CEO, Haversack LLC
Christopher Nadeau has taken his past experience with military logistics and operations and combined it with his expertise in trucking, evolving it into a unique approach for the 1PL. His goal is to help shippers enhance their internal skills and resources to bring more control and transparency to how transportation dollars are spent and how sourcing decisions are made.
Scott Brask, Vice President of Cloud and Security Operations, HighJump
HighJump's Scott Brask makes supply chain growth possible by empowering companies worldwide with the cloud. Leading his team, he has created a foundation for new, complex technologies in a secure environment, allowing efficient management and integration of automated tools to enhance processes. Meanwhile, security plays a pivotal role in Brask's cloud leadership. Brask ensures operational and customer data are protected and safeguarded from any threats. He also has led HighJump's SOC compliance rollout, assuring software operations are protected using best practices across the board.
Matt Angell, Vice President of Logistics Operations, Jarrett Logistics Systems
Matt Angell brings over 20 years of experience to the industry. He plays a key role in the exponential growth of Jarrett Logistics Systems and is focused on continuing to improve the client experience. Angell has organized the 24/7/365 JLF Routing Center into a control tower and has also pioneered the industry-leading Jarrett Customer Relationship Management (CRM) program. Under his leadership, JLS works with clients to provide them with real-time shipment visibility and data to better manage their inventory.
Matt Wagner, Vice President of Sales and Marketing, Jarrett Logistics Systems
With nearly 12 years of experience in designing and implementing transportation management solutions, Matt Wagner has played a key role in providing numerous supply chain improvements to clients throughout North America. He is a visionary who listens to the supply chain challenges his clients face and delivers transportation and warehousing solutions that make supply chains better, faster and more efficient. Wagner has spoken at various supply chain-related events and has been recognized as an award-winning performer.
Rick Faulk, CEO, Locus Robotics
Rick Faulk is an established and sought-after thought leader in the robotics and supply chain space. As the CEO of Locus Robotics, he plays a significant role in driving technology innovation in the supply chain. He is committed to helping operators address the shifting workforce and various productivity challenges brought on by today's competitive and demanding retail market. Under his leadership, the adoption of autonomous robots has accelerated significantly, proving that they are a critical part of the supply chain.
Karin Bursa, Executive Vice President, Logility
As the supply chain grows more complex, it has become crucial to incorporate the right process change supported by the right people to be successful. Throughout her 25 years of experience in the industry, Bursa knows this more than ever. She has a keen pulse on the industry and is often sought out as an expert resource on topics related to supply chain planning and retail optimization. She has been at the forefront of innovative demand-driven supply chain and B2B collaboration initiatives for more than 20 years. She thrives on helping companies enact change and stimulate critical thinking and is very passionate on the future of the supply chain. Bursa works closely with several universities and leads supply chain workshops to discuss the opportunities available to excite the younger generation.
Henry Canitz, Director of Product Marking & Business Development, Logility
Henry Canitz brings over 25 years of experience and has built high-performance supply chains across the industry. His extensive experience in developing and marketing business solutions has led him to develop ERP and supply chain software to providers. He helps clients understand how to improve their supply chain capabilities through people, processes and technology enhancements. Caintz is an active contributor to supply chain periodicals, pushing for supply chain improvements in both practical and innovative ways. He is active in several supply chain organizations and is a frequent speaker at industry events.
Allan Dow, President, Logility
Allan Dow believes that a company's success is built on the success of its customers. At Logility, Dow's management style leads by example and influences those around him. He is transparent with employees and encourages an open and healthy debate on topics and opportunities, recognizing that every team member approaches a challenge with a different view. As the president, it is his goal to ensure that Logility can help companies minimize the impact of potential risks and uncover new opportunities. He helps companies understand how the supply chain can significantly improve profits and help deliver exceptional service while reducing working capital across the network.
Josh Stephens, Vice President of Global Services, Logility
Josh Stephens is focused on helping supply chains reach their ultimate potential. With a constant thirst for knowledge, he continues to learn valuable lessons about efficiency and project management, proving himself as a valuable employee. Since joining Logility, Stephens has developed a global team of supply chain experts who help companies optimize their solutions to meet ever-changing business needs. He has focused on creating relationships to help companies along their supply chain journey.
Ken Fleming, Chief Operating Officer, Logistyx Technologies
Since the mid-90s, Ken Fleming has led the successful launches of many new technology and service providers. He is currently spearheading Logistyx Technologies' upcoming launch of TME3—the industry's first true single-global enterprise engine for multi-carrier parcel shipping. He continuously employs his "it takes a team" management style to ensure a consistent strategic vision across the organization.
Felix Vicknair, Director, Miebach Consulting
Felix Vicknair has dedicated the last 18 years to the supply chain, focusing on continuous improvements for the industry. As a director at Miebach, he leads multiple teams on projects that drive operational improvements. He believes that companies need to focus on both current operations on the shop floor and discussions in the boardroom in order to improve and is committed to leading that change.
Mark Raffan, Founder, Negotiations Ninja Podcast
In just one year, Mark Raffan's podcast became the No. 1 negotiation podcast on Google Play and is one of the most listened to procurement podcasts in the world. With a slew of guests, Raffan drills down what works and what doesn't when it comes to negotiations. He provides value to listeners, making him one of the leading voices in the procurement world.
Ara Arslanian, Senior Vice President, OMNIA Partners
Ara Arslanian has helped grow OMNIA Partners under his leadership. His mission is to expand the scope of GPO models to deliver more effective solutions for both direct and indirect procurement groups. He has guided the development of programs aimed at creating a unique experience that gives members the confidence that their interests are being served. Arslanian makes it a point to leverage his background and provide a hands-on approach to management. He also participates in a wide variety of spend management conferences and has been invited to present at events.
Dustin Cochran, Managing Director, OMNIA Partners
Very few who work in the supply chain space have lived and breathed the struggles that come from the industry, but Dustin Cochran has. With a diverse range of procurement experience, he has worked in both the private and public sectors in companies large and small. As the managing director for the west region at OMNIA Partners, he works closely with procurement and finance leaders supporting them through their goals and benefit realization. As many misunderstand GPOs, Cochran spends most of his time consulting and educating large organizations on how to best leverage a GPO to bring value to their organization. In 2018, Cochran founded CPO Next, a millennial-focused procurement organization.
Daniel Grant, Senior Vice President, OMNIA Partners
With over 20 years devoted to the supply chain industry, Dan Grant has worked to develop unique solutions that solve challenges faced by organizations. He works with fellow sourcing professionals to solve common direct material sourcing challenges and is fully involved in helping North American-based manufacturers nearshore raw materials and sub-assemblies to suppliers to reduce tariff exposure.
Barb Sexton, Regional Director, OMNIA Partners
Barb Sexton is an active listener with a passion for engaging the broader network to uncover solutions for multiple stakeholders. She is always looking for ways to assist in the success of others and is a steward of lifelong learning. She has played an active role on the ISM-Arizona board of directors and has served in many roles on the board.
Greg Brady, Founder and CEO, One Network Enterprises
Since founding One Network in 2002, Greg Brady has helped organizations achieve operational efficiencies and outpace the competition. As a recognized supply chain and technology visionary, Brady understands the limitations of traditional software applications and processes that prevent organizations and their trading partners from effectively planning sales and operations. He willingly tackles the problems surrounding consumer-driven demand and applies it to business planning, helping One Network become a giant in its field.
Juliann Larimer, President and CEO, Peak-Ryzex Inc.
Juliann Larimer has paved her way through the industry, landing as the president and CEO of Peak-Ryzex just last year. Since joining the company, Larimer has met with many customers across the globe and realizes how important it is to understand their current supply chain needs and challenges. As an accomplished B2B technology executive, she has been recognized for her strong leadership in managing diverse teams and driving business results for customers in their supply chain.
Justin Cramer, Global Project Management Director and Co-Founder, ProShip Inc.
Justin Cramer has designed, installed or supervised over 300 multi-carrier shipping software integrations into customers' enterprise software stack across the globe. He works closely with businesses on their supply chain pain points and has designed customized shipping solutions that execute more than 1 million labels a day. Cramer believes supply chains need increased automated intelligence to meet customer expectations while minimizing the costs of meeting those expectations. By leveraging this philosophy, ProShip customers have reduced their average delivery time by half a day.
Chuck Hieronymi, Director of Business Solutions, Railinc
Chuck Hieronymi is someone to know in the freight rail transportation industry. Under his leadership, Railinc has continued the growth of its commercial business unit, building on its work with Class I railroads to provide supply chain operations support across the broader rail ecosystem. In addition, he has also helped companies of all sizes proactively manage the health and repair of rail equipment, enabling a safer North American railcar fleet. The company also continues to deliver high customer satisfaction ratings under Hieronymi's direction.
James Gellert, Chairman and CEO, RapidRatings
James Gallert co-founded RapidRatings to transform the way the world's leading companies manage enterprise and financial risk. His leadership experience and vision has helped bring the company from the startup stage to the forefront of financial health analytics. Gellert has established himself as a recognized international authority on corporate counterparty risk management, supply chain risk and rating agency regulatory evolution, and is the most frequent speaker from the ratings industry in Washington over the last decade.
Nate Endicott, Senior Vice President of Sales and Strategic Alliances, RateLinx
Nate Endicott has a reputation for implementing next-generation supply chain solutions and assisting companies in achieving outstanding business results through integrated data intelligence. In his role as senior vice president of sales and strategic alliances, he helps shippers understand that integrating the right data can obtain a full and clear picture of the supply chain. By asking the right questions he is able to educate logistics managers on how to solve intractable problems and save millions of dollars through a data-first approach.
Gordy Ferguson, Vice President of Business Development, RateLinx
A seasoned entrepreneur with more than two decades experience, Gordy Ferguson uniquely understands the challenges faced by shippers and the opportunities provided by data. Frustrated by software's limitations to solve the real problem for customers, Ferguson joined RateLinx in 2018, bringing his innovative leadership to help shippers achieve outstanding business results through integrated data intelligence. Ferguson is a key member of the RateLinx team as he combines his deep knowledge of strategy, technology and analytics to assist logistics managers in understanding that only by integrating data from multiple sources can they achieve the best results.
Frank Locasio, Executive Vice President, RateLinx
Frank Locascio is a supply chain innovator, developing and implementing next generation software and data services to assist companies in achieving outstanding business results through integrated data intelligence. As the vice president of RateLinx, he has helped create and advance a new logistics solutions process known as Logistics in 3D: Diagnose, Develop, Deploy. He leads the development team for updates and enhancements that provide customers with real-time analytics that are tailored to their specific needs.
Bryan Rabakon, Vice President of Solutions Development, RateLinx
Bryan Rabakon is an exceptionally skilled supply chain executive, assisting companies in achieving outstanding business results by using tailored supply chain solutions to obtain integrated data intelligence. Rabakon is crucial to RateLinx as he helps companies integrate data to gain clear access to their supply chain. He has been instrumental in expanding the adoption of logistics processes that provide companies accelerated intelligence through an integrated data foundation.
Shannon Vaillancourt, President and Founder, RateLinx
Since founding RateLinx in 2002, Shannon Vaillancourt has been a supply chain visionary, helping companies gain complete visibility into their supply chain. During the past year, he was accepted into the Forbes Technology Council and continues to help develop and implement next generation supply chain software for RateLinx. Under his leadership, RateLinx has become the only supply chain software and data services company with an integrated Data-as-a-Service (DaaS) technology platform.
Roddy Martin, Founder and CEO, Stellar Strategic Advisory Corp.
Roddy Martin partners with companies focused on the end-to-end supply chain and digital operating model to enable pragmatic supply chain transformation capabilities. He believes that operating companies need to focus on why the markets they serve value effective supply chains of their providers and why their customers value the performance of their customers leveraging process, skills and technology in support of an agile operating model. He understands that having knowledge of why you are making changes will determine how you do them.
Jay Wilson, Vice President of Processing Services, Transportation Insight
Jay Wilson employed 32 years of supply chain experience to develop and lead the financial settlement division responsible for annually saving clients upwards of $8 million in freight invoice overpayment and $6 million in parcel invoice overpayment. Wilson was also instrumental in developing the company's processing, advancing each hard copy invoice through a sophisticated scanning system yielding text-searchable images made available for client review. In addition, he has successfully managed and implemented change and process improvement for teams and redeployed 6 percent of labor resources to emerging client-focused initiatives.
Prasad Gollapalli, Founder and CEO, Trucker Tools
Prasad Gollapalli is a visionary in what the freight brokerage industry can be and how technology can be seen as a positive, disruptive force for the better. At Trucker Tools, he is quick to take a different approach and define problem areas while understanding different skills each broker possesses. Gollapalli aims to enable brokers, not disintermediate them. He has successfully implemented his vision at Trucker Tools and continues to help the broker community succeed and raise its game in a highly competitive business.
Practitioner Pros & Teams to Know
The Team from Supply Line Management
The team includes: Janak Shah, SDC director; Karen Rodgers, SCM consultant; Gautham Sheth, SCM manager; Maxine Jones, SCM manager; Carlos Cabello, SCM advisor; Karen Fleischmann, commodity management specialist; Leah Mumford, commodity management specialist; Renee Fung, SCM manager; Fanny Hui, SCM manager; Connie Chan, SCM manager; and Chris Yeung, buying advisor.
Enabling customer growth and satisfying their requirements is the No. 1 challenge for the Supply Line Management team. Celestica is operating in a severely constrained market as its lead times have extended beyond the accurate forecasting window of its customers, driving issues in cost, on-time delivery, customer satisfaction and profitability challenges. The Supply Line Management Team plays a critical role in solving those challenges within Celestica's supply chain to ensure revenue is achieved.
Nedra Dickson, Global Supplier Inclusion & Sustainability Lead and Managing Director, Accenture
Nedra Dickson is responsible for promoting Accenture's efforts to maximize procurement opportunities with diverse business partners. She is a crucial part of expanding Accenture's Diverse Supplier Development Program and has worked to develop relationships with minority, women, LGBTQ+, persons with disabilities and veteran-owned businesses. She oversees the company's Supplier Inclusion & Sustainability Team, allowing the company to drive a more-inclusive and empowered marketplace. With her efforts, Accenture has gained access to innovative, responsive and cost-competitive supply solutions for its clients.
Danny Greenawalt, Supply Chain Business Process Lead, Advanced Drainage Systems Inc.
Danny Greenawalt brings an extensive data analysis background to Advanced Drainage Systems, successfully implementing a network optimization process and solution for the company. During his career, he has reduced payload inefficiencies with optimization models and created a centralized decision-making process that takes into account key network constraints. Greenawalt has also played a key position in leading cost savings and improving service levels that allow for a better-optimized network for a relatively complex supply chain.
Tushar Bhalla, Senior Director Customer Success, Intrigo Systems
Tushar Bhalla has been a successful supply chain practitioner 12 years, focusing on process design and technology implementation in supply chain planning and procurement. He has helped chalk out the supply chain transformation journey for several Fortune 1000 companies and is an expert in the consumer goods industry and has successfully delivered over 30 transformative projects. Bhalla is a sought-after speaker and has presented several supply chain case studies and concepts.
Tej Bonagiri, Solution Architect, Intrigo Systems
Tej Bonagiri has worked with a wide range of companies across various industry verticals in the supply chain planning and execution space for over 11 years. He has contributed to designing and delivering supply chain planning processes and IT solutions for various clients and has advised them in planning their supply chain transformation roadmap. He believes leveraging the right technology is the key to a successful transformation.
Prabhakar Prasad, Executive Vice President of Sales, Intrigo Systems
Prabhakar Prasad has worked with a wide range of global companies across various industry verticals in the supply chain planning and execution space for over 20 years. He has demonstrated comprehensive supply chain management product development and solution management skills, and is instrumental in successfully delivering transformational projects. Prasad is an active participant and speaker in multiple supply chain forums, panels, roundtables and webinars presenting several supply chain case studies, benefits and learnings.
Jay Schmidt, Senior Forecast Analyst, Leupold & Stevens Inc.
Jay Schmidt brings 10 years of experience to the supply chain industry. In his current role at Leupold & Stevens, he is responsible for developing and executing a company-wide sales, inventory and operations process. With his knowledge and skill set, he was able to transform failing systems and processes into ones that successfully support the business.
Deborah Goerlach, Supply Chain Business Application Leader, Momentive Performance Materials
Deborah Goerlach has held a wide range of roles over the last 15 years and has played an instrumental role in implementing various projects at Momentive. This includes an integrated forecasting and budgeting process, automated forecasting, as well as tracking the right demand signals to create a better balance between demand and supply. Goerlach also led the charge on improving overall SIOP processes at Momentive by implementing and tracking automated forecast models that analyze capacity usage for both the short and long term.
Michael Field, CEO, The Raymond Corporation
With more than 25 years' experience managing industrial companies, Michael Field is known for reinforcing Raymond's mission of addressing customer challenges in the supply chain and logistics industry with smart, leading-edge technology. Throughout his career, he has learned the value of listening to customers and strives to understand and solve their concerns through firsthand experience. Putting his experience and academics into practice, Field has been granted several U.S. patents for creative solutions to real-world problems.
Elaine Videau, Senior Planning Manager, Tillamook County Creamery Association
As the senior planning manager at Tillamook County Creamery Association, Elaine Videau oversees the demand and supply planning for several product lines. She has 28 years of experience in the food industry and has spent the last three years transforming Tillamook's supply team. In her role, she implements new policies and processes, restructuring its supply chain organization and applying lean manufacturing principals. With her efforts, the company has built a supply chain team focused on individual strengths and business needs.
Brian Tribble, President, Worldwide Express Global Logistics
Brian Tribble is an 18-year veteran in the logistics and supply chain industry. As the president of Worldwide Express Global Logistics, he believes that visibility drives accountability, which influences his vision to increase exponential growth of data for his customers. He is an APICS certified supply chain professional and instructor and has been recognized throughout the industry for his achievements.