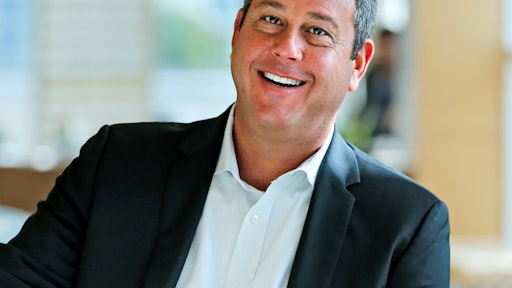 NGC Software's Mark Burstein stands apart from the year's most influential supply chain leaders as he lends a hand in the fashion industry's retail revolution.
When asked what qualities a Pro to Know should have President of NGC Software Mark Burstein answered, "They must have a passionate drive to find solutions to common problems. They must be a generalist in all areas of their business, and a specialist in most...Finally, they should establish a three- to five-year plan, and pivot when necessary." Burstein's answers reflect on all the work he has done in the fashion retail industry, earning himself the top spot as Supply & Demand Chain Executive's (SDCE) Pro to Know of the Year.
In today's supply chains, leaders are required to rapidly respond to constant change and adapt to an ever changing global economy. For the last 18 years, SDCE has identified and recognized these leaders, bringing them to the forefront as Pros to Know.
"I was in Asia and woke up around 4:30 a.m. and see all these emails going back and forth saying Pro of the Year. I opened it up and was like, 'Wait. What?' I would say it's the highest honor that I've had in my career," Burstein says in regards to his recognition. And like most great leaders, he says the award is less a reflection on him, however, but more so his team. "It's just my name and my face. It's really my company. Every one of my teams bend over backward to make sure that the product is right and that the customers are happy… if I didn't have those teams and I didn't have a product, there's no chance I would have gotten this. It's the highest honor I've received, but it's not due to my work, it's due to my company and my team's work," he adds.
Every year SDCE's editorial staff sifts through more than 400 entries to find the best leaders in the supply chain field. These selected winners then become our Pros to Know, a coveted list that includes practitioners, providers and teams. The job becomes even harder as the staff narrows down and selects our Pro of the Year. This individual stands out with his or her leadership skills, business acumen, exceptional attitude and passion for the industry, helping him or her reach the top of our list.
Burstein earned our highest recognition due to his revolutionary work in the fashion retail industry, specifically his hand in creating Andromeda, a software program that empowers the digital supply chain by linking retailers and brands with their vendors, factories, suppliers, agents, logistics partners and global trading partners in one unified network. Landing in the position he's in now wasn't the easiest task, however.
Risky Business
Prior to his success at NGC Software, Burstein was working 100 hours a week as a technology consultant and living out of a suitcase when his father called him asking to join his company running sales and product development. He told him they had just opened a new customer, Victoria's Secret; it only had 10 stores but were expecting to grow quickly. As his father's company grew, they ended up selling the company and opened factories in Mexico.
"That's when NAFTA had become really big. So, I built factories, which was my big mistake," Burstein says. "When you have a factory, you have to keep the workers busy consistently. A busy factory makes a little bit of money. A slow factory loses a lot of money."
In an attempt to keep his factory bustling until the next fashion season, Burstein bid on a multi-million unit contract, but lost out to a business in China whose production costs were 10 percent less than his. Realizing that he couldn't compete with pending quotas, Burstein shut down his production and pulled out of the apparel manufacturing business.
"My biggest risk was making that decision to close everything I've worked for... Like turning off a light switch," Burstein recalls. "I saw that there was no way I could build a sustainable business without being competitive on price. That was my big career changing moment."
After closing down his production, Burstein joined NGC Software as a sales director. The company had just launched e-SPS, a web-based product lifecycle management (PLM) and supply chain solution that connected brands and retailers to overseas factories; this was quickly becoming NGC's flagship product.
"If you think of our solution, think of Facebook," explains Burstein. "Instead of logging in and seeing your friends, you see your styles, your products, what is in development, what is in production, what is inbound shipping. Instead of sending emails, it's like writing on your wall. Everybody's communicating and collaborating through the platform instead of outside the system."
As PLM software continued to grow, Burstein was promoted to vice president of PLM solutions and eventually president of sales, marketing and development. Burstein continued to improve NGC Software while fashion retailers were going through what has been referred to as the "retail apocalypse." Household name brands like American Apparel and Sports Authority were closing down. However, fast-fashion brands like Zara were doing well, and retailers wanted to be just like them.
"Our entire economy is based on consumption. The populace continues to buy goods and services, but there have been radical changes in what and how they buy," Burstein says. "Today, the successful business model is not about creating a new product line that debuts in two years, but reacting to a hot style or trend and bringing it to market with efficiency and speed."
In response, Burstein and his team developed a "read and react" strategy where every supply chain has the goal of getting the product to the consumer who wants to purchase it. A digital supply chain has become crucial for the read and react strategy because it eliminates the linear, manual handoff of information from one department to another. Managing the supply chain with Excel spreadsheets and email causes false data, long lead times and guesses about which product will be popular months ahead of time.
"Buyers are often incorrect, which leads to excess inventory in some products and shortages in others. The resulting markdowns and stockouts hurt revenue, profit and net margin. Every product sold at a discount, and every missed sale is a direct hit on revenue and profitability. A 25 percent reduction in markdowns and stockouts would lead to a 15 percent boost in gross revenue and a 50 percent lift in net income," Burstein says.
Seeing the success of e-SPS and how more people were implementing their PLM software, NGC was able to create Andromeda. Prior to its release, a company would have to replace their PLM, SCM or other enterprise systems with NGC's module, but Andromeda allows the company to keep its existing software and just pass mission-critical data on to Andromeda.
"My 'aha' moment occurred during a session at the Microsoft Inspire conference last year... In the middle of this session, I realized that Andromeda is not an end-to-end software application suite. Andromeda is a cloud platform that enables the digital supply chain," Burstein says. With Andromeda, companies are able to capitalize on their current investments without ripping out and replacing their legacy software applications, making all the difference to Burstein and his team's success.
Andromeda has been able to help brands focus on different solutions to their problems. One brand was able to cut their lead time from 17 weeks to 4 weeks, while another retailer was able to save three weeks in transit time, $15.45 in freight per carton and reduced its carbon footprint.
School of Thought
Burstein has worked with deans and executives at the Fashion Institute of Design and Merchandising (FIDM) over the course of a few years to realize the future of the fashion industry is in the digital workplace. FIDM added the Andromeda software in its merchandise product development, apparel industry management, menswear, and apparel technical design majors in January. Teaching the software is an advantage to both the school and the students since they will have the insight and knowledge of a program that is utilized by major fashion brands prior to graduation.
"One of the most gratifying moments in my career was when I heard that all the students are so excited to learn Andromeda as part of their class," Burstein says.
Outside of NGC Software, Burstein is also an active member in industry organizations. The knowledge that he gains from the organizations influences the decisions that he makes at NGC.
"When I hear the same challenge repeated by multiple executives, I realize that there is an opportunity for industry improvement. My team and I research the issue, design a viable solution and present it to the executives to see if they can find any weaknesses or flaws," Burstein explains. "Once the design is approved, we move forward and build the solution. "
While Burstein continued to improve his company, he learned valuable lessons along the way. Knowing that there will always be challenges ahead—whether in work or life—he has learned to take the time to listen to his team and fight for his business because there will always be someone who wants to take it away from you.
"You have to listen to people. You have to listen to their opinions and then make the decision on how to move forward. I've seen a lot of times where people make rash decisions and it would come back to be the wrong decision," he says.
Going forward, Burstein plans on evaluating integration with blockchain platforms that will enable faster, cheaper and more flexible supply chain transactions. In addition, adding tools that utilize artificial intelligence can help users make the best decision faster.
"It's possible to envision that Andromeda will become a cognitive solution that automatically executes supply chain transactions without human intervention," Burstein says. "Stay tuned."
To see the complete list of 2018 Pros to Know, please click here.