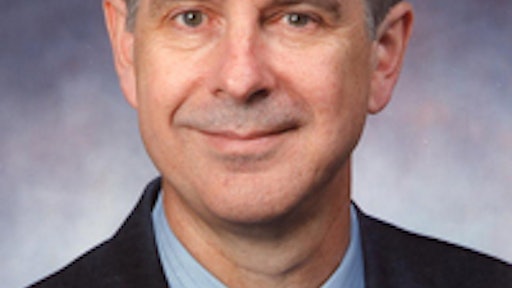 As the "push" economy of yesterday gives way to today's demand-driven "pull" economy, senior management is increasingly looking to their supply chain leaders to help build agile, responsive, global and customer-focused supply chains.
With the 2008 edition of our Pros to Know, Supply & Demand Chain Executive sought to identify those supply chain executives and supply chain teams who are helping build 21st century supply chains for their companies. In addition, as in the past, we sought to highlight leaders from the solution provider, consultant and analyst communities who are helping their clients build their own 21st century supply chains.
In the pages that follow, you can read about today's supply chain industry thought-leaders and their visions for the 21st century supply chain.
2008 Pro of the Year
The 21st century supply chain is... driving technology across the enterprise
James L. Polak, Director, General Purchasing, PPG Industries, Inc.
Jim Polak has always believed that the technology necessary to transform a purchasing organization starts with understanding where the spend is going, identifying opportunities to leverage the spend utilizing online sourcing technology, and then automating the transactions between internal users and suppliers.
In the early days of enabled spend analysis, around 2000-2001, segments of PPG believed that the project was a waste of capital and that there were no leveraged savings to be had. Polak made many internal presentations to business unit leaders regarding the benefits of the project and, later, on the savings that were being delivered. Rather than just having PPG purchasing people sourcing commodities, teams that included factory and functional non-purchasing associates were formed to leverage the known spend that was visible from PPG's enterprise-wide spend database. Each team was given an arbitrary target of 10 percent savings and a time limit of 90 days. The result: the combination of unexpectedly large savings, ranging from 11 to 32 percent, the positive word-of-mouth generated by the commodity team members, and the culture change that endures to this day have changed how purchasing is perceived within PPG. After many highly successful teams and millions of dollars in leveraged savings, PPG has emerged as a recognized "spend analysis star" and a model of best practice in spend analysis, as highlighted by analyst firm Aberdeen Group.
In 2003 PPG was ready for best-in-class sourcing technology and best-in-class data enrichment, both of which became an integral part of PPG's sourcing and analysis processes. In 2005 Polak was instrumental in selling PPG on pursuing transaction automation, but also worked internally and externally on the value of an on-demand hosted procure-to-pay technology solution. Today PPG has 24 locations with over 1,400 users conducting business in their PPG eBuy procure-to-pay requisition-to-invoice buying platform, with over 25 catalogs and over 350 suppliers enabled.
Over the years Polak has become an internal spend analysis expert and is infamous for sending his analyses to accountable buyers and managers. The message has become, "If Jim has time to look at my commodity and spot opportunities, then certainly I have the time to do the same." Polak also has attended the opening and concluding sessions of each commodity team and praised them on their results, which often have exceeded the team's early expectations. A policy was established that anything worth sourcing would go through the PPG's sourcing interface, which drove adoption. Finally, several years ago each buyer was expected to make an annual presentation on his or her commodity strategies, highlighting their use of PPG's various technology tools.
Chicago native Jim Polak became director of general purchasing at PPG Industries in June 2000, having joined the company in 1974 as a production engineer. The roles he has held over the nine moves in his 34 years with PPG have included operations research in IT, marketing research, customer service manager, production planning department head, district sales manager, director of marketing and new product development, plant manager, and director of production.
Practitioner Pros to Know: The 21st century supply chain is...
...leveraging technology to solve business problems
Eduardo Von Pervieux, Executive Director, Business Process & Systems, Amgen. At biotech company Amgen, headquartered in Thousand Oaks, Calif., Von Pervieux has led the implementation of innovative technology and process solutions that enable the sourcing and procurement team to deliver enhanced value to the company in addition to increased savings to the bottom line. "The mission of my team is simple," he says. "We solve business problems."
... demand-driven
Craig Ablin, Vice President, Supply Chain, Clement Pappas. With 13-plus years of large company supply chain expertise, Ablin is leading initiatives to help Clement Pappas become more "demand-driven." For Ablin, technology helps provide the visibility required to know what to produce, how much to produce and when to produce — key to cost-effectively meeting customer expectations. By automating processes, technology accelerates scenario-based planning and analysis, enabling better strategic planning and execution, in turn leading to more proactive production planning decisions. Ablin has led the deployment of key technologies, including Logility's Voyager Solutions, to enable this vision at Clement Pappas.
... globally collaborative
David Minster, Senior Vice President of Operations and Chief Information Officer, David Yurman. Rapidly growing fashion brand David Yurman is shifting its supply chain from regional manufacturing to global sourcing. Leading this transition, Minster envisions a future where technology enables a collaborative effort between suppliers, across national boundaries, with rapidly fluctuating currencies and commodity pricing, and with strong and varied regulatory requirements, all in a secure environment protecting designs and intellectual property. Minster is using QAD MfgPro and its Supply Visualization hosted solution to drive toward an integration of sales and operations planning (S&OP) with a Web-based sourcing system.
... strategically aligned with the business and with partners and suppliers
Gary L Evans, Senior Vice President, Supply Chain Management, The PNC Financial Services Group. Evans is a 27-year company veteran who heads up supply chain management for this financial services firm, which has $139 billon in assets and 28,000 employees. He is responsible for $1.4 billion in non-payroll annual expense.
In 1999, PNC was in its infancy with respect to supply chain management. At this point questions such as "Do we have a supply chain?", "How big is it?" and "Can we impact it?" needed to be answered. Evans began the transformation of supply chain at PNC by defining a mission — "Deliver the lowest total cost of ownership for high quality products and services through state-of-the-art supply chain management processes." He defined the organization of the future by restructuring, recruiting and moving Accounts Payable from Finance to Supply Chain Management. Evans researched industry best practices and ultimately implemented several key strategies, including the expansion of supply chain management services to all of PNC and leveraging those services in support of mergers and acquisition integration.
Gaining strategic alignment with his business partners and developing and maintaining strong diverse vendor partnerships was next. His results supported fair market pricing, encouraged supplier alignment with PNC visions and strategies, and cultivated new business opportunities for PNC.
Coupling this strategy with best-in-class tools, technology and processes, Evans found the combination needed for success. The tools included: PNCBuys (online purchasing that allows the company's 28,000 employees to order office supplies and other products through pre-negotiated contracts with more than 2,500 suppliers); PNCBid (online reverse auctioning resulting in more than 500 auctions to date with an average of 20% savings); PNCTravel (online travel booking eliminating the travel agency and saving over $1 million in annual fees); PNC T&E (online travel and entertainment, eliminating manual reporting); PNC Contracts (automating price and fee compliance); PNCPays (electronic invoice processing eliminating paper and manual review); as well as PNC Analysis (spend analysis and compliance reporting).
This combination led PNC to recognize improved efficiency, reduced expenses and brought transparency through a single "procure-to-pay" strategy. Another benefit was that it provided an environment that promoted employee recruitment, development, retention and morale, resulting in strengthened capabilities of the SCM team. The bottom line: From 1999 to 2007 the cumulative expense savings exceeded $300 million, with $5 million in p-card revenue.
Evans' evolving strategy requires continued executive management endorsement of procure-to-pay strategies and business unit management support for user acceptance and system compliance. Without these, off-contract spending will most likely occur. Other strategies include adherence to enterprise vendor management, strategic sourcing, compliance reporting, monitoring and remediation of maverick spend, and engaging supply chain management as early as possible in M&A planning.
In 2007 Evans received PNC's prestigious Chairman's Circle award recognizing the highest achievements by an employee at PNC. His accomplishment was the transformation of Supply Chain Management at PNC to a strategic partner of the businesses while providing bottom line results. In addition, Evans was also recently nominated and elected by his industry peers to the position of Chairman of Board of Directors for the Pittsburgh Regional Minority Purchasing Council.
... supporting the business by generating value beyond cost savings
Jill Efford, Manager, Indirect Procurement, Cameron. As manager of indirect procurement at Cameron, Efford has led transformations that have increased supply chain's ability to make better, faster and smarter decisions and provide world-class service to its customers. As a leader in the oil and gas industry, Cameron has doubled its revenue over the past three years. Efford's vision for Cameron's 21st century supply chain is to support this rapid growth by generating value that goes beyond cost savings to include process improvements and innovations that enable the supply chain organization to operate more effectively and deliver a return on its investments.
To do this, Efford has worked with a strategic network of best-of-breed providers, enabling her organization to expand its capabilities while maintaining flexibility and to focus its internal resources on its core competencies. By leveraging providers' expertise and best practices, Efford's team not only is able to expand its influence to proactively manage more areas of spend, but has also achieved substantial process and service level improvements. As one example, Efford's team was able to improve its print services capabilities while delivering significant savings in print management costs. Through other improvements, such as reducing production time through vendor collaboration, Cameron is able to serve its customers faster and recognize revenue sooner, resulting in a direct impact to the bottom line.
Based on the autonomous culture within the Cameron organization, Efford recognized that supply chain needs to operate using a pull versus push strategy. Rather than mandate the use of processes and preferred suppliers, her team launched a formal communications program to illustrate the benefits and effect on the bottom line. As part of this plan, Efford's team holds "best practices" conferences to share process improvements and innovations that other plants can leverage. The conferences bring together stakeholders from senior management through industrial engineers and operators and provide a forum for vendors to share their knowledge and expertise. In addition, key successes and opportunities for improvement are published on the organization's Web site and in a monthly newsletter that is broadly distributed to all stakeholders. This kind of proactive education about the program, coupled with the reputation the organization has built, has enabled the supply chain organization to quadruple the amount of spend it is managing.
In order to continue to support Cameron's rapid growth, Efford recognizes that the supply chain organization will need to be nimble and adapt to the company's growing and changing needs by identifying, managing and driving greater value from its best-of-breed suppliers. To execute against this strategy, supply chain will need to continuously improve pricing, processes and service levels across all geographies and areas of spend and work to measure and demonstrate these results to the business units.
... proactive and flexible
Joe Tocci, Vice President, Supply Chain, Intertape Polymer Group (IPG). Joe Tocci's vision of a 21st century supply chain is one that takes supply chain planning from a passive role to one that is a catalyst for transforming the supply chain into a flexible platform that drives a competitive advantage, customer service and profitability. At IPG, an $800 million tape and film manufacturer in North America, Tocci and his team have implemented technology, including solutions from Logility, to support the transition to a more proactive supply chain and to gain greater visibility into customer demand through multi-echelon forecasts that enable scenario-based planning by products, channels, geography and financial metrics. As a result, IPG has increased forecast accuracy, improved fill rates and increased customer service levels. ForTocci, technology helps optimize human effectiveness which creates an overall more proactive and productive supply chain for the future.
... socially responsible and sustainable
Kurt Doelling, Vice President of Supplier Management, Sun Microsystems. Doelling is responsible for Sun's overall global Supply Chain Corporate Social Responsibility (CSR) program, which he instituted in order to ensure that company standards are met to "green the supply chain." Implementing a green supply chain meant reexamining how Sun sources its partners and changing the parameters of the business arrangements to incorporate green criteria into the Sun Code of Conduct. Doelling relies on a global network of suppliers, vendors, business partners, and contractors to help Sun achieve the operational efficiencies that will ensure environmental sustainability and quality, increase productivity and reduce costs, all while reflecting Sun's elevated environmental business conduct standards.
... aligned across functions
Mark Payne, Vice President of World Wide Operations, Linksys, a Division of Cisco. Upon arriving at Linksys, Payne realized the potential to revolutionize the way Linksys managed its inventory and sales forecasts by streamlining the company's entire supply and demand chain. To accomplish this objective, Linksys implemented a methodology for achieving operational excellence based on a four-step sales and operations planning (S&OP) framework that Payne helped develop. Payne's vision of focusing on inventory and production rather than sales forecast, once applied, enabled Linksys to take predictability from 65 percent and transformed it to 95 percent, enabling forecast accuracy to improve significantly. For technology, Linksys leveraged the relationship between Symphony Metreo (utilizing its Finance Sales and Operations Planning solution) and IBM Global Business Services for their supply chain domain and implementation expertise.
... driving performance improvement into the supply base
Milton Young, Global Sourcing Director, FMC Technologies' Subsea Oil and Gas Equipment Business. Driving to meet customer requirements for superior performance and the newest technologies at the best value, FMC Technologies is leveraging collaborative initiatives to improve the flexibility and responsiveness of its supply chain. Young has created global projects at FMC to give greater visibility to the company's supply chain by developing an integrated forecasting process. Through this process, FMC is providing timelier and better information to its strategic suppliers. In addition, the company is working on new product development with its suppliers as part of its broader efforts to achieve closer alignment with its strategic suppliers. FMC also has instituted strategic supply meetings that provide a forum for senior company executives to meet with strategic suppliers and provide insight into business trends and strategies, and plant-level supplier days that allow for sharing the company's perspectives on issues and opportunities with the supply base in an open forum. And the company has created a global supplier development function to assess the current state of its entire supply base and determine how to work with global suppliers to improve their performance. Finally, FMC is working to develop a talent pool that understands the complexities of operating in multiple time zones with sensitivity to multiple cultures and delivering economic value in uncertain times.
... recognized by senior management as a competitive advantage
Randall Ellis, Chief Information Officer and Chief Procurement Officer, FMC Technologies. Ellis has brought great change to his organization by meeting the challenges of moving from a tactical, transaction-based group to one that is truly a competitive competency. He has been leading a quiet evolution within FMC that has revolutionized the entire supply chain function, now recognized by senior executive management not only as a core competency but as a competitive weapon.
When FMC Technologies was spun off from FMC Corp in 2001, procurement was largely decentralized, with each of the company's business units operating autonomously with 33 independent purchasing staffs. The sourcing group consisted primarily of low-level buyers whose mantra was "three bids and a buy." Ellis began employing a new focus for FMC, quickly realizing that to stay competitive, he had to shift the entire purchasing organization and convert it into a strategic supply chain-focused group. He instituted a Global Supply Chain Leadership Team (GSCLT), comprised of top sourcing and supply chain directors, to lead the supply chain and sourcing activities for the enterprise. The GSCLT works within each business unit, managing change, selling sourcing benefits and aggregating and standardizing sourcing practices and processes across global operations, using the SAP ERP system as a common platform.
Ellis also has focused on developing the supply chain within the company. Operations, manufacturing and engineering managers not only have input early into the supplier selection process but are involved throughout the process with GSCLT leadership. Ellis believes that the key to successful supplier relationship management is early and continued involvement of the relationship managers. Facilitating the move from tactical to strategic also required Ellis to address his sourcing professionals' competencies. He instituted formal, recurring training for his staff, began replacing those that could not meet the new challenges with senior sourcing professionals from different businesses and geographies, and hiring sourcing MBAs to raise the bar within the sourcing team.
Along with governance and staffing, Randy has deployed a significant infrastructure to support the sourcing function. He has developed and implemented a sourcing process manual, a sourcing toolkit and an employee supply chain portal. These operational systems provide tactical guidance and direction to the day-to-day functioning of his supply chain organization. Today Ellis is implementing international purchasing offices (IPOs) in China and India to continue to move the organization upwards in the sourcing continuum, reaching towards a fully visible, nimble, proactive and risk-contained sourcing center of excellence (COE).
Combining savings from both process refinement and exploiting sourcing opportunities, Ellis has been able to reduce the total cost of ownership (TCO) upwards of 45 percent. Together with a new level of trained staff, leadership from the GSCLT, the institution of common practices and process, and ongoing professional review and development, Ellis has assured continuing success and cost savings for FMC for the foreseeable future.
... servicing customers profitably
Scott Brown, Manager Supply Chain Analysis & Design, Plexus. Successful companies must support a supply chain cost structure and model that ensures customers are serviced at high levels but also profitably. At Plexus, Brown has led the redesign and deployment of the company's analytical toolset, Optimal Procurement & Deployment Modeling (OPDM) and Inventory Service Level Modeling (ISLM), as part of the company's process for quoting new business. These tools integrate bill-of-materials data and typical BOM variables to achieve desired inventory velocity, desired service level and total cost for a given customer. Brown also has worked on a refined model and calculation engine for projecting the required inventory levels necessary to support a customer business model, recognizing the impact of increasing probabilities of sporadic demand patterns on future inventory levels through the use of the ISLM Monte Carlo simulation capability. Using the OPDM and ISLM toolsets, Plexus has transitioned nearly $500 million in spend to optimal procurement and replenishment models based on demand pull.
... bringing world-class performance to old line industries
Steve Miller, Vice President of Supply Chain, Wabash National Corporation. Working at this Fort Wayne, Ind.-based commercial truck-trailer manufacturer, Miller has been credited with transforming the supply chain operation of an organization in a traditionally stodgy industry into a world-class operation. Through the development and implementation of strategic initiatives, operational deployment and performance measurement tools, Miller and his organization have been recognized for delivering significant improvement to Wabash National. A 20-plus year veteran of the automotive industry, Miller previously served as director of purchasing at Cummins Engine Company.
... benchmarking itself for best-in-class performance
Ted Augustine, Director, Purchasing North America, The Goodyear Tire & Rubber Company. Ted Augustine is a seasoned supply chain practitioner with more than 30 years of industry experience in the dot.com, consumer, food service, consulting and steel sectors. When he joined Goodyear North American Tire in 2002, Augustine envisioned the company's 21st century supply chain performing as a strategic entity, having an impact on all spend and delivering on aggressive targets that directly support company goals. Beginning in 2003 Augustine has helped lead Goodyear's supply chain through a major transformation from a tactical warehouse and transportation environment reporting to the manufacturing division to a highly functional, strategically focused order-to-cash standalone entity that has been recognized as best-of-breed in the tire industry sector by an independent benchmarking firm.
Augustine and his team redesigned Goodyear's logistics center and provider network to ensure they are appropriately sized and positioned to meet customer needs. Through a detailed RFQ process, they narrowed third-party providers from five down to one. In parallel, they reduced their locations from 22 to 17, with 15 to be managed by the single third-party provider. Both changes were rolled out in six months without any disruption to customer service. To optimize performance, Augustine's team developed a velocity-based stocking strategy that centralized all slow-moving products and allowed them to increase speed of service and carry deeper inventory of the fastest moving products. To aide in production planning and maintain the proper mix of inventory, the team deployed a yard management system that provided greater visibility to yard capacity, reduced penalties and increased efficiency, allowing carrier providers to meet Goodyear's needs while managing cost.
Augustine and his team also tackled legacy relationships with freight forwarders, steamship lines and freight carriers to drive efficiency, reduce costs and improve visibility and service levels. The team narrowed the number of ocean carriers from a total of 36 to six core carriers and 12 niche carriers, enabling Goodyear to increase the volume of transactions with each freight forwarder and strengthen their negotiating power. To zero in on opportunities to refine their indirect procurement process, Ted engaged a 4PL to optimize Goodyear's overall logistics solution and proactively manage providers. Use of a 4PL has helped Goodyear to leverage additional resources and technology, enabling them to accomplish their goals while reducing the overall cost of running their logistics department.
The impact of these transformations has been widely visible, and the supply chain organization is increasingly being seen as a strategic enterprise throughout the company. Goodyear's chairman and CEO, Bob Keegan, summarized the company's global business strategy in a set of guiding principles called the "Seven Reasons to Believe in Goodyear," which included the company's supply chain and its ability to ensure that orders are processed on time, in full and with no errors.
Goodyear's supply chain continues to evolve and transform itself to meet the Chairman's goal. Augustine is now tasked with the goal of centralizing all indirect spend within a shared service organization and platform, enabling it to impact more spend and deliver significant savings to support company objectives.
... providing higher service levels at lower total cost
Doug Eckrote, Senior Vice President, Operations, and Lisa Tegtmeyer, Senior Director of Distribution Operations, CDW. In the past Online IT retailer CDW took a hit on deliveries to the West Coast from its headquarters distribution center in Vernon Hills, Ill. Eckrote and Tegtmeyer headed a project to open a state-of-the-art Western Distribution Center in North Las Vegas, Nev., improving the company's capacity for shipping IT products with speed and accuracy to customers out West, while cutting express shipping costs by 40 percent.
2008 Pros to Know Team Award
Cardinal Health's Healthcare Supply Chain Services Team. Team Members: Mike Duffy, Executive Vice President, Operations; Dave Strizzi, Senior Vice President, Warehouse Distribution; Vicky Perryman, Senior Vice President, Customer Service; Jon Giacomin, Senior Vice President, Inventory Management; Rob Pantano, Senior Vice President, Operational Excellence.
In today's rapidly changing healthcare industry, providers of care face unyielding pressure to improve quality, maintain operating margins and lower costs. Reaching these goals requires a relentless focus on making healthcare safer and more productive. And that's the mission of Cardinal Health's Healthcare Supply Chain Services team.
The thousands of employees who work in the company's 25 pharmaceutical and 43 medical-surgical supply distribution centers play a critical role in making that mission a reality. Cardinal Health distributes one-third of all medicines and medical-surgical products used in the United States each year, making more than 50,000 deliveries each day to more than 33,000 pharmacies and 90 percent of all U.S. hospitals.
The company's 21st supply chain vision is to be a true strategic partner with hospitals, pharmacies and other care providers to "chase zero" — Zero medication errors. Zero waste. Zero lost revenue. Zero supply gaps. Zero stock outs. It's a lofty goal, but by listening to the needs of its customers and engaging employees at every level of the organization, Cardinal Health is moving closer to zero each day. The company aims to build the healthcare industry's most agile, responsive, global and customer-focused supply chain, with the ultimate goal of making healthcare safer and more productive.
Tighter links in the medication supply chain are driving increased safety, efficiency and integrity from the manufacturer right to the patient bedside. Automated inventory management is helping to reduce medical and pharmaceutical costs. And as Cardinal Health works with customers to consistently deliver the "perfect order," delivering the right products at exactly the right time to exactly the right location, it's helping its healthcare customers improve clinical performance, profitability and patient outcomes.
Since its founding more than 30 years ago, Cardinal Health has grown to become an $87 billion health care services company. Much of that growth occurred through acquisition, which meant disparate systems, processes and procedures across many functions and throughout its distribution center network.
In 2006, the company began to pursue a bold plan to move from a "holding company" model to an "operating company" model, uniting its businesses, systems, processes and procedures to deliver consistent services from a single source. Just a handful of the new processes and technologies that have since helped the company move closer toward its vision of creating the 21st Century Supply Chain include:
Initiating company-wide Lean business philosophy to create a culture of innovation and process improvement to reduce process inefficiency, improve employee job satisfaction and enable the company to be more responsive to customer needs.
Initiating an 18-month "Operating Model" project that will see each of its distribution centers go through an intense Lean Six Sigma transformation to improve the customer's experience while also improving employee engagement.
Consolidating dozens of customer service centers nationwide into two customer service centers (with 500 employees each) based in Arkansas and Kentucky to provide a more consistent and efficient customer experience.
Since the beginning of 2007, eight Cardinal Health employees have been certified as Black Belt Lean Six Sigma leaders. The company completed more than 442 Lean Six Sigma projects in 2007 and currently has nearly 250 on tap for 2008. Since July 2007 (the start of Cardinal Health's 2008 fiscal year), the company has realized more than $62.8 million in savings as a result of its aggressive Lean Six Sigma and Operating Model projects. Most of the company's operational excellence projects lead to an average savings of nearly $71,000, and projects led by certified black belts yield an average savings of $191,000.
Cardinal Health has experienced dozens of quality and cycle time improvements as a result of its "Operating Model' project, all of which have had a significant impact on customer service levels. Many of these improvements are distribution center or customer specific, but the following examples provide insight into how the company's redesign and pilot of new processes and technologies have improved efficiency and service levels.
The company's Buford, Ga., distribution center has improved quality each month since the project began and has reduced shipping errors by nearly 50 percent since June 2007.
A redesign of the company's UPS receiving process has resulted in an 82 percent reduction in cycle time for putting away product and making it available for customer order.
A redesign and pilot of the company's "ValueLink" low-unit-of-measure pick process has resulted in a 31 percent productivity improvement in picks per hour.
As Cardinal Health continues "chasing zero," it is continuing to tackle its 21st century supply chain challenges by listening to key players in the pharmaceutical and med-surg supply chains. The team listens to the:
Voice of the customer to constantly understand new performance and product availability needs;
Voice of the business to find new ways to reduce redundant work and performance variability while driving costs out of the extended supply chain;
Voice of the employee to find new ways to improve job satisfaction by eliminating inefficient processes, ensuring role clarity, clearly identifying opportunities for advancement and engaging them in the improvement process.
In listening closely to each of these critical voices, Cardinal Health believes it can continue to move toward its vision of creating the health care industry's most-responsive and customer-focused supply chain for the 21st century.
The executive leadership of Cardinal Health's Healthcare Supply Chain Services team includes:
Mike Duffy, who currently serves as executive vice president of operations with Healthcare Supply Chain Services, a role he has held since coming to Cardinal Health in May 2006. Prior to Cardinal Health, Duffy was vice president of the global value chain at Gillette, where he had global responsibility for customer service, revenue management, demand planning, distribution and promotions management.
Dave Strizzi, senior vice president of warehouse distribution for the Healthcare Supply Chain Services segment. Prior to joining Cardinal Health six years ago, Strizzi spent 10 years in operations and general management roles with PepsiCo, and he also has held various operations roles with Procter and Gamble.
Vicky Perryman, senior vice president for customer service, accounting services and contracts & pricing. She joined Cardinal Health in November 2005 as senior vice president of customer service. Prior to assuming this position, Vicki spent 10 years at Wachovia in various leadership roles, including chief administrative officer and chief financial officer within Wachovia Direct Access. Her career also includes financial positions at Citibank and Motorola.
Jon Giacomin, senior vice president of inventory management for the Healthcare Supply Chain Services business, a position he has held since 2002. Previously, he served as vice president and general manager of Cardinal Health's Pharmaceutical Repackaging business, as well as regional vice president of pharmaceutical distribution for the Pac North region. Giacomin began his career in the Navy, where he spent five years in engineering roles. Afterwards, he worked for Griffith Micro Science and Sterigenics, holding a number of positions of increasing responsibility, including vice president of operations.
Rob Pantano, senior vice president of operational excellence. He has been with Cardinal Health for more than two decades, having served in roles of increasing responsibility within Accounting, Operations, Sales, General Management and Operational Excellence. His career with the company began with American Hospital Supply Co. and continued through Baxter and Allegiance Healthcare.
Pros We Got to Know in 2007
Greg Tennyson, Vice President, Global Procurement, Travel & Disbursements, Oracle Corporation. Tennyson has headed up Oracle's drive toward "touchless procurement," leading the initiative to channel an increasing of spend through the company's e-procurement system. [See "Enabling Supplier Enablement at Oracle," February/March 2007, www.sdcexec.com/9275 .]
Glenn Trommer, Director of e-Commerce and Implementation Services, Office Depot. Through Office Depot's Tier One Program that Trommer has helped enable, the office supply retailer provides historically underutilized businesses with a toolkit for doing business with large-enterprise customers, with Office Depot acting as the go-between distributor. ["Enabling Diversity," April/May 2007, www.sdcexec.com/9471.]
Dana Mathes, Corporate Director, Environmental, Health, & Safety Operations, Dow Chemical. In overseeing Dow's complex worldwide logistics network as Global Supply Chain Director of Logistics Operations at Dow, Mathes helped shape and implement the chemical company's Supply Chain Sustainability Strategy. His leadership has successfully improved the safety, security and resiliency of Dow's global supply chain. He moved into his new position as Corporate Director, EH&S Operations in July 2007. Lawrence Cresci has been named as his successor. ["Disaster-proofing the Supply Chain," April/May, 2007, www.sdcexec.com/9477.]
Barbara Myers, Manager of Central Processing, Greif, Inc. Myers is helping to transform and automate A/P at the company by automating invoicing processes through a global B2B e-invoicing network that connects Greif to its supply base. ["A/P Becomes Strategic," June/July 2007, www.sdcexec.com/9695.]
Janan Johnson, Director of Procurement for Corporate Services, GlaxoSmithKline. Johnson has headed up a project to drive greater end user adoption and bottom line savings in the area of travel and entertainment spending at the pharmaceutical giant. ["All Aboard for Savings," August/September 2007, www.sdcexec.com/9833.]
Kai Abelkis, Environmental Coordinator, Boulder Community Hospital. Heading a program to find ways to "reduce, reuse and recycle" goods and materials procurement by the hospital's employees, Abelkis' efforts have helped meet "green" goals and reduced the facility's environmental impact, but also driven bottom-line cost savings. ["Building the Green Supply Chain," October/November 2007, www.sdcexec.com/10015.]
Robert Engle, Vice President of Supply Chain, Dole Fresh Vegetables, Inc. When a fresh foods health scare hit the headlines in 2006, Engle acted quickly to ensure that Dole's supply chain was safe and secure. Dole subsequently was named "Shipper of the Year" by NASSTRAC, the National Shipper's Strategic Transportation Council. ["Dole Recognized for Cutting-edge Supply Chain Visibility," December 2007/January 2008, www.sdcexec.com/10117.]
Kimball International's Sourcing Team: Jane Vogler, John Barwe, Glynn Staten, Bob Price, Ben Russell, Myron Lampert, Rob Young, Stan Schneider, Werner Bender, Larry Quade and Lara Dickerson. In the 21st century supply chain, training and skills development will provide a competitive edge when it comes to generating ideas and innovations. When Director of Global Supply Chain Management Bob Price began leading the transformation of sourcing at the Office Furniture Group of Kimball International two years ago, he quickly put into place five initiatives, including supplier relationship management, category management planning, commodity councils, strategic sourcing and globalization target setting, and, importantly, training and skills development. By Price's reckoning, the five initiatives that sourcing undertook have allowed it to increase the team's net impact on Kimball's bottom line (commodity increases-decreases less savings) from $200,000 in 2005 to more than $2.2 million in 2006, all with very little investment and no increase in staff. Saving projects implemented in 2006 accounted for $8.6 million, versus $5 million for the previous year. And the team generated creative cost reduction ideas valued at $4.4 million last year. ["Building a Strategic Supply Management Team," August/September 2007, www.sdcexec.com/9832.]
Provider Pros to Know
Sourcing/Procurement
Mike Anguiano and Rajesh Voddiraju, co-CEOs, CVM Solutions (www.cvmsolutions.com), are big proponents of supplier diversity, having helped to open doors to it for over half of the Fortune 500. They use CVM's supplier database to help clients understand their suppliers and spend, reduce spend, increase/protect revenue and manage risk in their supply chains. And they assert that companies can efficiently manage their supplier diversity programs and supply chain solutions in order to save money, adhere to governmental regulations and advocate diverse supplier utilization.
Jay Baitler, the executive vice president, Staples Contract Division, Staples, Inc. (www.staples.com) is no stranger to innovation and leadership. Under his guidance, Staples is currently helping clients adopt "green procurement" best practices through the introduction of the office product industry's first online catalog for contract customers, as well as providing eco-friendly office products and environment reporting to heighten awareness of the benefits of such purchases.
Tom Beaty, president and CEO, Insight Sourcing Group (www.insightsourcing.com), says the late 20th century saw the explosion of strategic sourcing and supply chain management in the Fortune 1000, but in the 21st century many mid-market companies still lag behind. He founded ISG to help these companies achieve supply chain optimization and the financial benefits associated with sophisticated supply management and strategic sourcing.
Michael Boult, president and CEO, StarCite Inc. (www.starcite.com), says the 21st century supply chain includes one of the largest and most historically overlooked segments of controllable spending: meetings and events. Boult has led his company to create strategic meeting management tools to provide users with a consistent means of standardizing the meetings planning process, enabling both time and cost savings of 15-20 percent on meeting spend.
Kieran Brady, senior vice president of international markets at IQNavigator (www.iqnavigator.com), views the human capital chain as a strategic issue facing global enterprises and believes that it has become necessary for companies to implement global workforce management business processes in order to remain competitive in the 21st century. Putting his vision into action, Brady works with clients like Shell Oil on methodologies and solutions that provide visibility both locally and globally.
David Bush, CEO, Iasta (www.iasta.com), is passionate about leading companies in the adoption of 21st century supply chain technology and process, making sure his company provides technology and support services that help customers in this pursuit and cut costs, reduce risks, and improve quality and innovation in the enterprise. Bush actively evangelizes that advanced sourcing optimization is a key foundation for best-in-class organizations and has diligently worked to raise the profile of the 21st century supply chain through his company's e-Sourcing Forum, a blog focusing on e-sourcing best practices that help professionals do their daily jobs better.
David Clevenger, vice president, Corporate United (www.corporateunited.com), believes the future of spend management lies in a combination of advanced supplier and contract management, combined with analytics to identify and demonstrate a new generations of savings to buying organizations. He is working with member companies to structure organizations and select tools that will allow them to harness the potential efficiencies to be gained by executing against modern supply chain strategy. Members are already identifying cost savings and process improvements throughout their organizations.
John Campellone, president, ProcureStaff (www.procurestaff.com), recognizes that accumulated data can drive improved results with greater effect than visibility into past procurement activities alone. Campellone is spearheading a movement within his company based on his certainty that rate benchmarking, supplier performance and other data from client programs as well as the general market is invaluable business intelligence (BI), yielding ROI for his company's clients.
Jim Coll, chief technology officer, ProcureStaff (www.procurestaff.com), evisions a 21st century supply chain that is virtually transparent. He believes that companies must leverage technology to ensure that users at every touch point of an automated services procurement software tool have the visibility they need to develop effective procurement plans and to make sound decisions.
Norman D. Conway, president and CEO, Prorizon Corporation (www.prorizon.com), says, "If all you're doing is automating your old procedures, you miss the opportunity to truly revolutionize the process." He adds that the new horizon for procurement seeks to minimize or eliminate post-purchase costs. In addition, Conway believes that companies should avoid the complexity of large, over-engineered ERP systems as well as under-engineered "Band-Aid" systems that consume time, resources and increase overhead costs. Rather, he says, organizations looking to leverage technology should seek a simplified approach to achieve the business functionality required by the strategic and tactical stakeholders within an organization.
Ryder Daniels, president and chief solutions officer, JVKellyGroup, Inc. (www.jvkg.com), has transformed the way companies leverage complex data to make timely decisions in areas such as supplier performance management, risk, spend analysis, business process management and marketing intelligence. He has helped design a flexible dashboard solution in which clients can readily change what metrics they're monitoring, while maintaining their original metrics in the background; the benefits have been measurable.
Aatish Dedhia, founder and CEO, Zycus Inc. (www.zycus.com), believes that companies must work to unlock the savings hidden in their e-business content. Dedhia has helped revolutionize the spend management space through the application of artificial intelligence for the automatic classification of spend data. He believes that technology solutions must be innovative but also easy to use to help organizations ensure faster savings and maximum ROI.
David Diamond, CEO, RockBlocks Group, Inc. (www.rockblocks.com), sees the 21st century supply chain as the bridge between business leaders and the supplier community. Diamond believes that modern technology should be agile and nimble enough to adapt to dynamic market conditions and business rules, while still advancing social responsibility. He has used his industry knowledge to create tools that help retailers realize new revenue streams, such as private label collections, and eliminate slow, costly and outdated supply processes.
Charles Dominick, SPSM, president of Next Level Purchasing, Inc., (www.nextlevelpurchasing.com), developed the Senior Professional in Supply Management (SPSM) Certification Program, which has helped supply chain professionals throughout the world learn the techniques necessary to deliver measurable results to their employers as well as how to communicate those results within their organizations. Graduates of the SPSM Certification Program report an increased ability to reduce costs, improve operations and manage risk.
Nancy A. DuFresne, client executive, DSSI, LLC (www.directsourcing.com), applies industry knowledge gained through 20 years of experience in the purchasing management field, including a stint with General Motors and 14 years with Electronic Data Systems (EDS), to her work helping companies such as Federal-Mogul, Inc. (FMI) tackle indirect procurement outsourcing programs.
Michele J. Flynn, president, Expense Management Solutions, Inc. (www.expensemanagement.com), believes there is such a tremendous need for technology to support supply chain management that she actually started another company, Hiperos, to meet the need. She has also developed a comprehensive software platform that enables clients to track and manage compliance, supplier performance, and all other aspects of relationship governance, including market intelligence and demand management. Flynn also facilitates symposia for corporate executives to help them understand the importance of relationship management.
Sam Gadodia, chief financial officer and executive vice president, Global eProcure (www.globaleprocure.com), believes the 21st century supply chain should be driven by the use of the right blend of people, process and technology to make the supply-chain flexible and transparent. With the emergence of the SaaS technology model, he says, organizations can implement flexible technology on a modular basis at a fraction of the cost of an enterprise-based software solution. Putting his convictions into practice, Gadodia is using SaaS based Spend Management tools to help clients, including a global Fortune 500 company, drive efficiency through their sourcing supply chain across Europe and North America.
Jim Garcia, chief technology officer, Enporion (www.enporion.com), says that leading-edge corporations are beginning to focus on the potential benefits of integrating the financial supply chain with its physical supply chain counterpart. Garcia and his team have engaged with the corporate treasurer of a Fortune 500 customer to integrate these processes, ensuring the agreement of an entire commerce transaction from requisition to invoice to settlement. In addition, Garcia's work extends to and incorporates all sources and demands of cash such that the end result is an integrated view of a corporation's cash position.
Burton M. Goldfield, the CEO of Ketera Technologies (www.ketera.com), has spent much of his time at Ketera educating peers and the industry on the importance of supply chain efficiency and its effectiveness to the bottom line. His vision for the industry is focused on further raising the level of industry practice by delivering innovative solutions, increasing the visibility of spend management to C-level executives and providing Ketera customers with value and cost savings across the board.
Patrick W. Grady, founder and CEO of Rearden Commerce (www.reardencommerce.com), believes a 21st century supply chain should redefine the procurement experience through an on-demand personal assistant and commerce platform that connects employees with merchants and third-party applications providers. Grady founded Rearden on this premise and has helped numerous companies to achieve impressive results, such as ConAgra Foods, which has seen an 11 percent reduction in its average air ticket price, translating to a $3.5 million annual cost savings.
Marc Halpin, the CEO at TradingPartners (www.tradingpartners.com), envisions companies in the 21st century supply chain focusing on the products and services they buy as a way to save money. He has worked to develop a reverse auction software program that goes beyond software and refined negotiating skills, seasoning it with purchasing expertise for clients' benefit, saving more than $67 million within the last 12 months alone.
Gary Hare, president and CEO, Vinimaya (www.vinimaya.com), is leading the next phase of supply chain transformation for MRO and indirect purchasing. Industry analysts have dubbed his efforts as an "e-Procurement 2.0," which uses the existing connectivity, content and community of the Internet with Web 2.0 technologies, such as meta-search, intelligent agents and Web services, to create "e-Procurement 2.0" solutions like "virtual" Internet supplier networks.
Ammiel Kamon, senior vice president, marketing and product management, Emptoris (www.emptoris.com), notes that the average Global 2000 corporation maintains over 40,000 active contracts, yet most of these contracts are still managed via traditional manual methods. Kamon is helping to change that by bringing contract management software into the mainstream. He has helped dozens of Global 2000 companies, like American Express, Kraft, Motorola and Boeing, to improve their visibility into, control over and compliance with their contracts using innovative software technology.
James V. Kelly, C.P.M., CEO and managing principal at JVKellyGroup, Inc. (www.jvkg.com), believes that "visibility is the great antiseptic," meaning that if employees know their spending is being monitored, they will be less likely to buy out of policy, leading to greater compliance and savings. Kelly has promoted this belief through a number of speaking engagements throughout the past year, as well as through his work with clients.
Martin Kelly, global director of contract management, Emptoris (www.emptoris.com), beleives that contract management is the future for the 21st century supply chain. He has been instrumental in the development and advancement of the Emptoris Contracts solution, which has been recognized as the industry's leading contract management solution by analyst firms such as Gartner-1 and Forrester Research-2. Kelly has also guided a variety of companies, from the Fortune 500 to private companies, in both the United States and internationally, in improving and innovating contract management processes through the application of software.
Raj Khoshoo is vice president, strategic initiatives, Siemens PLM Software (www.siemens.com). His vision transforms the strategic sourcing process to enable stakeholders complete sharing of data across the enterprise to deliver effective product cost management during all product lifecycles. Recent efforts have concentrated on technology and processes to efficiently manage the engineering change process and its impact on total product cost management. These efforts have lead to improvements in price discovery and cost transparency, particularity in the area of sourcing highly engineered material and components.
Bob Kothari, senior vice president, solution design, ICG Commerce (www.icgcommerce.com), has a vision for the 21st century supply chain to help organizations take their spend and supply management capabilities to the next level. He has helped dozens of market leaders turn this vision into reality by developing a global procurement strategy that leverages deep category expertise, robust market information and the ever-expanding global supply sources to optimize price and services from suppliers. In addition, he has helped supply chain organizations establish operational and transactional best practices to deliver efficiency and effectiveness on a global scale.
Jan Malasek, CEO of OnDemand Resources (www.ondemandresources.com), founded his firm to revolutionize the way companies deploy professional resources in strategic procurement, supply chain management and operations. His business model provides a single access point to support by matching highly qualified project professionals with opportunities so that his clients get the right skills at the time of need while managing their cost structure to ensure the highest return on investment.
Dr. Jack Mason, president/founder, EnergyWindow, Inc. (www.energywindow.com), has a vision for enterprise-level supply chain systems to be able to easily integrate energy purchasing, because savvy energy purchasing can save companies millions. He has led the development of his company's online energy purchasing system, which allows customers to buy natural gas and electricity at lower prices in competitive energy markets. To date, customers have saved $138 million on $816 million in energy supply costs.
Tim McEneny, president and CEO of PurchasingNet, Inc. (www.purchasingnet.com), has a vision to align the Sourcing, Procurement, Accounts Payable and Treasury functions of the supply chain into a cohesive value chain that is supported by Web-based technology solutions. To support his vision, McEneny continues to expand the processes supported by the PNet Web-based Procure-to-Pay suite more deeply into the financial supply chain, often with returns as high as 36 percent for clients.
John McNeill, senior vice president, sales, BravoSolution US (www.verticalnet.com), works with a number of clients to develop approaches that leverage process guidance, information consolidation and enabling technologies to reduce cycle times. McNeill also works diligently to emphasize the critical nature of a sophisticated supply management strategy to key executives, having been an early evangelist in emphasizing the importance of high-level supply management operations to the entire organization and bringing strategic supply management views from the back office to the boardroom.
Bill Michels, CEO, ADR North America, LLC (www.adrna.com), envisions a future with a high degree of business integration between customers and suppliers, resulting in competing tied supply chains. He says the role of shared supply chain forecasts, integrated demand planning networks, lean inventories with integrated planning networks, and streamlined logistics and distribution will enable competitive advantage. His clients testify to the power of his vision: One firm went from 86 percent on time in full shipment to 99 percent, and inventory turns improved from two to six in just 20 weeks.
Andy Monin, president and CEO, Vendormate, Inc. (www.vendormate.com), created his company in response to the increasing dependency on vendors as extensions of a company's business. Monin provides business credentialing and compliance monitoring for highly regulated industries to ensure healthy supply chains. Looking to the future, Monin has recognized the link between vendor eligibility and onsite facility access in decentralized environments and has released an integrated access control feature with his company's document management and compliance monitoring system.
Jai Shekhawat, co-founder and CEO, Fieldglass (www.fieldglass.com), says a major trend for the 21st century supply chain will be exploring various ways to manage contingent labor. Shekhawat saw an emerging market demand for a solution that could identify and re-source known talent, such as retirees and alumni, into contingent positions, and now offers this to clients via a recruitment module. With the addition of the recruitment solution, customers can now manage the sourcing of contingent labor and services as well as direct workers through a single technology platform.
Julie Smith, head of EMEA managed services programs at ProcureStaff (www.procurestaff.com), has a vision of globalization for the 21st century supply chain. Smith has been instrumental in opening markets in Europe to clients seeking to expand operations into this region. She has been able to accomplish in weeks what often takes an un-moderated procurement program months to accomplish in terms of groundwork, thanks to the operational infrastructure and market knowledge she has built in European markets.
Dan Traub, solutions consultant, SciQuest, Inc. (www.sciquest.com), advises more than 80 organizations annually on how to improve procurement effectiveness. Specifically, he has developed the only e-procurement technologies tailored just for research-intensive organizations. "Regardless of how developed an organization's procurement function is, they must be able to articulate a clear business strategy that demonstrates its value," says Traub. "My role is to help customers take a larger view of the role procurement plays and to align the right combination of technology, processes, stakeholders and partners to achieve their goals and optimize the supply chain."
Jeff Wilson, vice president, general manager, growing enterprises, Ariba (www.ariba.com), has long evangelized the notion of spend management, but pushed for a "democratized" version that allows companies of lesser size and experience to take part. He has worked closely with smaller companies to fully understand their unique middle market challenges and needs and personally guided his middle market customers on how to restructure operations while driving deeper connections with suppliers so they could accomplish just that. Through this leadership he has helped advance the notion of on-demand spend management.
Fulfillment/Logistics
Jaime Mateus-Tique, president and chief operating officer of Liquidity Services, Inc. (www.liquidityservicesinc.com), envisions a 21st century supply chain in which organizations will use best practice technology solutions to create an efficient reverse supply chain and receive the highest net recovery possible. He has worked to develop LSI's scalable, online auction marketplace platform for the sale of wholesale, surplus and salvage assets, driving the evolution of the reverse supply chain from the use manual, ad hoc processes to dispose of assets.
Carl Brewer, president, and Scott Upp, CEO, Integrated Warehousing Solutions (www.irmswms.com), emphasize the critical role that warehouse operations play in achieving supply chain excellence. Their fundamentals for warehouse management include not just visibility, automation, flexibility and accuracy, but also an understanding of the critical role that the warehouse plays in the customer relationship, whether the customer is an individual consumer or a big-box retailer. Only by leveraging technology to gain actionable insight into critical data such as inventory levels, locations and so on can the "last mile" of the supply chain run as efficiently and effectively as all the other stages.
Jeff Chiu, director of compliance, Global4PL (www.global-4pl.com), believes that compliance is an area in which 21st century supply chain can excel. He works with companies to help them not only meet various regulations, like Sarbanes-Oxley and those of other foreign governments, but to also make the companies more efficient in the process. Additionally, clients praise Chiu for the steps he has taken to impress upon corporate leadership the importance of the supply chain profession.
Sergio Retamal, CEO, Global4PL (www.global-4pl.com), says the 21st century supply chain will no longer be a secondary function of many companies, manifested by more CEOs and C-level executives in place from the supply chain industry. Retamal, who has been a practitioner, has also driven the industry as the president of the Council of Supply Chain in San Francisco. Additionally, he is the founder and president of the Global Supply Chain Leaders group, which brings together senior leaders in the industry, working to raise the importance of Supply Chain in companies.
Edward K. (Ned) Blinick, vice president for sales and marketing, Blinco Systems (www.blinco.com), sees companies of all sizes struggling with the ability to effectively manage their response to the rapidly growing and shifting global environment. Organizations must seek to optimize their supply chains by gaining control over their base global supply chain functionality, and then optimizing their supply chains by overlaying collaborative communication, problem-solving and relationship tools, Blinick says. Only in that way can they gain complete control over their global supply chain processes, data and resulting information.
Robert J. De Vos, senior vice president, business development, GENCO (www.genco.com), summarizes his vision as "complete technological order fulfillment within an optimized network." His requirements include electronic connectivity across the shippers' enterprise technology with sophisticated transportation/warehousing management systems. De Vos has spent over 25 years working with transportation and logistics firms to reach this vision, providing them savings in transportation and inventory expense through complete supply chain logistics solutions.
Lorcan Sheehan, senior vice president of marketing at ModusLink Corp. (www.moduslink.com), sees companies exploring a variety of "green" options to support their 21st century supply chains, including taking innovative approaches to rationalizing their reverse logistics. Rather than sending short-lifecycle products back offshore for repairs, for example, innovators are creating in-region testing and repair capabilities. He also sees other companies considering near- or "on-shore" facilities for configuration or final assembly of some products, effecting a reduction in those products' carbon footprint.
Jeff Potts, vice president, business development, and co-founder of LeanLogistics (www.leanlogistics.com), says the 21st century supply chain is going to be all about connected supply chains and networks, especially with the advent of SaaS. However, he adds that the technology employed must enable companies to proactively manage supply chains in a real-time fashion, and allow individuals to understand the impact of their decisions on supply chain performance. To this end Potts has created the "Path to Value" for clients, using their own data to benchmark against that are best-in-class in a given business process area.
Lisa McDonald, founder and president, MDSi (www.mdsiinc.com), is promoting the "4 R's" of the green supply chain: redeploy, repair, resell and recycle. By properly handling and managing existing technology assets instead of buying new, she points out, companies not only save significant amounts of money directly attributable to the bottom line, they decrease the amount of hazardous materials introduced into our already overloaded landfills.
Greg Humes, president of NLM (www.nlmi.com), is a firm believer that an integrated, collaborative, adaptive approach to supply chain management is the key to a successful 21st century supply chain. Practicing what he preaches, Humes led the integration of four individual companies (Artisan Associates, Artisan Container Services, National Logistics Management and NLM Supply Chain Solutions) into the unified enterprise known today as NLM, transforming a group of separate successful entities into a streamlined, single-source operation.
Tom Anderson, senior vice president, operations and finance, GENCO (www.genco.com), envisions 21st century supply chain companies receiving individualized solutions, beginning with their own data and understanding the current processes they have in place. This assessment of the current state of the network can lead to cost savings and service enhancements, as well as a clear vision for the company of its own supply chain. Another important component is the use of technology for information visibility, fast implementations and a quicker ROI.
Scott Taylor, CEO of NLM (www.nlmi.com), was the first to pioneer a Web-based approach to logistics management, where carriers can bid quickly on shipments online and customers can obtain full visibility of their orders. His vision for a 21st century supply chain not only includes technology, but emphasizes it as integral and necessary for a successful 21st century economy. He recently launched Interactive Capacity Gateway (ICG), an independent software company focused entirely on technology for logistics management.
Eric Allais, president and CEO of PathGuide Technologies (www.pathguide.com), believes a 21st century supply chain should be efficient and predictable. He has focused squarely on warehouse automation with the goal of helping customers fulfill products within the supply chain with greater accuracy, efficiency and speed. And the results of one customer tell the story of Allais' vision: order accuracy consistently running at nearly 100 percent, inventory management accuracy running at 99.9 percent and inventory reduced by more than two-thirds, among other accomplishments.
Gerald McNerney, senior director, transportation, distribution & logistics solutions, Motorola Inc. (www.motorola.com), says mobile integration is leading to productivity, quality and cost improvements in the enterprise. Through engagements with supply chain and technology executives from enterprises across the globe, McNerney identifies business process improvement techniques that can use new and emerging mobility tools, including advanced data capture, RFID, wireless infrastructure and rugged mobile computing.
Tom L. Jones, the senior vice president and general manager, Supply Chain Solutions, Ryder System, Inc. (www.ryder.com), says the 21st century supply chain is all about moving from a reactive to a proactive state of supply chain management, where control is achieved through advance planning and communication. Jones has taken action to develop the Logistics Management Suite of tools that enable Ryder's logistics engineers and managers to gather pertinent information, apply decision-making tools and then use this "enhanced" information to make better decisions.
Matthew Harding, vice president — consulting at Transplace (www.transplace.com), says the supply chain must be viewed strategically and that companies should have the proper resources to know when to adapt and react to a changing business environment. His consultations with clients provide insight into managing, contracting, operating and scheduling all matters related to transportation and the impacts to adjacent functions. Over his 10-year career in supply chain, Harding has helped companies procure over $5 billion in transportation freight expense.
David Fox, president and CEO, Agistix, Inc. (www.agistix.com), believes global visibility is the key for 21st century supply chains. He uses his position at Agistix to create software that addresses his vision, as well as a host of other solutions designed specifically for the needs of companies that engage in global logistics. Examples of companies like Merit Logistics or a distributor of fine wines in the United States, both of which have seen improvements in the rates they pay carriers and visibility into shipping operations, testify to the validity of Fox's vision.
William (Bill) L. Conley, Jr. , president, ATC Logistics & Electronics (www.atcle.com), says that while specialization in a company's industry segment is key, it is really the depth of services provided that truly differentiates effective supply chains. Conley brings this to customers by offering end-to-end lifecycle management of devices. By taking a holistic approach to a customer's supply chain, Conley says his company is able to identify opportunities in the supply chain that create better customer service, reduce supply chain costs and more effectively manage assets.
Wade McDaniel, director of global supply chain, Avnet Supply Chain Services, Avnet Electronics Marketing (www.avnet.com), believes knowledge is the key to complex 21st century supply chains. He was selected as a charter member of Avnet's Supply Chain Leadership Exchange Program (SCLEP), which enables the exchange of information and best practices among Avnet's global regions. McDaniel also facilitates the exchange of information and best practices among the teams in Avnet's Asia and Americas region, in turn streamlining Avnet's ability to help its customers build and implement 21st century-ready supply chains for their own companies worldwide.
John McGowan, senior vice president of operations, Avnet Logistics (www.avnet.com), says we are at a critical stage in the supply chain evolutionary process, which will be led by collaboration between suppliers, manufacturers and their trading partners. This collaboration, he envisions, will lead to more accurate forecasts, which will enable companies throughout the supply chain to keep inventories at an efficient level while reducing liability and obsolescence. In his role at Avnet, McGowan is on the front line of bringing his vision of a collaborative supply chain to life, having recently helped a leading contract semiconductor assembly and test services company establish demand signal planning.
Dan Sanker, CEO, CaseStack (www.casestack.com), is enthusiastic about educating businesses on the economic benefits of sustainable choices. He expanded the use of biodiesel to even more partner trucks in 2007 and increased the number of carriers contracted who use the fuel. Sanker also offers mid-sized CPG companies the power to make choices to reduce their carbon footprint and continues to promote sustainable logistics solutions with the company's "Delivered Green" program and by applying for the SmartWay certification.
David W. Morgan, founder and CEO, D.W. Morgan, LLC (www.dwmorgan.com), says that 21st century supply chains must share critical, real-time information about the flow of goods so that supply chain partners create systems that are more robust, efficient and flexible. And not only that, but they must realize that the boundaries between traditionally separate activities are blurring. Morgan pioneered the concept of the supply on demand "network," which uses open-source technologies and consulting to enable collaboration among the supply partners. As a result of this effort, clients have seen improved efficiency, increased productivity and reduced costs by up to 50 percent.
Supply Chain Planning & Optimization
David Johnston, senior vice president, supply chain, JDA Software (www.jda.com), believes the evolution of lean and green supply chain management and manufacturing processes will take center stage for the 21st century supply chain. Additionally, he says supply chain optimization solutions will create total visibility and inter-operability, as well as mitigate the risk of global operations. Johnston works to ensure that JDA's supply and demand chain optimization solutions address the unique business challenges and inherent risks faced by many of its customers operating global and elongated supply chains, such as sustainability, extended lead times, excessive inventory, extended cycle times and fragmented visibility.
Donald Hicks, president and CEO of LLamasoft, Inc. (www.LLamasoft.com), created the "Four Step Methodology for Supply Chain Strategic Planning," which describes how to use Network Optimization, Inventory Optimization, Simulation and Sensitivity Analysis in an integrated approach to solve supply chain network design questions. The influence of Hick's theories has influenced the analyst and professional community and also led to the creation of Llamasoft's Supply Chain Guru software, which provides upward of seven-figure returns for clients.
Dr. Nejat Karabakal, vice president of supply chain technologies at LLamasoft, Inc. (www.LLamasoft.com), has pushed the boundaries of what can be modeled in supply chain strategic analysis, and his work is directly responsible for millions in cost savings and operational improvements for global clients. Some of Dr. Karabakal's recent contributions to the supply chain strategic planning market include the integrated use of network optimization and simulation to account for the transportation costs that are functions of time and variability, and the incorporation of cost of inventory dynamics into a network design model through the integration of an inventory placement optimizer.
Dan Basmajian, CEO and president of Optricity (www.optricity.com) and best known for pioneering slotting and specialized routing technologies, predicts the next wave of return will occur at junctures in the supply chain where one function meets another. To that end, he has designed new optimization engines to supercharge existing supply chain solutions, enabling current systems to achieve higher payback. "There's a big difference between systems that capture and manage data and enable visibility and those that employ mathematical optimization engines to determine least cost solutions. Visibility, in and of itself, provides the input for good decision-making but does not provide the optimized answer," he said.
Financial Supply Chain Management
Jonathan Heuser, vice president, global trade services, at JPMorgan Chase (www.jpmchase.com), believes that business leaders across the enterprise must capture a holistic view of working capital, blurring the lines between silos to turn their supply chains into competitive advantages. To that end, Hueser is a boots-on-the ground evangelist, working with individual client organizations, speaking at financial and supply chain-oriented conferences, writing articles for industry publications, and organizing events that will spread this vision for a 21st century supply chain.
Kurt Cavano, CEO, TradeCard (www.tradecard.com), believes global sourcing is a supply chain network where all parties involved in a transaction have visibility into products, payment and data — from raw materials to the store shelf. He helps companies address visibility and control issues that occur in the extended supply chain when second- and third-tier vendors become involved. Under Armour is one instance of the success of Cavano's vision: Brad Dickerson, vice president of Finance for the athletic clothing company, says visibility into the company's processes, from purchase order through payment, has reduced its problem-solving by 90-95 percent.
Peter W. Flanagan, president and CEO, Transzap, Inc. (www.transzap.com), says that 21st century supply chains will let go of inefficient, paper-based processes that slow time-sensitive information and result in poor decision making. To that end he has developed software, called Spendworks, which condenses the purchase-to-pay process into one simplified application, eliminating 80 percent of process steps and reducing 65 percent of total transaction costs for companies.
Jari Tavi, chief technology officer, BasWare Corp. (www.basware.com), has helped guide customers navigate a major supply chain challenge: mastering control and real-time visibility into their enterprise purchase-to-pay processes, which has left many customers vulnerable to unrecorded liabilities caused by incorrect or missing purchase orders (POs) and non-PO-based purchases and invoices. Tavi helps customers implement technology to effectively address these problems and receive the control, visibility and accuracy in purchase-to-pay processes that is also needed for Sarbanes-Oxley compliance.
Global Trade & Supply Management
James Preuninger, CEO, Management Dynamics, Inc., (www.managementdynamics.com), believes an emphasis on decreasing the barrier between the financial and physical supply chain will result in more businesses making strides toward achieving a true 21st century supply chain. He has worked with clients to implement integrated global trade management systems that track supplier, vendor, trading partner and internal performance metrics with accurate financial reporting that becomes ingrained in day-to-day operations, resulting in clients that report heightened collaboration with suppliers and united physical and financial supply chains.
Graham R.F. Napier, president and CEO, TradeBeam (www.tradebeam.com), knows that the linear supply chain is gone. In order to take advantage of this 21st century supply chain and economy, he says companies need global trade management. With such software and services, Napier's clients have been able to respond to the demands of the 21st century supply chain. For example, the automotive firm Renault used it to turn trade compliance into competitive advantage, it has facilitated Neiman Marcus' improvement of trade visibility and cost reduction and it has helped Anritsu streamline global export compliance.
Subhash Chowdary, founder and CEO, Aankhen Inc. (www.aankhen.com), says that globalization in the 21st century will continue to evolve and emerge more rapidly than previous decades, but that supply chains must continue to operate without disruption. In response he is creating what he calls Supply Chain 2.0, which uses RFID and GPS technologies to build an on demand visual supply chain so users can see their product in real time with only a browser and no training.
Melissa Irmen, vice president, products & strategy, Integration Point (www.integrationpoint.net), says that compliance and supply chain managers can no longer solely rely on personal knowledge and paper-based processes to effectively plan and manage global trade in the 21st century. Irmen is an active participant in various international trade initiatives and organizations and works with US Customs and Border Protection as a Trade Ambassador in the development of the Automated Commercial Environment. She has also provided technology and trade expertise to many CBP working groups.
Service Supply Chain
Dr. Morris A. Cohen, founder and chairman of the Board, MCA Solutions (www.mcasolutions.com), envisions four things fueling the service supply chain as the 21st century continues: manufacturers will forego the "one size fits all" perspective on service and roll out more innovative and customized service offerings, embrace performance-based contracts, focus heavily on product development and service, and invest in innovative service parts planning technology. Dr. Cohen believes that technology is the key to the success of these four initiatives, and he has dedicated his career to building the tools that will help companies succeed in these areas.
Mark W. Vigoroso, chief services strategist at Qualcomm (www.qualcomm.com), says that his vision for the 21st century supply chain resides in the "last-mile" — aftermarket service is emerging as the main profit-driver for manufacturers and the most viable growth platform. Vigoroso leads a client services organization that works alongside OEMs and their channel partners to build and sustain business cases for M2M-enabled service and supply chains. He created a methodology, called ASSIST, to help clients undertake the radical shift from product-centric to service-driven organizations.
Mike Landry, chief technology officer and founder, Servigistics (www.servigistics.com), believes companies that outperform their competitors in the 21st century will use Strategic Service Management solutions to optimize and coordinate all of strategies, decision and activities for the services business and the solutions will do it in such a way that leads to recognizable ROI. For instance, companies that have used Landry's tools to manage service parts globally have seen such results as reduced service parts inventory from $250 million to $160 million.
Supply Chain Consulting
Shoshanah Cohen, director, Supply Chain Innovation Practice at PRTM (www.prtm.com), sees the 21st century supply chain as one that is increasingly global, challenged by heightened customer expectations, and the need to mitigate the environmental impact of supply chain activities. As such, her current focus is on helping companies master the challenges of getting the supply chain to respond to ever more complex customer requirements and variable demand patterns in a global environment, while maintaining standards of safety, quality and service and keeping profit margins high.
Gene Forte, president and CEO, Forte Industries (www.forte-industries.com), sees organizations' supply chains coming under unprecedented pressure from macroeconomic trends, and he asserts that "20th century supply chains" are not up to the challenges of globalization, demographic shifts and accelerating product lifecycles. Companies must take advantage of technologies that allow them to integrate the "information supply chain" with the "physical supply chain," ensuring the link between planning and execution, and removing delays and "blind spots" in the supply chain.
Daivd C. Healey, senior consultant, Plan4Demand Solutions (www.plan4demand.com), envisions a day-in-the-life of a 21st century supply chain professional as one of increased reliance on technology as efforts to shrink the supply chain are enhanced. The key, according to Healey, is a focus on people first. "When you focus on people first, processes and technology will follow," he says. Healey has conducted workshops and presentations and has lectured extensively on S&OP, systems implementations and technical aspects of SAP software. He has also authored numerous white papers and case studies.
Anand Iyer, i2 Fellow at i2 Technologies (www.i2.com), believes that the supply chain professional of the future needs radically different skills and will need to emphasize balance a balance of people, process, organization, cultures and technology to ensure efficient and socially responsible supply chains. "I believe that advances and innovations in supply chain can only be sustained when a new renaissance class of professionals emerge," he says, "professionals who have the training to appreciate and manage the complex dynamics of modern supply chains."
Anne M. Kohler, senior vice president and COO, The Mpower Group, Inc. (www.thempowergroup.com), has a vision for the 21st century in which all companies recognize that their strategic sourcing/supply chain function should be a competitive advantage. Kohler spends her time moving clients in this direction, recently taking her vision to companies in South Korea, Europe and even the Appalachians. She also assists these clients in choosing the appropriate technology and provides expertise in all aspects of organizational transformation.
Rakesh Mittal, COO and President, Corbus LLC (www.corbus.com), believes that in the 21st century business will be based purely based on speed, change and adaptability. Radically different systems and improved measurements will be required to understand a snapshot of business processes in order to conceptualize what is happening, where the problems are, and how to capitalize on opportunities. Mittal works to help clients with process and technology enablement, assisting them in the increased adoption of the latest technologies to improve their business processes.
Ashok Santhanam, president and CEO, Bristlecone (www.bcone.com), believes that companies must leverage their supply chain as a strategic tool to increase profit, improve efficiency and competitiveness. Better use of spend analysis to identify cost savings, the incorporation of industry-specific best practices and accelerated demand planning are necessary for companies to rise to what Santhanam sees as the three main challenges in today's marketplace: globalization, outsourcing and product proliferation.
Raj Sharma, president, CEO and founder, Censeo Consulting (www.censeoconsulting.com), offers a vision for the federal government's 21st century supply chain that includes a holistic and strategic transformation of the entire federal supply chain management function, ultimately resulting in improved government accountability and more effective use of taxpayer dollars. He evangelizes "acquisition excellence," which incorporates tools and capabilities such as demand analysis, requirements management, total cost and price modeling, supplier segmentation, and value chain analysis, as well as best-practice-based strategic sourcing.
Derek Smith, managing director, Huron Consulting Group (www.huronconsultinggroup.com), says that executives in higher education have recently gained a greater appreciation of the strategic value of procurement, which has resulted in a shift toward looking at how procurement can add value across greater areas of spend, and provide improved services to their customers, without operating as a roadblock. Smith said he works with clients to transform their operations into a centrally-led procurement model, which has proven to be a particularly good fit for higher education, where there is often a good deal of autonomy and decentralization.
Tracy B. Stephens, CEO, Global Supply Chain Management Practice at Resources Global Professionals (www.resources-us.com), has long championed the strategic value of supply chain management and the growing need to manage supplier risk in a global environment and sees this issue growing in importance for the 21st century supply chain. He also emphasizes that proper execution is where the true value lies in improving global supply chain.
Marc Tanowitz, principal at Pace Harmon (www.paceharmon.com), says that the 21st century supply chain ensures that the demand and supply sides of the supply chain are in constant harmony, and it also provides customers with visibility at every opportunity. There are two essential elements in implementing this vision, according to Tanowitz: The first is seamless integration of technology with all supply chain partners and the second is vendor management. And he has worked to help his clients implement these elements to much success.
ERP, Supply Chain Management Suites & B2B Integration
Phil Friedman, vice president of consumer products at QAD (www.qad.com), says the ability to match demand and supply across the dimension of time and more demanding consumer preference is becoming more critical than ever. What is critical is aligning the speed to downstream information to the velocity of the business. To that end, Friedman works with QAD's customers to design systems that enable them to access the right information at the right time to create what QAD terms the "perfect lean" market.
Jim Frome, chief strategy officer at SPS Commerce (www.spscommerce.com), believes that Software-as-a-Service electronic data integration is the tool to help companies meet contemporary supply chain challenges. Frome has not only published several whitepapers on supply chain connectivity and integration to help educate the industry, but he has also worked with clients to introduce new ways of conducting business for competitive advantage that takes into account his vision.
Jim Bengier, retail global industry executive, Sterling Commerce (www.stercomm.com) has a vision to help retailers and the suppliers with whom they work conquer the challenge of the supply chain's "last mile." He has worked with companies like Tweeter, Best Buy and Circuit City, guiding them to implement in-store pick-up services and kiosks that take away the wait time and shipping prices for customers, thereby increasing service and sales and differentiating brands.
Jay Deakins, president, Deacom, Inc. (www.deacom.net), sees the rapidly changing regulations for many manufacturers and says that systems must be able to quickly adapt to those changing regulations as well as rapidly developing products and competitive situations. He created an integrated accounting and ERP software system for companies with hard-to handle requirements (pharmaceuticals, specialty chemicals, food and beverage, etc.) that integrates all processes, giving users a comprehensive view of their entire operation.
Rich Becks, senior vice president, product management, E2open (www.e2open.com), created a roadmap for the industry's first multi-enterprise platform that manages external, supplier- and customer-facing processes — it is a key enabling technology to help enterprises and their supply networks evolve to a 21st century supply chain. According to Becks, "Today's competitive landscape is defined by companies that are best-in-class in managing their extended end-to-end supply networks. Enterprises that have successfully implemented ERP platforms are recognizing that increasing reliance on external trading partners drives need for a strategic multi-enterprise platform that complements their ERP, extending and integrating it to trading partners."
George Klaus, chairman and CEO, Epicor Software (www.epicor.com), sees companies leveraging the use of technologies that employ a service-oriented architecture (SOA) to deliver ease of integration and flexibility. "Technology-enabled supply chain collaboration is fast becoming a business necessity, especially for companies that are expanding operations globally," Klaus says, asserting that Web services technology is the key to successfully orchestrating global manufacturing and distribution operations.
Vijay Takanti, vice president and security program director, Exostar (www.exostar.com), envisions creating security that can be applied consistently across an entire supply chain. Secure, multi-enterprise collaboration requires a scalable approach to identity assurance. Takanti has led organizations to integrate technology and business processes to overcome reliance on obsolete security safeguards that leave companies and individuals open to risk and liability related to their critical information. His approach is built on a central theme of identity federation, where each employer acts as a source of authority for employees.
Steve Keifer, vice president of product and industry marketing, GXS (www.gxs.com), believes that although business process outsourcing has become more popular, most enterprises under-invest in B2B technologies and don't take such a strategic view towards B2B e-commerce. He spends almost every week on the road visiting with customers in nearly every vertical, helping them gain better insight into their supply chain challenges and the solutions available to solve them — be they from GXS or not.
Eric Musser, president and CEO, CDC Software (www.cdcsoftware.com), has taken a focus on the unique business needs of customers' vertical markets, overhauling the direction his company was taking with regard to creating solutions. Because of his idea many of the company's customers have greatly benefited. He also led the creation of a first-of-its-kind SaaS suite of applications for life sciences companies, currently in use with hundreds of life sciences manufacturers and research organizations around the world.
RFID & Auto-ID Technologies
Mitch Medford, CEO, RF Code (www.rfcode.com), believes that automating the inventory process for critical enterprise assets will free up time, enhance security, strengthen maintenance programs and optimize asset lifecycle management for companies in the competitive 21st century. Medford has led the charge for active RFID to combat theft in retail stores, and has also led "open architecture" and "mobile asset management" initiatives at his company.
Dean Frew, president and CEO, Xterprise Incorporated (www.xterprise.com), envisions the 21st century supply chain as a "movie" of what is happening real time — and RFID applications are what make that "movie" possible. Frew is not only an avid speaker at national and international supply chain, asset management and RFID technology events, he also creates RFID tools that move his clients, like Wal-Mart, Toyota and ExxonMobil, toward a real-time supply chain complete with increased productivity, reduced costs and visibility improvements.
Anders Gustafsson, CEO, Zebra Technologies (www.zebra.com), has focused his 21st century supply chain vision on digital printing and automatic identification. He is leading his company's pursuit of vertical market applications, as well as further development of RFID and mobile printing technologies, to help companies obtain more efficient, secure supply chains.
Anurag Mendhekar, president, Blue Vector (www.bluevector.com), believes that the 21st century supply chain is going to be defined by efficiency that will be achieved in large measure by improving visibility of goods as they travel through the supply chain. To that end, Mendhekar has found a way to create highly distributed, large-footprint sensing networks to improve visibility. Additionally, the network-based paradigms lay the groundwork for extending these benefits across many more sectors of customers' supply chains.
Al Crawford, vice president of technology, CipherLab (www.cipherlab.com), says data capture systems are key for 21st century retail supply chains. This is of particular importance to the grocery industry where many chains typically run with less than 2 percent gross profit. By developing an interface for his customer Associated Grocers of the South's billing and warehouse application and voice-picking system, Crawford ensured that its entire supply chain process became automated, eliminating double orders, orders for discontinued items and other stock-related issues. Additional benefits include a reduction in employee errors and the facilitation of order requests on-the-spot, shortening response time.
Ashish Chona, CEO and co-founder, InSync Software, Inc. (www.insyncinfo.com), says he co-founded his company on the vision of creating a new class of software that embraces RFID, GPS and other sensor technologies to provide customers with "real-world awareness" of assets dispersed throughout their supply chains. Chona believes, however, that the value of deploying RFID and sensor-driven apps comes from utilizing real-time data to automate physical and systemic processes. The end result — and his vision for customers — is being able to create a supply chain that systemically reacts intuitively to events and processes happening real-time in the physical world.
Richard Bravman, chairman and CEO, Intelleflex (Intelleflex), has a vision centered on his company's work in extended capability RFID technology and products and the applications they enable. Bravman has spent over 30 years in the automatic identification and data capture industry, including 25 years with Symbol Technologies, most recently serving there as its vice chairman and CEO. He believes that extended capability RFID will create powerful new solution opportunities, just as did portable laser scanning, wireless LANs, wearable computing and two dimensional bar codes, all category-defining innovations created at Symbol during his tenure there.
Eric Musser, president and CEO, CDC Software (www.cdcsoftware.com), has taken a focus on the unique business needs of customers' vertical markets, overhauling the direction his company was taking with regard to creating solutions. Because of his idea many of the company's customers have greatly benefited. He also led the creation of a first-of-its-kind SaaS suite of applications for life sciences companies, currently in use with hundreds of life sciences manufacturers and research organizations around the world.
Demand Planning & Forecasting
Robert F. Byrne, CEO, Terra Technology (www.terratechnology.com), believes the future of supply chain lies with increased demand planning forecast accuracy, which will drive reductions in unnecessary production, excess inventory and waste; decreasing carbon production, fuel consumption and landfill. To this end he continues to refine his company's software to improve forecast accuracy, passing the benefits to such companies as Campbell Soup, which has saved over $10 million in inventory as a direct result of implementing Terra's solutions.
Glen Margolis, CEO, Steelwedge Software, Inc. (www.steelwedge.com) says the 21st century supply chain centers on a collegial sales and operations planning (S&OP) process that begins with collaborative sales forecasting, revenue and demand planning which is balanced by operations supply planning, financial planning and performance management. Margolis is implementing this vision through the development of four separate applications for customers that meet each of these needs.
Joe Shamir, CEO, ToolsGroup (www.toolsgroup.com), was among the first supply chain professionals to implement advanced analytics and stochastic optimization techniques to achieve solutions to common inventory problems, becoming an early pioneer of the discipline of "inventory optimization." Today Shamir is an evangelist for the "99+ percent fill rate," and he works with clients like Americas Beverage and Barilla to help them achieve this high industry standard. "Membership in the 99+ percent club is not only free — it pays," he says.
Dr. Harpal Singh, CEO and co-founder of Supply Chain Consultants (www.supplychain.com), is a pioneer in supply chain planning, having developing a software solution now used in more than 150 global supply chain planning applications. Dr. Singh continues to move toward "next-generation" supply chain planning, helping organizations reduce the cost and risk involved in implementing these solutions; he believes the next-generation of supply chain planning supports company-wide collaboration as the basis for business success.
Charles N. Smart, president and CEO, Smart Software, Inc. (www.smartcorp.com), says the need to solve such challenges as increasing globalization, pressure to meet higher service levels and SKU proliferation will become more important and come to define the strategic role of the 21st century supply chain. Smart said he is leading his company to pioneer innovations for forecasting, demand planning and inventory optimization that will help clients overcome these challenges for a more competitive supply chain, which has already been met with individual success.
Kerry Zuber, director, solutions consulting at Kinaxis (www.kinaxis.com), has targeted the customer-focused mindset in his vision for the 21st century supply chain. He has directly enabled Kinaxis customers such as Alcatel-Lucent, Cisco, Honeywell and Microsoft to respond to current market dynamics through the implementation of a customer-centric manufacturing model focused on a company's responsiveness to change. Lucent alone improved inventory turns and saved about $30 million in E&O charges.
Contract Management
Ashif Mawji, CEO, Upside Software (www.upsidesoft.com), believes that in order to succeed in the 21st century economy, companies must remain flexible and adaptable to meet customers' needs. This means embracing technology and leveraging the benefits a strong solution has to offer. "Today's generation is raised in the age of technology where they expect instant results; companies are no different. In order for companies to be successful, they must streamline their business processes and cut cycle times," says Mawji. His software is helping companies like BNSF Railway reduce and automate manual contract management processes, cutting cycle times and helping them achieve rapid ROI.
PLM
Craig Livingston, CEO, Arena Solutions (www.arenasolutions.com), envisions more growing companies realizing the value of on-demand product lifecycle management (PLM) for successfully managing their supply chain. Through Arena Solutions, Livingston provides manufacturers on-demand PLM to manage their supply chain and appropriately react to such 21st century demands as ever increasing regulatory compliance pressures, shortening product life cycles and staying competitive in a global manufacturing environment.
Quality Management
Kevin North, CEO, Dyadem (www.dyadem.com), says that quality process management is a must-have, as evidenced by the many industry mandates and recent headlines for toy and food recalls. North led his company to create software that helps clients to manage quality, mitigate risks, achieve regulatory compliance, plan for business continuity and improve profitability. He currently works with 85 percent of the Fortune 500 companies to achieve this vision of quality lifecycle management.
Featured Thought-leaders
Andrew Bartolini, VP of global supply management research, Aberdeen Group (www.aberdeen.com), is a recognized expert in sourcing, procurement and supply management. His vision for the future e-Payables has had a profound impact on many of the companies that he counsels. Additionally, Bartolini focuses his research on helping enterprises identify and leverage solutions to achieve operational excellence within clients' procurement and finance departments, as well as to enable technology and service providers to better cater to the needs of procurement.
Nari Viswanathan, director of research, Aberdeen Group (www.aberdeen.com), has worked in the supply chain management space for 15 years, providing a compelling description of sales and operations planning excellence that moves from a historical, reporting-based approach to a proactive, scenario-driven approach adopted by leaders in this space. He is pushing the thinking of executives in this area, as well as pointing to the future of new capabilities required.
Horace Dick, partner, Computer Sciences Corporation (www.csc.com), and his team of supply chain professionals were central to the U.S. military's Logistics Modernization Program (LMP), one of the largest fully integrated supply chain MRO planning and execution solutions in the world, which is making a difference in the frontlines in Iraq and Afghanistan. Under Dick's leadership the Army's supply chain activities are now fully integrated and it is better able to adjust its logistics operations quickly to meet evolving needs.
Robert A. Rudzki, president, Greybeard Advisors LLC (www.greybeardadvisors.com), says it is imperative for Supply Chain to be recognized as a strategic function because it can be the difference between near-term success and failure of an enterprise. He has provided leadership during his corporate career, exemplifying the role and impact that the chief supply officer and his/her organization can have in enhancing corporate performance; sharing best practices with other CPOs through peer meetings, conference presentations, and private conversations and mentoring; and evangelizing about the importance of supply chain and how to achieve its potential in both top-line and bottom-line improvements.
Patricia Moser-Stern, president, i3 Advantage Inc. (www.i3advantage.com), realized years ago that in the 21st century Supply Chain would be the linchpin in the corporate machinery. From customer need to the fulfillment of that need – that is what Supply Chain is today. Besides helping clients transform their individual supply chains, Moser-Stern is a tireless advocate of Supply Chain, speaking at many conferences, writing for magazines and now teaching workshops for the Purchasing Management Association of Canada in Leadership and Professionalism, and soon a workshop in Communications and Relationships.
Tim Cummins, CEO, leads IACCM, the International Association for Contract & Commercial Management (www.iaccm.com), a non-profit that works with corporations, public and academic bodies to provide thought-leadership and understanding of "best practice" contracting and relationship standards, bringing cross-industry, multi-country experience to the role, having worked as a top negotiator and business development executive. His writing is extensively published and he acts in an advisory capacity to senior corporate management and bodies that include the United Nations and government departments in the US, UK, Australia, Canada and Japan.
Companies in this article