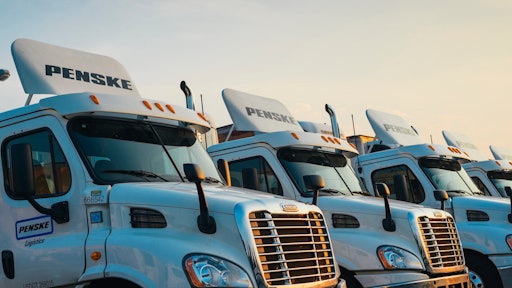 The advent of technology, along with pressures from the globe's largest online retailer, has forced 3PLs and 4PLs to stand up, take notice and change. 
A report released by Penske, the 22nd annual Third-Party Logistics Study, touches on this, pointing out the need for 3PLs to provide new and innovative ways to improve logistics effectiveness. Time-sensitive deliveries, the study says, along with lean inventories and shorter product lifecycles are placing greater demands on the supply chain. "Shippers have greater expectations of what they want their logistics providers to accomplish, and the proper alignment of those expectations is the key to guaranteeing success between both parties," the study notes. 
It's not uncommon for industry professionals to talk about the "Amazon Effect" and how the e-commerce giant has forced everyone to change, says Paul Thompson, founder and chairman of Transportation Insight. 
"It's gone just beyond e-commerce," he says, "because the pace at which Amazon is accomplishing e-commerce is even putting [other] e-commerce companies on their toes. Today, in this consumer-driven environment—and it's not just that, it is the technology and internet phase of the world we live in—we simply can't imagine not getting an answer to a question. If there's something you want to know, you go to Safari or Explorer or Google and the engines are so strong you expect to have that answer. 
"In transportation services," he adds, "a lot of companies do not have the technology tools to provide real-time information as it needs to be for visibility: Where's my product? Tracking, tracing, what should something cost? What is the transit date? Has it been delivered?"
Now, Thompson says, even manufacturers and distributors are trying to go directly to customers. "Everybody is thinking about how to create and get their piece of the pie, but there's a technology gap for them to be able to do that, to provide the tools necessary to know where the product is in transit, what it costs, and then to have business insight on it," he adds. 
Greater availability of data and the ability to make real-time decisions are driving both shippers and 3PLs toward more meaningful partnerships, which is leading to innovative solutions that can provide a competitive advantage for shippers. But, says Joe Carlier, senior vice president for global sales at Penske, it's pretty complex. 
"You have to factor in everything," he says. "The driver shortage, capacity shortage, carriers going out of business. Then the cost conversation is compounded because people want more for less. A lot of customers budget incorrectly." 
The full impact of the Electronic Driver Log (EDL) mandate still hasn't been felt, Carlier adds. "What percentage of shippers are impacted? I read one report that said 25 percent [of smaller companies] will face bankruptcy. I read another that said it's over-estimated and won't be more than 5 percent. We don't know yet. It will take until August." 
Changing Services
3PLs and 4PLs exist to take on the role of intermediary in the order fulfillment process. Service providers, says Michael Notarangeli, executive vice president of logistics at Maine Pointe, a global, implementation-focused supply chain and operations consultancy. 
"Service providers exist on a continuum," he points out. "Some focused on flawless execution in the storage and pick, pack and ship arena, and others focused on value-added services that extend the capability of the shipper toward the buyer end of the supply chain. Innovative providers actively seek to create value for the client in the distribution center to maximize flexibility and keep inventory at optimum levels." 
These services, Notarangeli adds, range from basic to sophisticated, such as late-state customization of products, assembly, configuration of electronic language and documentation services, and customized packaging. 
Technology, at least for the big guys, is viable for building and expanding, Thompson says.
"The irony of it is that most companies have pretty good operating systems, and they have pretty good warehouse management systems, but they don't have transportation management systems, and they don't have integrations across the motor carriers," he says. 
Mid-size and larger shippers usually have the base technology that can be integrated with more sophisticated tools to build a more robust network. 
Supply Chain's Role
According to the Penske study, "the growth of e-commerce, increased consumer demands and the speed at which new technologies enter the market makes the supply chain more relevant.
Conversations surrounding supply chain have made their way into the boardroom, and an effective supply chain can be a key differentiator between businesses in all sectors."
Many companies around the country who before considered themselves a manufacturer or a distributor agree supply chain management has not necessarily been a core competency, Transportation Insight's Thompson says, adding, "But in the future, it has to be, so you are seeing many companies trying to reinvent themselves to have that Walmart-like, Amazon-like platform for information management and customer management."
The Penske study, and many industry experts, say partnerships and collaboration are key to making it all work. 
"We have a partnership with a very large shipper," Carlier says. "They recognize all these dynamics in the industry, all these advances in technology. They pulled us upstream into the design other supply chain, including sourcing and go-to-market initiatives. We have technology that can meet the demands of their customers, and we became a trusted advisor. Shippers need to use the expertise that 3PLs have. This partner was very, very well positioned to go get their market share. They had a more effective supply chain at a lower cost." 
Notarangeli agrees, saying successfully managing 3PL and 4PL services require collaboration, communication, well-defined goals and expectations and agreed upon governance. 
"Firms can outsource execution," he says. "But accountability remains with the shipper. A 3PL or 4PL is an extension of the firm and sits between the company and its customers. With the proper working relationship, a 3PL, 4PL partner can provide a competitive advantage in the marketplace." 
Transportation Insight met with a large Fortune 100 retailer to discuss the parcel segment. The company, Thompson says, manages more than a billion dollars in freight. Despite the wealth of logistics and supply chain professionals within the company, because many retailers are now trying to reinvent themselves from brick-and-mortar to e-commerce it's becoming increasingly important for them to understand all of their business metrics around the e-commerce. Questions such as, are shipments on time? Are any lost, damaged? What's our cost? 
"It is very difficult for a shipper to manage the data associated with parcel because it is very, very complex," Thompson says. "We are getting hired by mega-retailers now to come in and help them manage what is today a small portion of their total freight portfolio, but the fastest growing piece. 
"Change is coming. Some of the biggest companies in the country who have never gotten outside their own supply chain transportation departments are having to solve problems and opportunities of e-commerce. It is transforming the market," he adds. 
Again, relationships are vital. Notarangeli says that any strategic relationship with a provider should include a quarterly business review. One component should be, he says, analyzing what the product, service and geographic footprint look like over the next 6-12 months.
"Reasonable sharing of business information can allow the provider to adjust their offering or create new capabilities to meet changing requirements," Notarangeli adds. 
As well as being practical, collaboration is achievable, the Penske study, points out. 
"In today's supply chains, information flows rapidly, and there are collaboration opportunities available throughout the planning, forecasting and execution phases," the study's authors say. "The real-time exchange of data allows companies to make decisions earlier, which can minimize the ripple effect of supply chain disruptions. By providing increased visibility, 3PLs have an opportunity to provide greater value."
Barry Hochfelder is a freelance journalist who has covered a variety of industries in his career, including supply chain. He also served as the former editor of Supply and Demand Chain Executive. Hochfelder is based in Arlington Heights, Illinois.