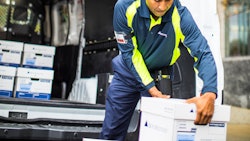 *This content brought to you in partnership with Kinetic*
At leading storage and information management company Iron Mountain, the employees - endearingly called Mountaineers - live and breathe safety and security. In fact, one of the company's compelling values is to "protect ourselves and each other from harm and secure our customers' assets as if they were our own."
Although Iron Mountain's foundational safety culture was strong, opportunities had emerged to galvanize its workplace safety program. With the core value of safety in mind, Iron Mountain recently turned to KINETIC for wearable technology to address the ergonomic challenges warehouse employees and drivers face every day, enabling them to perform their jobs more safely.
Fill out the form to read this case study.