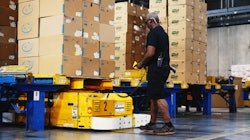 *This content brought to you in partnership with Kinetic*
The global environmental health and safety vision for snack food manufacturer Frito-Lay, and parent company PepsiCo, goes beyond the traditional context of zero injuries to include a positive-impact culture. Their "Beyond Zero - Pursue Positive" vision aims to create both an injury-free work environment as well as a program that adds significant value to the health and wellbeing of employees.
With this vision in mind, Frito-Lay recently adopted a strategy to digitize their supply chain in order to drive data-based business decisions. After first experiencing the powerful data generated by fleet telematics and its impact on operations and safety, they turned to KINETIC for wearable technology to address the ergonomic challenges frontline employees face while bringing Frito-Lay snacks to millions of consumers.
Fill out the form below to read this case study.