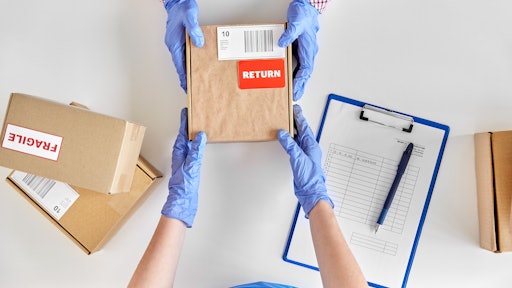 Syda Productions AdobeStock_438375043
E-commerce returns cost retailers an average of 55% of a product's retail value in shipping, repackaging and processing fees. Bulky items like furniture are even more expensive due to the high cost of transporting overweight items. To make matters worse, online shopping and returns skyrocketed because COVID-19 trained people to shop from home. Struggling to overcome these reverse losses, retailers are radically rethinking e-commerce returns policies and incentivizing in-store transactions. These changes may drive record numbers of shoppers to return products to stores post-holidays, boosting sales and minimizing reverse costs.
E-commerce reverses supply chain costs
Reverse shipping costs are by far the most significant returns management expense–averaging $13.5 for a typical $50 online return in 2022. To make matters worse, the Cass Transportation Index predicts shipping expenditures to rise by 23%, compared to last year. On top of these expenses, labor wages and salaries rose by over 5.2% YoY, according to the latest Employment Cost Index Summary.
The new returns policy
goTRG's recent survey of 500 retailers revealed that industry professionals are feeling the pain from rising expenses. In fact, retailers rated reverse supply chain management costs as their top returns-related concern. To minimize losses, more than 60% changed their policies in the last twelve months and said they plan to make additional amendments leading into the holiday season.
Over 33% of retailers surveyed now have a 7-day-only returns window. Many will temporarily extend this timeframe for the holidays, but ultra-lenient, 90-day windows and consumer-centric terms seen during COVID-19 are no longer the seasonal norm. In fact, two-thirds of retailers said they're charging e-commerce shoppers additional shipping and restocking fees on holiday returns.
Finally, retailers are getting more discerning about which products are eligible for full refunds. Nearly 12.5% of those surveyed said they're only issuing refunds for specific products that meet condition and category requirements.
Shorter windows, online returns fees and stricter policies all seek to reduce the overall returns rate and offset retailers' shipping burdens. Additionally, these policies help retailers avoid reverse supply chain costs by incentivizing customers to bring products back to stores rather than mail them in.
● Shorter windows incentivize customers to drive to the nearest store to save time.
● Stricter eligibility requirements incentivize customers to speak directly to store associates if they need to dispute the policy.
● In-store returns ensure customers receive a full refund by avoiding restocking and shipping fees.
Customers also prefer in-store returns
Fortunately, retailers' stricter policies align with today's customer sentiment. A recent survey revealed shoppers are tired of mailing-in returns. Free or not, customers don't want to print shipping labels, re-box items or drive to the nearest assigned carrier to complete the transaction. Nor are they desperate for free home-pickups. Consumers now rank in-person, box-free returns as their top preference. Mail-in returns dropped to fourth place, with 79% of shoppers avoiding this method at all costs.
In-store returns and the post-holiday shopping wave
Customer mood and retail incentives indicate the 2022-2023 holiday returns season will garner some of the highest foot traffic since the pre-COVID-19 days. This change offers several benefits for retailers.
In-store returns allow retailers to avoid paying exorbitant shipping fees as they transport items to multiple consolidation, distribution and processing centers. Additionally, when retailers receive returns in-store, they don't have to wait an average of three weeks to resell the item while it gets shipped around the country. Instead, store associates can automatically re-shelve eligible unopened items and resell them for full price. Finally, in-store returns increase foot traffic, allowing exchanges, upsells and additional purchases to offset losses from issuing full refunds.
Businesses with physical locations can earn essential revenue from returns-driven foot traffic, which may bring a second wave of holiday shopping in January and February. A Valassis survey illustrates this point, with 77% of shoppers saying they were likely to purchase other items when returning or exchanging in physical retail stores. Notably, 20% said they spent even more than the value of the unwanted product.
During the highest returns season of the year, retailers must make in-store returns the most convenient and ideal option, using in-store foot traffic as an opportunity to drive new sales and strengthen customer relationships. Targeted discounts and promotions, fully stocked stores, well-trained (and friendly) staff and in-store rewards programs are crucial for transforming returns into up-sell and cross-sell opportunities.
The bottom line
Returns are never ideal, but they're a retail reality. Returns are widespread following online orders, garnering an average 20% return rate. Still, retailers can harness the holiday returns season as an opportunity to recover lost profits and drive higher revenue. Stricter returns policies coupled with in-store returns incentives will garner significantly more revenue than no-questions-asked, mail-in returns.