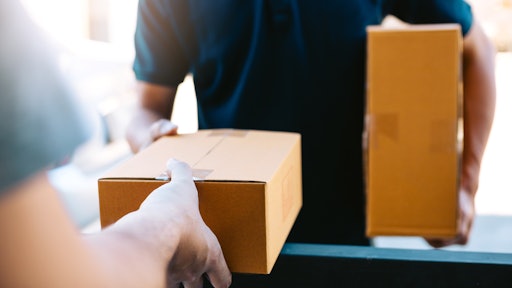 wutzkoh/stock.adobe.com
With much of society returning to something resembling pre-pandemic life in the U.S., supply chain organizations are still dealing with disruptions, labor shortages and port congestions. Many are trying to balance their reactive mode required to keep goods flowing with a proactive plan for the future. E-commerce volumes continue to grow and the prospect of supporting faster and more flexible delivery options like curbside pickup and next-day and same-day delivery has become more necessary for a widening variety of companies.
At DHL Supply Chain we work closely with a number of retailers to expand their e-commerce operations to keep up with changing consumer demands and expectations. As part of that effort, we monitor a variety of social, business and technology trends that promise to transform supply chain operations at a rapid pace. Here are five such trends of which all e-commerce companies should understand as they look to grow their businesses profitably.
1. Supply chain digitalization
Digitalization represents the next frontier in supply chain optimization. The foundation for this continuing evolution is already in place through the software platforms that control the flow of inventory within distribution centers (WMS) and digitalize transportation processes (TMS). Now, the opportunity exists to build on this foundation to further reduce costs and improve service levels while enabling the visibility required to optimize performance.
Successful supply chain digitalization requires tighter integration of a growing suite of software platforms and tools and expertise in implementing new technologies into warehouse, packaging and transportation processes. However, it also unlocks significant value within each of these areas. Taking an integrated view of supply chain performance is equally valuable. Rather than viewing warehousing, packaging and transportation as siloed operations, evaluating opportunities for optimization based on the relationship between these operations can deliver greater cost savings than fully optimizing each operation separately.
2. Next generation omnichannel retail
The next generation of omnichannel retail – including "webrooming," showrooming, and no-line commerce concepts – requires logistics networks to be not just present but also proficient in tailoring to the needs of customers in all channels. Dynamic delivery, fulfillment, and return options necessitate seamless technological integration, data sharing, and collaboration among manufacturers, retailers and logistics providers.
Traditionally, omnichannel activities have focused on using multiple discreet, separate channels for a better customer shopping experience through the integration of supply chains. This required players to coordinate points and channels of retail, inventory, distribution and returns on a single platform. However, omnichannel progress has been limited by many hurdles and issues, such as the use of legacy systems with custom interfaces and siloed cultures, as well as poor inventory visibility and disruptions in the customer experience. Only a few major companies succeeded in wholly implementing an omnichannel business model.
In response to this, the term "Omnichannel 2.0" has recently surfaced, emphasizing not just the mere existence of a business across all channels, but also cross-channel quality and proficiency, bringing entire enterprises together and personalizing customers' shopping experiences regardless of channel. To profit from the benefits of omnichannel and provide a seamless customer experience, companies must break down channel silos within their organization and make it easier to share data and information both internally and with partners and service providers.
3. Sustainable logistics
A 2020 report by the World Economic Forum predicts that by 2030 the growth of e-commerce alone will result in 36% more delivery vehicles, generating an additional 32% of carbon emissions. Also, the equivalent of a full truckload of plastic, from product parts to packaging, currently enters the ocean every minute, quadrupling by 2050 if no action is taken. With these predictions, companies, governments, and customers are all taking steps to eliminate the environmental harm of business as usual.
Efficient energy sources, improved material substitutes, optimized buildings and processes, effective environmental policies – all are experiencing a flood of new development. For instance, process optimization has received more focus in the last two years as a cost-effective way to improve sustainability within the logistics industry. This can include using customizable route planning tools that can optimize delivery routes by reducing the distance traveled and the number of routes needed. Similarly, optimization can reduce environmental impact in other processes including inventory, back-office paperwork, and packaging.
Logistics facility design and placement can hugely impact the environment, with buildings using 41% of total energy in the US, which is 12% more than transportation. With large warehouses, service facilities, and offices dominating the logistics industry, many companies have begun adopting sustainable building materials, better insulation, and IoT devices to optimally manage utilities, lighting, heating, ventilation, air conditioning, and machinery. This improves sustainability while reducing operational costs. Consolidating offices and facilities and placing them near import hubs and destinations can also reduce the overall distance trucks need to travel.
4. Big data analytics
Logistics is being transformed through the power of data-driven insights. Thanks to the vast degree of digital transformation and the Internet of Things, unprecedented amounts of data can be captured from various supply chain sources. Capitalizing on its value offers massive potential to increase operational efficiency, improve customer experience, reduce risk and create new business models.
Big data analytics is increasingly becoming part of the de facto operating model for the logistics industry. By 2018, the typical supply chain accessed 50 times more data than in the preceding five years, and now supply chains access even more. Surging demand for personalized and context-based services has driven development of artificial intelligence (AI) and machine learning applications which, in turn, have upped the need for larger datasets in the industry for better results.
The need for visibility and prediction is ever-more pressing. COVID-19 has caused unprecedented uncertainty in supply chains globally, affecting how goods are moved and altering consumer demand and behavior. Big data analytics holds the key to uncovering hidden issues across entire supply chains and surfacing trends that are not so obvious. A recent market analysis predicts an almost 30% post-pandemic CAGR for the global big data analytics market, reaching more than $68 billion by 2025, from $15 billion in 2019. As companies around the world recover from this acute shock, demand is growing for promising features of data analytics, such as mitigating disaster risks, simulating operations, and improving customer service.
5. Robotics and automation
The first wave of automation using intelligent robotics has arrived in the logistics industry. Driven by rapid technological advancements and greater affordability, robotics solutions are entering the logistics workforce, supporting zero-defect processes and boosting productivity. Mobile or stationary, robots will adopt more roles in the supply chain, assisting workers with warehousing, transportation, and even last-mile delivery activities.
Logistics industry players from traditional warehousing to new e-commerce startups are moving toward automated processes to boost throughput, cut costs and meet growing customer demand. Logistics robots are diversifying and achieving proficiency that matches and exceeds human capabilities. Upgraded with enhanced hardware and developments in AI, new devices have human-like dexterity, improved vision, and quick, agile movement. With better robots and more use cases, partnerships are being forged throughout the logistics industry – pairing traditional automation providers with a new wave of startups – to achieve next-level value with intelligent automation. Logistics providers, retailers and manufacturers are following suit, co-innovating products and services for efficiency gains in supply chain operations. The time for logistics professionals to seriously consider robotic opportunities and solutions is now.