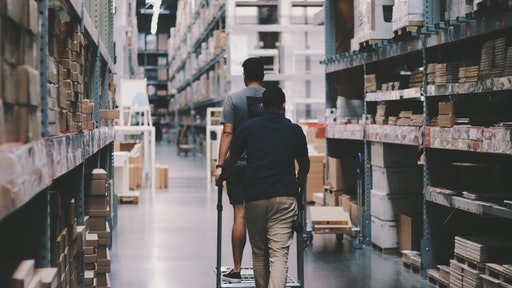 Pexels
For brands and retailers, managing day-to-day growth and the surges from promotions and seasonal peaks has always been challenging. Now the historic rise of direct-to-consumer (D2C) e-commerce and supply chain constraints that were triggered from the pandemic and reopening make the ability to scale order fulfillment elusive. Expectations by consumers continue to ramp up for a seamless customer experience.
In second quarter 2021, the U.S. Department of Commerce reported U.S. retail ecommerce sales reached more than $222.5 billion, up 9.1% from the year second quarter of 2020, when consumers had few other shopping alternatives during the early stages of the pandemic.
More D2C orders and an expanding array of hybrid fulfillment models—once limited to in store, ship from store and buy online—have multiplied. Think buy online/pick-up in store (BOPIS), buy online/ship-to-store from the distribution center (BOSS), buy online/return in store (BORIS) and more as physical stores and other facilities act as fulfillment centers.
All of these factors mean more can go wrong in the store, distribution center or fulfillment center, especially during seasonal peaks.
Here are top considerations for scaling order fulfillment.
1. Eliminate bottlenecks
Most fulfillment problems stem from issues with data or lack of visibility into data, processes, equipment, labor or technology. If not corrected or managed, these problems can create bottlenecks quickly in the warehouse and distribution center (DC), adding to inefficiencies and costs. Typical DC bottlenecks include backlogged receiving and putaway, unprocessed orders due to inefficient picking and packing and returns waiting for processing.
Labor productivity is a key source of bottlenecks as labor shortages continue in both the retail and logistics sectors. When orders surge in the warehouse, dedicate parts of your seasonal workforce to specific tasks such as packing orders or returns processing. The labor-intensive process of order fulfillment requires optimized picking methodologies. Batching, the picking of multiple items from multiple orders one SKU a time, reduces labor by filling more than one order simultaneously. Wave picking is ideal for customers with large numbers of SKUs where orders are picked in batches or waves.
Don't overlook warehouse layout to increase efficiencies involving labor and order throughput, even order accuracy. D2C order fulfillment operations requires significantly more space than traditional wholesale/retail distribution, often to accommodate greater SKU counts, value-added services such as repairs and returns processing and packing stations. Optimize available space but maintain flexibility within your four walls or across your facility network to accommodate growth and meet the demands of today's dynamic fulfillment requirements.
2. Always seek flexibility and scalability in systems, processes and providers
It's not just elements within your distribution network and DCs, which beg the need for greater flexibility and scalability. The pandemic underscored both the interdependency of supply chains and their complexity. The "25th Annual Third-Party Logistics Study: The State of Logistics Outsourcing" report found that supply chains are evolving from linear chains or processes to complex networks of organizations, resources and capabilities.
As a result of the pandemic, the same study found that shippers are expected to take active efforts to increase overlap within their distribution and omnichannel networks to improve agility and minimize the risk of disruptions.
Such disruptions include delayed container shipments from Asia, port delays and overburdened parcel carrier networks. Whether your fulfillment is kept in house or outsourced to a 3PL, collaborate with operations teams to better manage surges, whether from end-of-year holiday peaks or seasonal promotions to minimize disruptions. Use benchmark data from audits and KPIs to help you learn where you can improve processes, raise throughput and reduce costs.
3. Warehouse automation is a must
Automation isn't an option today, it's a question of how much to automate in today's expectation for rapid-order fulfillment while making the right investments in the right technology. Warehouse automation boosts speed and throughput, supporting scalability and order accuracy which, in turn, improves customer satisfaction. Both pick equipment, such as shelving and pick modules as well as material handling equipment like conveyors and narrow-aisle lift trucks need to be carefully selected and aligned with fulfillment processes.
A number of internet-connected mobile warehouse automation technologies are becoming increasingly affordable such as inventory scanner systems and handheld computers and wearables like headsets that facilitate voice-assisted picking.
Larger third-party logistics (3PL) providers and merchants can leverage automation technologies such as collaborative bots, known as autonomous mobile robots (AMRs). A common type of AMR used in fulfillment are robot-to-goods AMRs, designed to reduce labor associated with picking by navigating to the location of the item and notifying the picker to retrieve the product. The AMR brings the product to the picking station, allowing the worker to go on to another bot-directed pick which reduces walking and the need to push or carry stock-laden carts. Other bots used in fulfillment include goods-to-person AMRs that bring product in cartons, rolling racks or other systems to warehouse associates in specific locations such as picking or replenishment areas.
4. Systems approach: WMS and OMS
Warehouse management systems (WMS) and order management systems (OMS) are the lifeblood of fulfillment. Omnichannel-ready 3PLs and large retailers often have integration between the two systems. A scalable warehouse management and order fulfillment platform allows both the DC and merchants to view and manage inventory wherever it's located. Real-time views into inventory at the DC-level and merchant-level provide centralized inventory-related data such as inventory turnover ratios and other metrics to facilitate the routing of orders across channels using rules-based logic.
A modern OMS can be a powerhouse to allow retailers and brands, not just the DC, to manage sales, orders, inventory and fulfillment while enhancing the capabilities of most WMS. Ecommerce-enabled OMS functionality that supports scalability includes comprehensive order management capabilities such as the pausing or editing an individual order. Think pausing orders from a specific SKU, for instance, to inform customers of delays, change shipping methods, or adding specific services based on the customer, product or brand such as customized wrapping or inserts to create memorable "unboxing experiences," also using rules-based logic.
Getting to scale
All of these solutions and practices support scalability in the warehouse and DC, giving retailers and brands the agility they need to grow and thrive, whether that's during times of fast growth, peak holiday surges or seasonal promotions while helping to overcome supply chain disruptions. While the rate of D2C e-commerce spending may slow, online shopping and omnichannel fulfillment will continue to capture a greater share of all U.S. retail sales, making scalability a key priority for merchants.