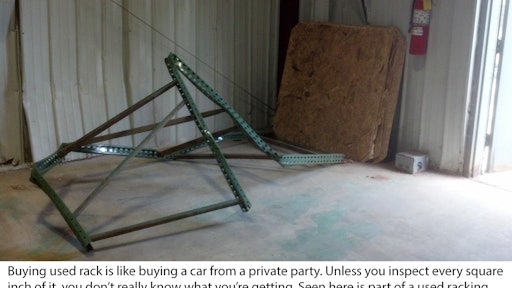 To cost efficiently store parts or product, it is not uncommon for companies to consider purchasing used warehouse rack to lower upfront costs. But buyer beware: The hidden costs of buying used rack—from missing or damaged parts to Occupational Safety and Health Administration (OSHA) compliance to production delays, less efficient storage or earlier replacement—can quickly escalate beyond the cost of buying new rack.
Due to growth, Glacier Transit and Storage, a Plymouth, WI-based cold storage provider, planned to open a new 85,000-square-foot facility. With the company expanding into new areas of development, including build to suit, it sought to reduce upfront costs by purchasing used rack for Phase 1 of the project, which comprised about 6,000 pallet positions.
While the new facility is now fully, efficiently operational, buying used rack not only made the process more costly, but also much more complicated.
Rick Brusky, Glacier's maintenance manager, put it this way: "Buying used rack started out great, but soon went from one horror to another. After working with a company selling used, drive-in warehouse rack, buying and receiving it, we discovered we essentially had no usable rails."
"As typical with used rack purchases, we paid for it ahead of time, but they sent us junk," added Kyle Nothem, Glacier's president. "We didn't get half of what we ordered, and much was twisted like a pretzel and unusable."
Nothem and Brusky argued with the used rack seller without remedy, as the seller soon went out of business.
"We ended up having to make the rack rails, top ties and load bars," said Nothem. "We worked with a metal fabricator who made pieces to fit our used rack. It was a nightmare."
According to Brusky, it took four months to put up the used racking. "The worst part is that the whole time we were losing revenue because we didn't have product in the rack."
"We said never again," said Nothem, who vowed along with Brusky to do racking right at the start of the new facility's Phase 2.
Used Rack Pitfalls
Tom Maloney, account manager at Wisconsin Lift Truck, a large full-service material-handling distributor in the Midwest, sees the trouble companies face when they rely on used rack.
"Buying used rack is like buying a car from a private party," said Maloney. "Unless you inspect every square inch of used rack, you don't really know what you're getting. Even then it's common for up to 25 percent of used rack received to be unusable due to missing or mismatched parts, as well as damage from fork truck impact, improper use, shipping, handling, or disassembly and reassembly. With all the unknowns, used rack can end up costing as much or more than new racking."
Another consideration is that used rack may have difficulty meeting the Rack Manufacturers Institute (RMI) requirements typically used by OSHA when evaluating storage racking.
"RMI specifies that racking can have no damage," said Maloney. "Any damaged rack must be repaired or replaced, which drives up the cost of used rack considerably."
According to Maloney, the RMI guidelines also require that storage rack be properly labeled for capacity, which can be a challenge with used rack.
"It's often difficult to identify the carrying capacity of used rack," stated Maloney. "Many manufacturers use different material thicknesses in their frames and beams. Even if a used frame looks just like one next to it, it may not be the same capacity. And what do you do if there's no identifying rack brand, product number or the manufacturer is out of business?"
Optimizing with New Rack
For Phase 2, Glacier Transit and Storage added another 85,000 square feet to the facility, bringing its total storage capacity to 170,000 square feet. The company chose to work with Wisconsin Lift Truck and purchase new drive-in rack.
"With new rack, it's easy to optimize storage efficiency by adjusting rack dimensions to the warehouse before it's built or shipped," said Maloney, whose engineers made adjustments to the racking about seven to eight times to accommodate the changing requirements of Glacier's cold storage customers. "With used rack, you essentially buy what you can find, then make do the best you can."
Rack reliability and longevity was an important concern of Glacier's. Drive-in/drive-through rack is subject to more abuse than any other rack structure because forklifts drive directly into the rack.
At Maloney's recommendation, Glacier chose SK3000 pallet rack, a rugged bolted rack with structural channel columns, by Steel King Industries, a pallet rack and storage system manufacturer with a Dun & Bradstreet 4A1 rating. A number of rack features helped the cold storage company meet its rack strength, durability and maintenance goals.
SK3000 pallet rack constructed of hot-rolled, structural channel column with full horizontal-diagonal bracing offers greater frame strength, durability and cross-sectional area. All Grade 5 hardware provides greater shear strength, and a heavy 7-gauge wrap-around connector plate ensures a square and plumb installation with a tighter connection and greater moment resistance.
For added protection against forklift impact, Wisconsin Lift Truck recommended, and Steel King provided, options to further safeguard vulnerable rack areas. To limit forklift-caused damage, front-to-back rub rails serve as structural guardrails built into the rack. Front rack column deflectors, made of angle iron, similarly limit rack damage by deflecting potential forklift impact.
According to Maloney, some standard Steel King drive-in/drive-through rack features also enhance Glacier's drive-in cooler application safety and productivity.
For instance, flared rail entry ends ease bay access to forklifts, while low-profile arms increase clearance and decrease possible product damage. Structural angle rails similarly guide pallets, while welded rail stops prevent loads from being pushed off and improve safety.
Compared to installing about 6,000 pallets of used drive-in rack in four months for Phase 1, almost 8,000 pallets of new Steel King drive-in rack was installed in just over a month for Glacier's Phase 2.
Regarding installation, Maloney said that independent installers charge less to install Steel King drive-in rack because its arm and rail connection is easier to install than typical systems, which can require sliding multiple tabs into place while supporting a rail that can weigh about 150 pounds.
Once rack is installed, however, the bottom line is how efficiently it stores product. On that account, the new rack is doing well.
"Our new Steel King drive-in rack is about 25 percent more efficient from a storage standpoint than our used rack because of the way it's designed and laid out," mentioned Nothem. "Since the new rack is engineered the way we need it and integrated with forklift operation, our forklift operators are also about 15 percent more productive using it compared to the used rack," added Brusky.