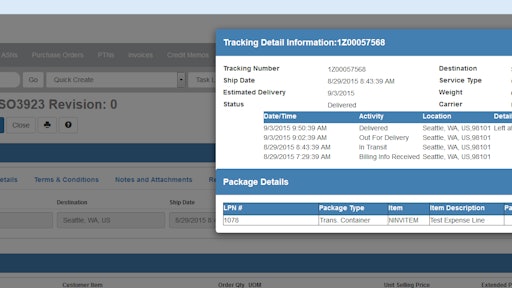 Austin, TX—Sept. 22, 2015—TAKE Supply Chain, a division of TAKE Solutions, announced the addition of sales-focused transactions to OneSCM®, a software-as-a-service (SaaS)-based supply chain collaboration software solution focused on helping mid-market companies increase operating margin and grow market share through better performance of extended supply chain operations.
The new transactions, which can also be referred to as order to cash, feature automated sales order creation and management, inventory visibility and status for key activities such as fulfillment, delivery and receipt of payment. The transactions were created to complement OneSCM's procurement-focused transactions—those associated with manufacturing finished goods for customer orders—and to be integrated with sales and operations planning systems. Altogether, OneSCM is now able to facilitate even greater end-to-end management and flexibility of a company's supply chain operations.
"A key advantage of these new transactions for OneSCM customers is the increased accuracy, visibility and expedited management capabilities they bring to sales activities," said Donna Fritz, vice president of marketing and product management, TAKE Supply Chain. Once an order is received and acknowledged in OneSCM, a sales order can be auto-created and released in the customer's back-office system, and sent back to OneSCM for ongoing management and tracking of all activities associated with the sales order, including inventory visibility and availability to promise (ATP), order fulfillment status, proof of delivery and receipt of payment.
"The application of these new features isn't limited to business-to-business (B2B) transactions," said Fritz. "OneSCM is also configured to seamlessly integrate with systems designed for business-to-consumer (B2C) transactions as well."
Another key advantage for OneSCM customers is the seamless system integration that is possible between all trading partners and customers. Buyers and sellers are all connected through OneSCM, regardless of any differences in back-office systems or means of access. OneSCM's powerful messaging and transform engine connects data streams from a multitude of sources, allowing companies to leverage a single management center for all buying, selling and planning activities. This eliminates the need for expensive back-office system upgrades or replacements.
Companies in this article
Request More Information
Fill out the form below to request more information about
Order-to-Cash Features Extend Value for Business-to-Business and Business-to-Consumer Companies