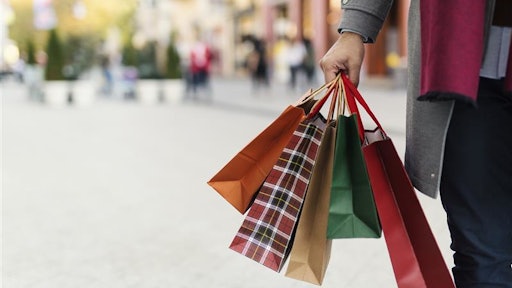 Jelena
Retail sales increased 3% in the week ending December 12 compared to the same week last year, and combined with the 9 prior weeks, holiday 2020 has shown 2% year-over-year dollar sales growth, reports The NPD Group.1 Additionally, NPD's early indicator data shows unit sales for the week declined -5% year over year. The continued divergence of dollar and unit comps is the result of higher-priced items being sold at retail and decreased promotional activity.
NPD's Checkout data from receipts highlights the changes in shopping activity across the total retail industry due to COVID-19. While in-store purchase activity still lags last year (-7% in the second week of December), the strong growth in online purchasing (+33% vs. last year) has pushed overall omnichannel buying activity up +3% vs. the same week last year. This week was the first time we've seen two consecutive weeks of total purchase activity outpace last year's performance.
"The final holiday push has arrived, but in 2020 the days seem to blur together, and it's clear consumers still have shopping to do," said Marshal Cohen, NPD's chief industry advisor, retail. "Now officially past comfortable shipping deadlines, last minute shoppers will be forced to look to physical retail stores for those remaining holiday gifts. While the arrival of the vaccine is likely to make consumers feel a little merrier, rising COVID-19 case counts will make BOPUS and curbside pick-up options more important than they have been all season,"
Who is the last minute shopper?
According to NPD's annual Holiday Purchase Intentions Study, 17% of consumers didn't plan to start shopping until after Cyber Week, and 4% of planned to wait till the last minute to start their holiday shopping.
In terms of finishing shopping, 36% of holiday shoppers planned to be done by early December, but 18% said they are usually shopping until the last minute.
Late shoppers have the greatest concern for their own finances and the economy, evident in planned spending:
Average planned holiday spending for this year, based on when holiday shoppers planned to begin shopping.
Before Thanksgiving: $876
Thanksgiving/Black Friday/Black Friday Weekend/Cyber Monday: $680
December: $448
Late season shoppers want to give physical gifts –they are less likely than earlier season shoppers to buy gift cards and intangibles, and virtually none planned to buy subscriptions as gifts.
Delivery options
In the past 8 months:
73% of consumers made an in-store purchase
72% made an online purchase for delivery
34% made an online purchase for in-store pick-up
31% made a purchase for curbside pick-up
Consumers from higher-income households are more likely to choose to buy online for pick-up in store (BOPUS) or curbside. 3
Looking back at Cyber Week, purchases began to look a lot more like presents.
The hottest categories during Cyber Week began to look more like gifts than the tissues, paper towels, and hand cleaners that were on the list during the week of Black Friday.