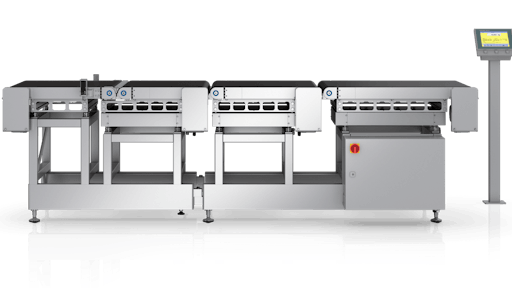 WIPOTEC-OCS
WIPOTEC-OCS will feature a pair of accurate, high-throughput new catchweighers at MODEX 2020, Booth 9219, March 9-12, in Atlanta. Both scale systems offer premium weighing solutions for the logistics and courier, express & parcel (CEP) sectors.
Triple Scale Catchweigher: Six Virtual Scales in One
The new HC-FL-T Triple Scale Catchweigher combines three hardware scales into six virtual ones, each capable of operating independently – a feature permitting product gaps as narrow as 10" (250mm). The triple scale design delivers a 60% throughput increase at the same speed as a double scale design, while guaranteeing first-class performance and durability. Depending on product length, the triple scale catchweigher can weigh as many as three products simultaneously.
The HC-FL-T can accurately weigh up to 19,000 parcels/hr at transport speeds up to 3.4 m/s (670 ft/min). The use of a high-tech electro-magnetic force restoration (EMFR) weigh cell delivers a weighing accuracy of 50g even when running at top speed. Within addition, the new AVC (Active Vibration Compensation) ensures even more precise weighing results in vibrational environments. The AVC solution filters environment-induced interferences out of the scales measurement results without any loss of speed and accuracy.
Precision Warehouse Scale Equipped with Precision Maintenance
Recently upgraded to incorporate predictive maintenance, the HC-Warehouse Scale offers unsurpassed precision and reliability. Available as single or multi-interval scales, EC-Warehouse units offer a maximum weighing capacity of 35kg and weight accuracy less than or equal to 5g – a level of precision made possible via WIPOTEC's ultra-fast weigh cells whose technology is unique to its price range.
To maximize throughput, the HC-Warehouse allows exceptionally small gaps between weighed products. The unit is available with weighing belt lengths from 600-1,000mm, and belt widths from 400-700mm. A variety of system component options can be incorporated to extend the scale; for example, a barcode reader, camera system, or dimensioning system.
New for 2020, the HC-Warehouse scale now offers predictive maintenance. Designed to reduce downtime, the system provides real-time reports on various machine metrics, giving operators advance notice of pending maintenance for weigh cell cleaning, calibration, belt line wear and tear and other issues.