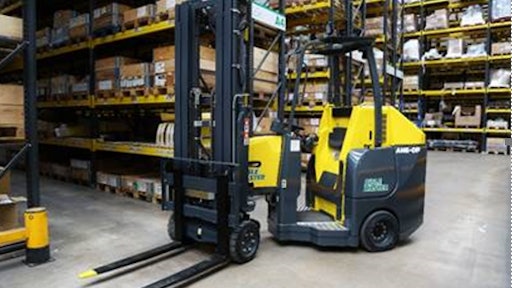 Combilift
Combilift aims for versatile warehouse operations with a new forklift, the Aisle Master-OP. The model is a stand-on operation, powered by electric. The company says it is a narrow-aisle articulated forklift combined with an order picker, influenced from customer feedback. The forklift was designed to cater to the growth of e-commerce and busier warehouses. 
Research & Development carried out in 2019 & 2020 has created the Aisle Master-OP. The main feature of this unit is the step-through operator compartment which has design copyright protection (U.S. Design Application No. 29/541,841) across multiple markets worldwide. The low floor height of just 11" enables convenient, single step access from both sides of the truck which speeds up order picking compared to the operator having to get on and off from a seated position. The AME-OP truck has all the key advantages of the conventional Aisle Master - indoor/outdoor, for loading/offloading and for stock replenishment at other times during shifts when order picking is complete.
The Aisle Master-OP is available in a number of variants, with lift capacities up to 3,300-6,000lbs, lift heights up to 39ft and can operate in aisles as narrow as 72". It features a patented chain steering system (U.S. Patent No. 9,586,798), which allows the truck to articulate more than 205°, with an inline drive motor and front drive axle assembly, all of which enable narrower aisle operation. The multifunctional programmable joy stick control lever in the operator compartment, which includes controls for the hydraulics and traction, is adjustable to enable comfortable and ergonomic working conditions for operators of all sizes. The Operator Presence Detection floor pad engages the parking brake automatically when the operator steps off the truck to carry out Order Picking.