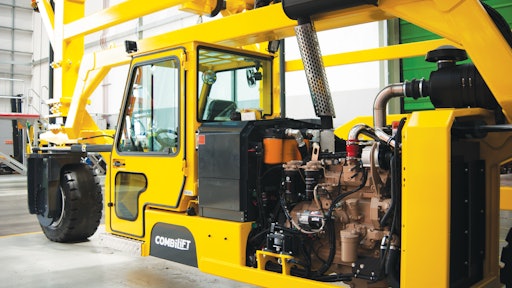 Today's business environment is dominated by disruption, with new technologies, consumer expectations and manufacturing capabilities working in unison to ignite wholesale change across the entire ecosystem—one that is progressively driven more by the consumer and end-user, as opposed to the manufacturer and retailer.
The forklift sector may not come to mind as a hotbed for disruption, yet Ireland's Combilift has been steadily carving an alternative path to success since it launched in 1998. The founders, Robert Moffett and Martin McVicar, combined their engineering talent to design the world's first internal combustion engine powered, all wheel drive, multi-directional forklift, and the Combilift was born.
Twenty years later, Combilift is now the largest global manufacturer of multi-directional forklifts and a leader in long load handling solutions. Over 40,000 Combilift forklifts in a variety of purpose-built designs are used in more than 85 countries. In April, the company opened a new 500,000-square-foot manufacturing facility in County Monaghan to support its rapid global growth, especially in North America, its fastest growing market. Members of the media were invited to tour the new facility, meet the Combilift team and learn more about the company's business strategy.
McVicar, managing director of Combilift, credits mass customization for the company's success.
"Mass customization is the new frontier for both the customer and the manufacturer. Increasingly, customers are expecting products to be tailored to meet their needs. Forklift producers that offer customized products generally produce low volume, but Combilift is setting the benchmark by offering the mass production of tailored products, resulting in a strategic advantage for our customers," he says. "Traditional forklift manufacturers focus on high volume mass production of the same products. We evolve with our clients, producing new products each year."
A robust research and development team supports Combilift's mass customization approach. Innovation is a competitive advantage at the company, and Combilift holds numerous design patents. Engineers work closely with customers to customize products designed for their specific needs. The company even offers complimentary logistics and warehouse design services.
"Our engineers proactively design, plan and produce solutions in collaboration with our customers by offering material flow analysis and 3D animations," says McVicar. "We work with customers to produce warehouse designs to visualize the capacity potential as well as the optimum flow of materials on their site."
Combilift holds numerous design patents and also invests 7 percent of its annual revenue in research and development (R&D), which not only enhances its customization capabilities, but also maximizes ROI for its customers.
"The flexibility in our new facility means that we can continue to accommodate any request for a customized material handling solution," explains McVicar. "We also see ourselves as much more than a forklift manufacturer and are transforming the transport and logistics sector with our innovative, space-saving products and our services."
Indeed, the new facility actually has much less automation than many other modern manufacturing facilities. This allows for a lot of flexibility and customization. Currently, it operates four 90-meter moving assembly lines that can produce a finished truck every 15 minutes. The new facility will also allow Combilift to double its output in a single shift across all production lines.
The design of the facility also incorporates many sustainability features. Nearly one-third of the roof is covered in skylights, which allow staff to work in natural daylight. In addition, solar panels supply 185 kW of energy with a 1MW biomass plant fueled by recycled wood (like that from wooden pallets) that helps heat the spraying booths and assembly area. Thousands of gallons of rainwater are also harvested and used throughout the facility.
Combilift's product portfolio has expanded significantly over the years, and new designs are being introduced to keep pace with changing preferences and demands. According to McVicar, Combilift has always focused on a number of niche market segments and has a proven track record of launching one or two new products annually.
"In the first 10 years, we focused on the long load material handling sector with the multidirectional range, which revolutionized the handling of long materials, allowing customers to handle long products in less space more safely," he says.
Pedestrian products were introduced in the last five years. "There is a growing demand for pedestrian trucks, driven by safety concerns where customers and/or employees are in the vicinity of operating forklifts," he explains. The company sees growth potential in this segment of the market, and they've launched the new high lift capacity Combilift Powered Pallet Truck (Combi-HC-PPT) in response. The truck is equipped with Combilift's patented multi-position tiller arm and offers safer operation, maximum operator visibility and narrow aisle performance.
Combilift also sees plenty of potential in the cold storage sector. While efficient use of warehouse space is a common denominator across all industries, the cold storage sector has an additional requirement for efficient use of time due to the perishable nature of the products, along with the unique challenges of operating in temperature extremes. Combilift's Aisle-Master forklift and pedestrian stackers provide safe performance and maximize storage density in aisle widths as narrow as 1.6 meters and up to 15 meters high. The trucks can move from sub-zero temperatures to ambient environments and back again without any issues. Operators stay comfortable in heated cabins that feature polycarbonate windows and can scan products from inside the cab.
There's much more that sets Combilift apart. Mechanically, the company is able to maintain simplicity despite the high degree of customization. This allows Combilift to use standard and readily available parts and components so the products can be easily maintained and serviced in any part of the world.
"A competent auto mechanic can repair a Combilift," remarks McVicar.
In addition, the company is loyal to its core suppliers, many of which have been supporting Combilift for the past 10 to 15 years, McVicar says. "We want to stay with the suppliers we know, and we want to grow with our suppliers."