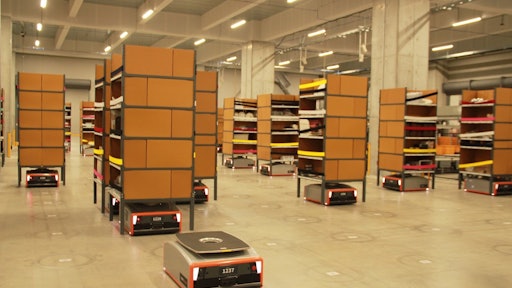 GreyOrange announced that it would be establishing its U.S. headquarters in Atlanta to better sever local customers and meet market demands. The company will deploy 740 robots in Atlanta and create several thousand jobs across this and other initial client sites. To further support its growth, GreyOrange has started setting up its local manufacturing facility in the U.S. which will be completed in 2019. In the next three years, the facility plans to manufacture and deploy an additional 20,000 robots in the U.S. Atlanta was selected for its headquarters for its excellence in supply chain and emerging technology.
Since 2016, GreyOrange has been recognized as one of the world's Top 50 Robotics Companies, and MIT Technology Review has recognized the company's co-founders as one of the top 35 global innovators.
With its new headquarters, the company plans to build a team of more than 60 engineers for R&D in AI, human-machine interface (HMI), machine vision and data intelligence, adding to the current global team of 250 R&D engineers.
To drive growth in the materials handling equipment market, GreyOrange hired Chris Barber to lead as Regional CEO, North America. In his new role, Barber will oversee the company's expansion starting with the U.S., bringing supply chain innovation and streamlined solutions powered by AI to e-commerce, retail and logistics customers. Previously, he served as a key member of the senior management of Honeywell Intelligrated.
"GreyOrange is the world's largest supply chain robotics company and the global leader of robotics technology for operating flexible automated warehouses," said Samay Kohli, CEO and co-founder at GreyOrange. "With our expansion into the United States and Chris Barber as our Regional CEO, we will transform warehouse processes and efficiency and enhance employee engagement and retention, bringing it on par with tech jobs. Embracing robots, who work hand-in-hand with humans, enables our customers to boost overall productivity, minimize inventory waste, increase consumer choice and improve their company's bottom line. We strongly believe in preparing our customers for the future so that they focus on what they do best, without sacrificing their unique strengths."
The company intends to expedite and automate the delivery process from warehouse to customer by reducing 10 to 15 percent of supply chain inventory in transit. With less excess inventory, companies can run their supply chain more efficiently. GreyOrange serves customers across the globe and has increased warehouse storage efficiency for a majority of its clients.