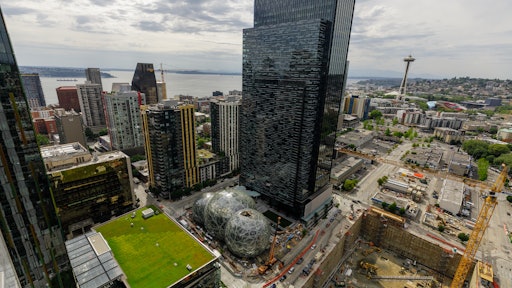 Seattle-based Amazon has opened a search for the location of Amazon HQ2, a second company headquarters in North America.
In a news release, the e-commerce giant said it expects to invest more than $5 billion in construction, and grow this second headquarters to include as many as 50,000 high-paying jobs. In addition to Amazon's direct hiring and investment, construction and ongoing operation of Amazon HQ2 is expected to create tens of thousands of additional jobs and tens of billions of dollars in additional investment in the surrounding community.
Amazon estimates its investments in Seattle, the location of Amazon HQ1 from 2010 through 2016, resulted in an additional $38 billion to the city's economy. Every dollar invested by Amazon in Seattle generated an additional $1.4 for the city's economy overall.
With more than 380,000 employees worldwide, Amazon ranks No. 1 on Fast Company's Most Innovative Companies, No. 2 on Fortune's World's Most Admired Companies, No. 1 on The Harris Poll's Corporate Reputation survey, and No. 2 on LinkedIn's U.S. most desirable companies list. Amazon also was recently included in the Military Times' Best for Vets list of companies committed to providing opportunities for military veterans.
"We expect HQ2 to be a full equal to our Seattle headquarters," said Jeff Bezos, Amazon founder and CEO, in the news release. "Amazon HQ2 will bring billions of dollars in up-front and ongoing investments, and tens of thousands of high-paying jobs. We're excited to find a second home."
In choosing the location for HQ2, Amazon has a preference for:
Metropolitan areas with more than one million people.
A stable and business-friendly environment.
Urban or suburban locations with the potential to attract and retain strong technical talent.
Communities that think big and creatively when considering locations and real estate options.
HQ2 could be, but does not have to be:
An urban or downtown campus.
A similar layout to

Amazon's

Seattle campus.
A development-prepped site.

Amazon

said it encourage states and communities to think creatively for viable real estate options, while not negatively affecting our preferred timeline.
Amazon HQ2 will be a complete headquarters for Amazon—not a satellite office. Amazon expects to hire new teams and executives in HQ2, and will also let existing senior leaders across the company decide whether to locate their teams in HQ1, HQ2 or both. The company expects that employees who are currently working in HQ1 can choose to continue working there, or they could have an opportunity to move if they would prefer to be located in HQ2.
Amazon has opened the Amazon HQ2 Request for Proposal ("RFP") to all local and state government leaders. Those interested in learning more about how they can bring Amazon to their community can visit www.amazon.com/amazonHQ2.