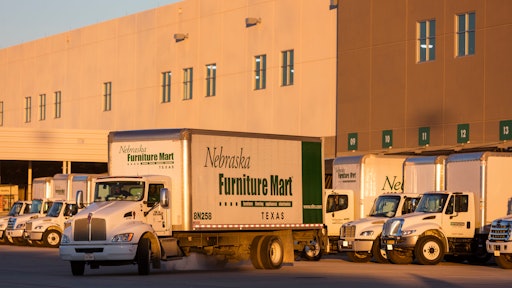 Nebraska Furniture Mart (NFM) is widely known for conducting business on a very large scale compared to most home furnishing companies.
When Omaha-based NFM decided to go really big with its latest furniture showroom and distribution center, it couldn't find a better location to call home than The Colony, just north of Dallas, Texas. In fact, NFM–Texas is the single largest home furnishing store in the United States. At nearly 2 million square feet, 1.3 million square feet alone is dedicated to a sprawling distribution center the size of nine football fields.
4SIGHT: The Secret Sauce Behind the Scenes
With a 168 dock door distribution center—which handles 45 to 65 inbound trailers and trucks as well as hundreds of outbound delivery trucks every day—NFM required a robust automated system to avoid the chaos that would exist without it. 4SIGHT Logistics Solution is the "secret sauce" that's working behind the scenes 24 hours each day to ensure that NFM-Texas' distribution center runs as smoothly and efficiently as possible.
4SIGHT not only manages a high volume of inbound and outbound trailer traffic—from NFM-Texas' gate to 24 receiving dock doors and everything in between—the system also incorporates the dedicated software that runs both 4SIGHT Yard management and 4SIGHT Dock management systems, a wide array of loading dock equipment, associated hardware, and integrated security.
What Exactly Drove the Need?
"Prior to our newest store in Dallas, NFM was like most other businesses with expansive warehouse operations; we were still living in what seemed like the 1980s," says Pat Evers, Process Improvement supervisor, NFM–Texas. "We were inefficiently tracking yard equipment moves with Excel spreadsheets and using markers on an erasable white board.
"Based on the projected size of our new distribution center and an initial target sales volume of $1 billion in our first year, we knew that instead of receiving 25 trailers a day, we would be receiving up to 65 trailers a day, and that simply can't be managed using an Excel spreadsheet."
Evers explains that it quickly became critical that NFM "move into the 21st century" in terms of its approach to yard management and dock management.
Evers also points out that growth expectations were designed into every decision. In fact, NFM-Texas' entire infrastructure is built so that the store, along with its attached distribution center, can handle a lot more activity than it currently does. NFM-Texas was also designed—from the loading docks to how the store manages time—to maximize productivity.
"Compared to our previous operations, and before 4SIGHT, we could have never experienced the same levels of productivity that we're now witnessing," Evers notes.
Solution-Oriented Thinking Leads to Competitive Advantages
4SIGHT also plays a critical role in assisting NFM-Texas system-direct the pick and move of trailers off the dock. 4SIGHT manages receiving, or inbound, activity at 24 doors, four of which Evers refers to as "receiving pods." Those four pods are sandwiched on either side by seven outbound doors.
That "four and seven" configuration then repeats along a total of 118 dock doors located on the south wall of the store's distribution center. Most of the distribution center's remaining 50 dock doors are used for outbound deliveries. A handful are used for processing returns, and some are dedicated to recycling.
"Based on the design of our receiving and outbound dock configurations, we were able to divide our distribution center roughly into four warehouses," Evers says. "With 4SIGHT directing the movement of incoming goods, we can easily manage the entire process of inventory entering each of those individual warehouses based on product type."
Evers further explains that with past receiving approaches at other NFM facilities, a driver would enter the yard, and dock personnel wouldn't necessarily even know when the driver had arrived at the dock door because the doors didn't contain a window for visibility. Without a window in the dock door, dock personnel would need to physically open the door to check if a trailer had arrived, which puts a drag on productivity.
The NFM-Texas yard is large enough to adapt to any future changes, including an expanded distribution center. Currently, the yard is being used at 50 percent of its potential. And due to various efficiencies, including 4SIGHT, NFM-Texas' initial 6 ½ full-time equivalent yard drivers has been reduced to 2 ½ full-time equivalents.
Evers adds, "Labor cost is our highest expense in the organization. You have to increase your gross margins on the goods you sell, but you also have to decrease your cost of operation to remain profitable. That's what 4SIGHT does for us. By helping us increase productivity while lowering operational costs, that's what provides our distinct competitive advantage."
Increased Safety at the
Dock

a Key Benefit

4SIGHT also is customized to work with NFM-Texas' third-party dock security system. Unless a dock employee is certified to operate specific dock equipment via a proxy card, that equipment will not operate.

Integrating yard management to NFM-Texas' dock equipment has eliminated time-consuming manual processes and increased safety. Communicating via two-way radios alone can cause mishaps. A yard driver might be instructed to get a trailer at door 6, but mistakenly back into door 7 and try to pull that trailer away with loading dock personnel still inside. "Integrating 4SIGHT with our loading dock equipment has been a huge plus from a safety standpoint," Evers adds.

In addition, 4SIGHT has integrated well with NFM-Texas' warehouse management system (WMS). "Our yard management system essentially does the same thing as our WMS," Evers points out. "I send a directed pick to my shag driver who is similar to my stock picker. I send him to the door, which is like going down an aisle. I tell him exactly which trailer to pull, just like I tell my machine operator which piece to pull. Productivity has increased as well because of that directed movement."