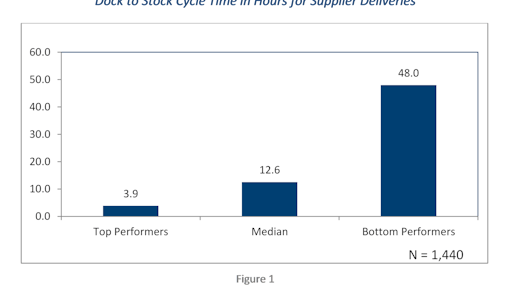 The basic function of the receive, inspect and store inbound delivery process is to take responsibility of inbound deliveries, validate that deliveries received match the purchase order, and to check for damages as well as other material inspections such as appropriate package or product labeling. Ensuring products are received correctly will reduce problems further downstream. To monitor performance of the receive, inspect and store inbound deliveries process, many facilities use the metric dock-to-stock cycle time as a key performance indicator.
Dock-to-stock cycle begins when your business entity receives delivery of goods from the supplier and ends when those goods are put away in the warehouse and recorded into the inventory management system. Activities associated with this process typically include dock management, inspection, product labeling, cross docking, housekeeping and safety, material handling, product identification, putaway, slotting, inventory strategy and location management.
As shown in the graph, American Productivity and Quality Center's (APQC's) Open Standards Benchmarking shows that there is a significant difference between top performers and bottom performers with regards to the number of hours it takes to receive and store supplier deliveries. Top performers spend 44.1 less hours for this process than bottom performers. Inefficiencies on the receiving dock will impact downstream warehousing and distribution functions such as replenishment, picking and packing, and shipping processes. There may be additional costs in terms of trailer detention fees, increased trailer moves, and the impact on a driver's hours of service as they wait for unloading of trailers.
Top performing organizations spend less time to receive, inspect and store inbound deliveries. These organizations are communicating with its suppliers through advance ship notifications, bar coded information or even RFID tagged pallets that allow for visibility of incoming products, which reduces physical labor needed to process inbound deliveries. The goal for these facilities is to move inbound deliveries from the receiving dock to storage with as few scans as possible.