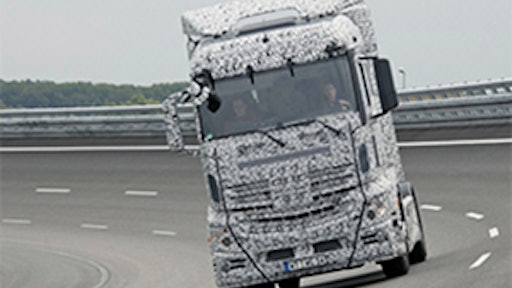 Plano, Texas—April 25, 2014—Daimler is switching to Siemens PLM Software across the board, and establishing an integrated approach to streamline its operations and processes, thus resulting in greater efficiencies and reduced costs all around. Below is just one example of how Daimler is utilizing Siemens LMS Tecware for durability testing.
Daimler Trucks develops and produces vehicles in a global network under the brands of Mercedes-Benz, Freightliner, Western Star, Fuso and BharatBenz. It is a globally active manufacturer of trucks above six metric tons gross vehicle weight and has 27 production facilities around the world. In a recent case study, the company utilized Siemens LMS Tecware to boost measurement instrumentation and data collection, and enhance durability testing.
The critical question for durability engineers is always the total cost of ownership of a truck, so the added value of durability engineering is very clear. Truck durability standards are much more demanding than for those of a passenger car, and also differ from market to market. Daimler Truck's durability testing and validation procedures are very customer-usage oriented, and is based on customer usage profiles, market intelligence and expectations, and field measurements from all over the world. Daimler partnered up with Siemens PLM Software to retrieve this information and do measurements in order to learn how a truck is used on a day-to-day basis.
In utilizing Siemens PLM Software, Daimler reported the following results:
Enhanced durability testing.
Improved measurement instrumentation and the execution of the data collection.
Integrated test and simulation procedures.
Generation of quality results on the test track.