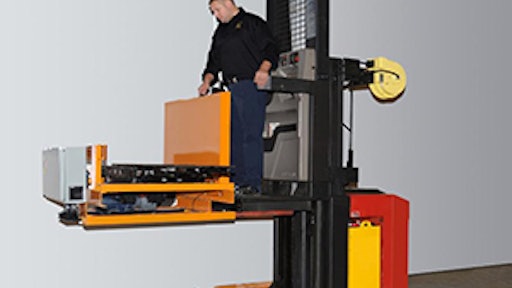 Wixom, Mich.—Nov. 8, 2013—The mid-load UltraStore automated storage and retrieval system (ASRS) is available with an optional Perfect-Uptime feature that allows inventory to be accessed and the system operated during downtime, including preventive maintenance periods. The Perfect-Uptime feature is ideal for mission-critical inventory and material for logistics organizations.
Since the mid-load UltraStore ASRS system is surface-mounted and does not use a center railing, it allows the UltraStore unit to be moved out of the aisle, and the inventory and material immediately accessed with the Perfect-Uptime system.
Because of its unique features and specifications, according to Integrated Systems Design (ISD), the mid-load ASRS provides reliable buffering, staging, storing and sequencing of pallets, cases, and custom and specialty items. Using the Perfect-Uptime system allows organizations to reduce safety stock and redundant inventory, saving both money and floor space.
"One of the largest concerns any logistics organization has when utilizing automated storage and retrieval systems is how can you access inventory if the system goes down or during preventive maintenance periods," said Mark Jordan, vice president of operations for ISD. "The Perfect-Uptime option provides the insurance that the inventory and materials are always accessible, while the organization reaps the benefits of the space savings, labor reductions and accuracy that the mid-load UltraStore ASRS provides."
Companies in this article