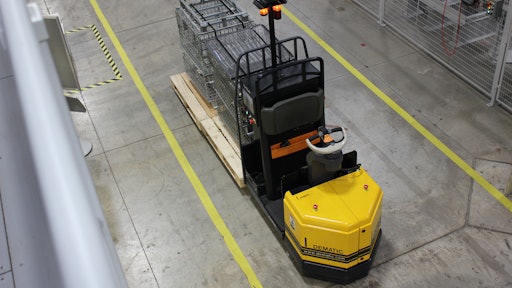 Grand Rapids, Mich.—March 4, 2013—Dematic, a supplier of logistics systems for the factory, warehouse and distribution center, introduced FlexTruck easy, a pre-engineered Automated Guided Vehicle (AGV) System that is offered as a kit. The FlexTruck easy kit comes with all the modules required to configure an automatic pallet delivery system, including the FlexTruck double pallet handling vehicle(s); control center; navigation targets; and wireless call/dispatch stations.
"FlexTruck easy is a portable, re-usable asset that can be moved or reconfigured as your intra-logistics requirements change," said Scott Hinke, General Manager of the Dematic AGVS Business Unit. "It is a simple and cost-effective way to move pallets in the warehouse or production environment." FlexTruck easy has an operator compartment so it can be manually operated for special load movement tasks. The Dematic FlexTruck easy kit includes batteries and chargers."
The call/dispatch stations allow operators to summon a vehicle and direct pallet delivery destinations. The laser guided pallet trucks automatically pick up and drop off pallets at the floor level. The control center provides task prioritization, reporting, and traffic control.
FlexTruck easy is a solution designed for pallet transportation/delivery applications such as receiving to storage or storage to shipping. Other applications include delivery to/from process equipment; or from production to shipping. The business case is based on decreased: labor, pallet delivery delays, and pallet/facility damage. Benefits include increased: productivity, real time monitoring, and plant safety.
Companies in this article