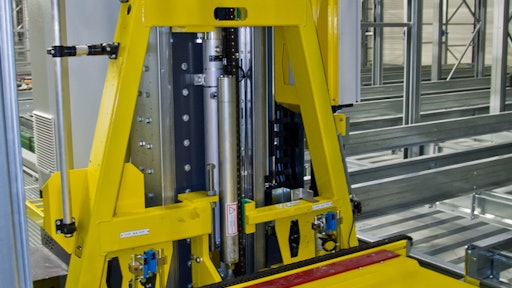 Gerolstein, Germany—Oct. 22, 2012—Gerolsteiner Brunnen GmbH & Co. KG, exporter of mineral water in Germany, launched a fully automated channel warehouse that utilizes a state-of-the-art conveyor system in addition to the SSI Schaefer Lift & Run design (see photo). Approximately 9,400 pallet spaces for mineral water and soft drinks are managed and controlled by a material flow and warehouse management software especially adapted and designed for the specific needs of Gerolsteiner Brunnen.
The beverage manufacturer works to differentiate between production, storage and shipping of refundable and non-refundable products by means of specific processes in order to answer customer requests faster and much more flexible.
"The possibility to load up to 10 trucks simultaneously, above all, signifies an enormous increase in efficiency to the logistics processes in our company," explained Ulrich Rust, Technical Director, Gerolsteiner Brunnen.
The second building phase—completed in September 2012—gave way to 20,000 available pallet spaces. Gerolsteiner also opened up additional storage capacities for its refundable products by building a new hall earlier this year—which cover 80 percent of the trading units.
"We were able to celebrate the inauguration of our new bottling plant already last year," said Rust. "With the completion of the compact warehouse we are finalizing another trend-setting investment at our headquarters in Gerolstein."
Eveline Lemke, Secretary of Commerce of Rheinland-Pfalz, sees the construction of the new compact warehouse at Gerolsteiner as a combination of safeguarding employment and contributing to the protection of our environment.
"Compared to common storage techniques, only one fourth of the production plant will have to be used for storage of non-refundable products in the future thanks to the high-rack technique," said Lemke. "The built-up area is thus reduced by the size of three soccer fields. Furthermore, there is a reduction of 20 percent CO2 per annum at in-house transports. Hence, the company not only improves its logistics and increases the speed of delivery but likewise supports the protection of the environment. I think this is a wonderful combination. The Gerolstein headquarters and the mineral water industry in Rheinland-Pfalz will thus be strengthened for the future."
Gerolsteiner Brunnen consciously invests in refundable and non-refundable packaging as well as glass and PET to meet their customer requests with a broad product range.
"The product variety has to be synchronized with filling and storage," Rust continued. "We are able to meet this challenge with the compact warehouse by SSI Schaefer. Our logistics enables multi-faceted, highly efficient processes and guarantees the highest quality. With the spatial concentration and state-of-the-art technology, we are able to offer our customers a faster and more flexible handling solution. As a result, Gerolsteiner continues to offer the highest delivery guarantee even at peek plant utilization."
Companies in this article