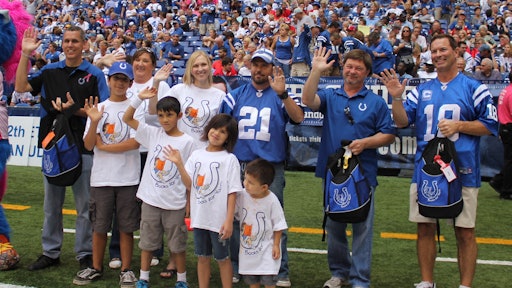 Indianapolis—July 18, 2012—Global freight forwarder Cargo Services Inc. signed on as the Indiana Books for Youth campaign title sponsor for the fifth year in a row. The campaign is operated by the Indiana Department of Child Services and Indianapolis Colts to provide foster children statewide with backpacks filled with 25 age-appropriate books.
"As owners of a successful business with client companies throughout the state, we are attracted to the Books for Youth program for several reasons," said Steve Fugate, Co-owner, Cargo Services Inc. "First we can give back and make a positive impact in communities where our clients live and work. Second, and most importantly, seeing the smiles on the kid's faces and realizing the impact in giving the gift of reading for them is simply immeasurable."
The 2012 Books for Youth campaign kicks off today at Cargo Services client company HAYNES International, Kokomo, Ind. Representatives from the Colts franchise—including Blue and Colts cheerleaders—will join company representatives as they distribute backpacks to more than 50 Kokomo foster children.
"HAYNES International is honored to host the Books for Youth kickoff event with Cargo Services, the Colts, and DCS," said Lynn Cope, Purchasing Manager, Haynes Intl. "We hope to help enhance awareness of this statewide program sponsored by Cargo Services in our area and among our employees. It impresses us that Cargo Services owners give back and actively involve clients like us to make a difference in the community and in the lives of foster children and their families."
During today's event foster children and their families also will experience Colts in Motion traveling museum, receive autographs from Colts cheerleaders and take pictures with the Super Bowl Trophy. Blue will perform his PRIDE Show, a 30-minute educational show that uses the acronym PRIDE to teach children about the importance of Physical Fitness, Respect, Intelligent Decisions, a Healthy Diet and Education.