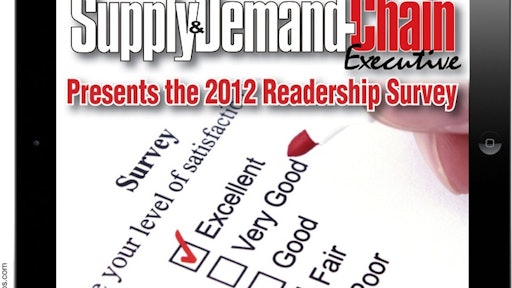 We need your input! Supply & Demand Chain Executive is conducting a Reader Survey to assist the magazine's editorial staff in addressing the issues of greatest concern to our readers in the year ahead.
"Our mission is to provide solutions-based intelligence for you, our readers," said Barry Hochfelder, Editor, Supply & Demand Chain Executive. "Our readers' input is very important to us in educating the industry of the challenges and complexities facing supply chain and what industry executives must know to overcome them and grow in the long run."
As with the magazine's past reader surveys, individual responses to the 2012 survey will be held in strict confidence and only aggregated data will be reported.
Please take 10 minutes to answer this brief anonymous survey.
Four respondents who provide complete, valid surveys will be chosen in a drawing to receive $25 Amazon gift cards. Tentative deadline for submitting surveys is May 1, 2012. (See additional information on gift cards at end of survey.)
To access the survey and enter your responses now, visit https://www.surveymonkey.com/s/RDMNC7T.
Thank you in advance for your participation in this survey!
Sincerely,
Barry Hochfelder
Editor
Supply & Demand Chain Executive
Tel.: 847-454-2726
E-mail: [email protected]