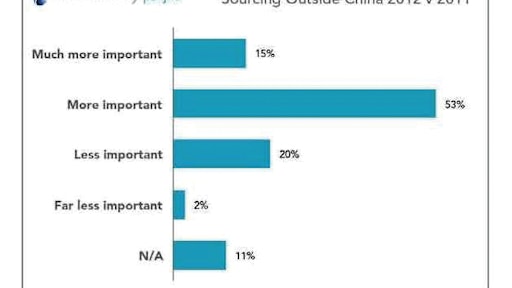 The last four years have been uncertain ones for businesses engaged in trade as a result of the U.S. economic recession, the debt crisis hitting several countries in Europe and other similar crises across the world. But despite such economic downfalls, recent survey results find that nearly half of all American professionals involved in the trade industry are optimistic about the global economy in 2012.
According to "The State of Global Trade in 2012" report from global trade intelligence firm Panjiva, New York, N.Y., and The Global Sourcing Council, New York, N.Y., a non-profit organization that fosters dialog on critical issues in global sourcing and supply chain management, half of global trade professionals are optimistic about the global economy in 2012 and nearly three quarters plan to spend at or above 2011 levels.
Report findings—which include insight from 250-plus buyers and suppliers—support the U.S. Department of Commerce's recent analysis which showed that Americans increased their spending by the most in seven months in February.
Sights set on full recovery?
But as the U.S. economy appears to be rebounding in the beginning of 2012, larger organizations may still have doubts about a full recovery. Respondents at companies with over $100 million in revenue were two times more pessimistic than those at companies with less than $100 million in revenue (30 percent vs. 14 percent).
Yet, regardless of company size, three top concerns about the economy were a slump in global demand (31 percent); volatility in commodity prices (23 percent); and rising labor costs (18 percent).
"The past four years have been very volatile for those involved in global trade but there appears to be light at the end of the tunnel," said Josh Green, Chief Executive Officer of Panjiva. "Sourcing professionals can deal with rising labor and commodity costs by making the move to regions where costs can be better controlled. The critical success factors remain identifying the right regions and partners to work with and putting the right planning processes in place to ultimately make the move."
The report also finds that:
Suppliers and buyers vary when it comes to rising labor costs concerns: Only seven percent of suppliers cited rising wages in manufacturing hotspots as a biggest economic concern for 2012, compared to 26 percent of buyers.
Buyers are shifting sourcing outside of China: Although 73 percent of buyer respondents currently source from China, 68 percent of them cited sourcing outside of China as "much more important" or "more important" in 2012 as compared to 2011. In fact, 34 percent of all buyers cited sourcing in new geographies as their top way of managing costs in the year ahead.
Other Asian nations remain the top sourcing alternative to China: More than 53 percent of respondents pointed to other countries in Asia as where they plan to source goods beyond China.
Buyers and suppliers both see opportunity in U.S.: Almost 24 percent of buyers named the U.S. as a sourcing alternative to China. Further, 63 percent of overseas suppliers pointed to the U.S. as a region they will target for new business; suppliers were less interested in seeking to supply goods to Europe (56 percent) or China (41 percent).
For more report findings, visit www. panjiva.com
The report is based on a survey of over 250 professionals engaged in global trade conducted in February 2012.