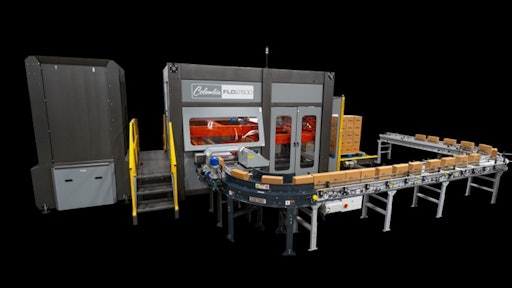 Columbia Machine
Columbia Machine introduced the FLD2500 Floor Level infeed conventional palletizer, capable of being equipped with a fully integrated stretch wrapper that allows for concurrent "stack and wrap" load building at much higher rates than previously achievable.
Key takeaways:
The FLD2500 utilizes a dual hoist concept and an electric overhead Row Pusher. The dual hoist format, when combined with a roller style Layer Stripper Apron, allows the footprint to be reduced significantly (40%) over Floor Level palletizers with similar throughput capacity.

The movement and positioning of each hoist is numerically controlled using servo technology faster and more accurate machine movements.

The FLD2500 is capable of palletizing virtually any package type including unwrapped trays, film only bundles, plastic totes, RPCs and more.

Options include fully integrated stretch wrapping, smart diagnostics with video playback to assist maintenance personnel in identifying the cause of a machine stoppage and a servo actuated touchless turning infeed for gentle package handling, display-ready case orienting or 4 way "labels out" layer forming.