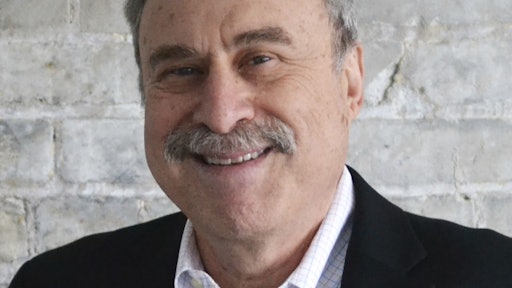 Bring in the workers and bring up the rails
We're gonna lay down the tracks and tear up the trails
Open 'er heart let the life blood flow
Gotta get on our way 'cause we're movin' too slow
Get on our way 'cause we're movin' too slow
The workers that Gordon Lightfoot sang about in his great "Canadian Railroad Trilogy" would be surprised to see what their work has led to. The railroad—and the city—aren't "movin' too slow" anymore. I had a glimpse of it during a three-day visit to Calgary, thanks to the folks at Calgary Economic Development.
We started at the Canadian Pacific Railway Intermodal Yard. CP, founded in 1881, was built to unite Canada from coast to coast—its 14,000-mile network extends from Vancouver to Montreal, as well as in several major U.S. industrial centers. The CP intermodal yard stretches over 100 acres, with 50,000 feet of track capacity for storage. At the time of my visit, the yard was 800 containers—the majority of them are 53-footers—over capacity because of the port slowdowns in the U.S. The main rail line connects downtown Calgary to Port Metro Vancouver. Sears Canada also operates its 24/7 National Logistics Centre out of the facility.
Taking advantage of the growth in intermodal, goods are sent west to Vancouver and east to Montreal. Molson, for example, ships all of its beer out of Calgary and also handles recycling of empties there. Other major players using the city's rail facilities—both CP and Canadian National Railway—include Frito-Lay and PepsiCo. Toronto-based Canadian Tire distributes its products from Calgary. Shipments to British Columbia are unloaded and then the containers are filled with lumber and sent back to Calgary.
One of the most exciting developments in Calgary is the building of a 66-acre Home Depot distribution center, scheduled to open this fall. The two-building site will cover a million square feet and serve as a Canadian Pacific distribution center sending products directly to 70 stores in Western Canada. For Home Depot, the city's rail access was a key priority for building the facility.
Rail, of course, isn't the only mode of transportation in intermodal. Calgary International Airport (YYC) has been serving the country since 1914, and is undergoing a $2 billion expansion that will add a new international concourse with 22 gates.
In addition to its consumer activity (12.5 million passengers per year) the airport also is strongly cargo oriented, including three dedicated cargo aprons. One very interesting area is the specialized holding terminals for animals. There's a 20,000 square foot, heated area and a 14,000 square foot loading area for horses, pigs and other livestock.
A key tenant at the airport is Exp-Air Cargo, a Canadian-based airline cargo sales and management company. Exp-Air Cargo is now the ground agent for Cathay Pacific, which recently began air freight service from Calgary to Hong Kong, opening a new "bridge" to the Asian market.
Yep, those railroad builders of long ago would definitely be amazed.