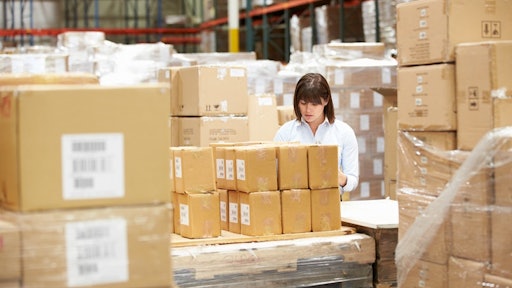 Getty Images
The supply chain is stressed. Since January 2020, The New York Fed's Global Supply Chain Pressure Index has averaged 1.8. To put that in perspective, the previous peak of 1.5 was reached in the recovery of the 2009 financial crisis. While the index has declined in recent months, we're not out of the woods yet.
As a result, the industry has relied on massive growth in the form of workers and investment. According to the Bureau of Labor Statistics, the United States now employs over 1.9 million warehouse workers. That's an increase of over 45% since January 2020. To put that in perspective, warehouse employment growth has outpaced total employment growth in the United States 11:1 over the past decade. Investment growth in the space has also been massive, with investment in logistics startups peaking at $24.6 billion in 2021.
While that growth has been instrumental to support the supply chain, there is a misalignment between what workers need and where those dollars are being spent. In recent years, less than 15% of logistics investment dollars have gone into warehousing, fulfillment, and other enablement technologies. Meanwhile, the majority of warehouse workers are actually willing to trade pay for better technology to do their jobs and 90% of warehouse workers believe investment in new technology helps in attracting and retaining the workforce.
This misalignment is a strain on the entire industry. Some may assume that technology will replace humans in the warehouse. In reality, technology is there to empower humans in their work, not to replace them. Technology is critical to address two of the biggest challenges in the industry - consistent labor shortages and high turnover. Over 70% of warehouse operators can't find enough labor and the industry has average turnover rates over 40%.
To address these issues, supply chain entrepreneurs, investors, and executives should begin listening to workers and understanding what they need so that investment can be allocated towards innovation that improves the lives of the frontline worker. All too often the industry creates and deploys technology without ensuring that those solutions are supporting labor in several critical areas.
Based on learnings from deploying supply chain technology at scale, the industry should ensure that in-warehouse technology supports its labor force in four key areas - training, job performance, safety, and advancement.
Training
Training is consistently called out as a priority among workers. Employees fear that inadequate training will not allow them to succeed in a more tech forward workplace, despite the benefits it brings. As a result, warehouse operators need to focus on deliberate training plans and should involve key employees in the planning for and executing training programs to ensure they are advocates for new technology deployments. Importantly, entrepreneurs in logistics technology should focus much more closely on the user experience. In-warehouse technology often has a poor or confusing user experience that leads to employee productivity losses and frustration. Improvements in user experience reduce training requirements and are more readily understood by younger workers, who are used to modern consumer technology.
Job performance
Despite the growth in logistics investment, 66% of warehouses still use manual processes to perform basic functions. If employers want to attract and retain the best workers, they need to invest in new software and robotics that helps their workers achieve better speed and accuracy, while reducing mental stress. Robotics, in particular, is a great opportunity to drive improvements in a worker's job performance. While it may come as a surprise, 75% of warehouse workers trust robots to do their job better. For example, up to 50% of a warehouse employee's time can be spent walking. Robotics can greatly improve this and it's imperative for warehouse operators to not fall behind the trend, given more than 30% of operators are currently using or evaluating robotics.
Safety
It's widely known that warehouses have a high injury rate. In fact, the rate of recordable illness and injury cases in the warehousing and storage sector was 5.5 out of every 100 workers in 2021, almost double the national average. According to HBR, safety is the number one factor improving warehouse worker optimism towards new technologies. New automation technologies have the potential to improve worker safety dramatically. Of particular note, entrepreneurs and investors should continue to invest in wearable technology. These technologies can improve the ability for workers to safely collaborate with robotics and automation technologies like automated mobile robots (AMRs). Additionally, wearable technology has demonstrated the ability to detect unsafe postures and even reduce physical strain.
Advancement
One of the most overlooked benefits of technology is to enable career advancement. A major complaint about warehouse work is that it can be nothing more than a dead-end job. By making workers more efficient, this frees up time for employees to learn more about their organization and be trained to apply their skills elsewhere. In particular, high-performing employees can be your best advocates and executors when it comes to new technology evaluation, selection, and deployment. Finally, frontline staff often have incredible insight into the biggest opportunities to improve operational efficiency and employee satisfaction. Supply chain executives should remember that as technology gains accrue to the broader organization, they should also enable their best workers to take part in technology strategy and advance within the organization.
It's an exciting time to be in the supply chain and logistics industry. As entrepreneurs, investors, and executives look to improve performance, resiliency and profitability, they must remember to invest in technology that trains, empowers, protects, and advances the frontline.