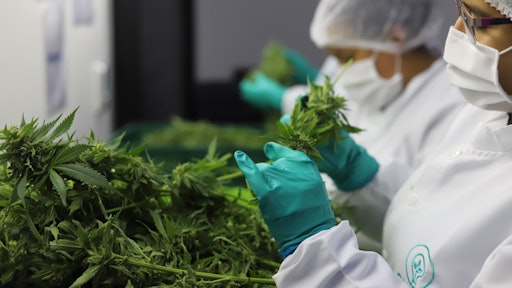 Clever Leaves
In 2012, the state of Colorado became the first in the United States to legalization the use of marijuana. As of today, 19 states in total legalized the sale and use of cannabis. Numerous more see various levels of medicinal legalization or decriminalization. This is a stark difference to pre-2012, where marijuana use was largely taboo and handled through black market means.
This growth of legalization spurred a flurry of popularity as well as creativity, where marijuana, cannabis, CBD, hemp and other variations are included in a variety of products in a range of sectors like bath and body, food and beverage, medical items, home goods and more. But the cannabis industry needs a supply chain just like any other sector. So how has this growth in popularity, as well as the Coronavirus (COVID-19) pandemic affected it?
For one thing, once legalized, packaging became an important issue for the cannabis industry.
"Initially, when Cannabis became legal, there was a need to sell flower in something other than a zip lock bag," says Caz Werp, supply chain manager at SoRSE. "The Cannabis industry had to look at packaging that was designed for other products: Food, Cosmetic, Body Care. Adding to the complexity, the packaging needed to be Child Resistant, and in some cases, Continually Child Resistant, meaning that once opened and closed, it would need to remain Child Resistant. A lot of the packaging options available were very standard and didn't provide much uniqueness to establish brand identity."
Another factor seen is the cannabis industry going global, as numerous countries embrace legalization as well, not just the United States.
"One major trend is globalization," says Kyle Detwiler, CEO of Clever Leaves. "We are seeing low-cost production from countries like Colombia and Portugal grow as companies as they are beginning to navigate more easily the stringent import/export regulations for cannabis, or as the laws themselves become more flexible or efficient. For example, just recently, Colombia lifted its prohibition on exports of cannabis flower (previously, only extracted products were authorized for export), which dramatically expands Clever Leaves' total addressable market."
Additionally, the growth in popularity has prompted a flurry of new types of products as well as strains which complicates the industry further.
"The industry is still developing new products within categories, but also new strains come out every week and this adds to the complexity of adding new items into the system," says Bobby Turner, chief operating officer of HERBL. "This has the trickle effect of needing the labor to work through these constant changes but also creates difficulty in optimizing SKUs within the warehouse."
COVID-19 and cannabis
Throughout the past year though, the number one disrupter was COVID-19, just like all other sectors of the supply chain. Cannabis is not immune to the effects of this virus.
Numerous products on the manufacturing side, especially vape products, saw shortages and backups. But the agriculture side of it remained steady, according to Greg Sadler, founder and president of Platinum.
"At the start of COVID many companies were backordered on many items, especially the cartridges that are used in vape products," he says. "Some literally had to stop production. Cartridges are primarily made in China and many US companies were just caught off guard. We were very fortunate to see the trend early and place large orders to see us through 6 months. As far as cannabis as a crop, the supply was steady."
Cannabis technology products are one of many sectors ravaged from the computer chip shortage, pushing lead times to almost a year behind. Shipping from manufacturers out of the United States tripled in price and is now unreliable.
"Ports are often overwhelmed and understaffed, resulting in multi-week delays," says Mladen Barbaric, CEO of Airgraft. "Earlier this year, we had a ship circle Los Angeles waters for two extra weeks, unable to dock at the port due to over congestion. This forced our team at Airgraft to take a more disciplined approach to developing and operating. As a result, we're more careful in forecasting and more in tune with planning."
Detwiler explains that COVID-19 exacerbated the cannabis industry so much because the industry is already an intricate system to navigate due to regulation.
"COVID-19 disrupted supply chains in nearly every industry," he says. "Most of the cannabis industry outside the United States functions like a pharmaceutical channel requiring significant investments of time and focus by both a supplier such as Clever Leaves and its commercial partners throughout the world. Even in 'normal times,' success depends on navigating nascent but strict regulatory systems, and relationships often require initial small batch or sample shipments and validation before larger partnerships can emerge. COVID-19 introduced new challenges even when it came to basic transportation logistics.
"Fulfilling our clients purchase orders required for creative solutions that allowed us to find the right way to navigate the regulations and the logistic constrains. As we've overcome the various challenges, we have successfully exported to more than 15 countries thus far."
These regulations have become more convoluted as the industry legalizes, since it's not the same across the board in all regions and not at all on a federal level. In each stage of the cannabis supply chain there are varying regulation, which makes the industry completely different in each in state.
According to Onfleet, there are five stages in the cannabis supply chain including cultivation, manufacturing, distribution, transportation and retail. This means that legalization changes the retail and consumer demand side of things, but not quite as much on the supply chain side of things.
For instance, some states where marijuana is legal do not allow for third-party distribution, some require drivers of cannabis product to include two drivers per vehicle and others demand turn-by-turn reporting during transportation, says Onfleet.
"Looking ahead, operators need to establish a resilient supply chain that does not rely on options in just one single region and one that takes potential future disruptions into account," the company says in a statement. "When vetting potential vendors this year, operators need to ask detailed questions about the location that vendors are sourcing materials, what kind of setbacks they saw as a result of the COVID-19 pandemic, and what other supply chain disruptions they've faced in the past."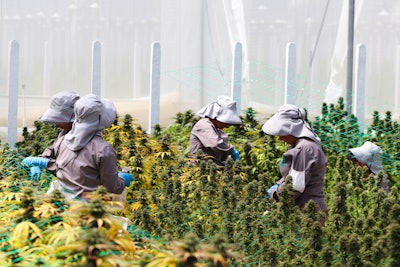 Sustainability in marijuana
Another aspect of legalization is greater control over packaging, which complicates the industry. Many customers of the cannabis industry are interested in eco-friendly practices, but regulation over packaging makes this difficult, says Sadler. Regulations require the marijuana industry to be over packaged, which pushes greater waste. Product packaging includes material like are glass, plastic, blister packs and barrier pouches made from poly or metal. Much of this type of material is not sustainable, bio-degradable or recyclable. If or when the industry becomes legalized on a federal level, packaging will become more ecofriendly as the world looks to solve the climate crisis.
Packaging also needs to be child proof and standards for this change from state to state. Additionally, ensuring customers are of a legal age is extremely important for the cannabis supply chain.
In addition to regulations and the pandemic, the marijuana industry is also affected by the labor shortage that ravage our supply chains currently. Detwiler explains that in one case, a shipment of cannabis product was meant to go a short distance but took weeks due to a lack of employees to ship it. The labor shortage can drive operation costs as well. This issue requires cannabis supply chain companies to think creatively.
The labor shortage can even affect the packaging materials needed for the product.
"Inflation will dramatically affect the materials needed for production and packaging," says Werp. "All packaging manufacturers of plastic, corrugate, labels, aluminum, glass, etc. are sending letters to their customers notifying them of price increases. Yesterday we had a packaging company call and say it had 450 containers of glass in Asia that it can't get shipped. The glass plant has halted production because it has no space to put the glass."
On the federal level
But with all these factors disrupting and changing the cannabis supply chain industry, nothing will affect it like federal legalization will. Many companies are confident that federal legalization is coming.
"There is no doubt that a federally legal US market would have a profound impact on the cannabis industry, and there are many scenarios that could play out," says Detwiler. "It's reasonable to assume that major retailers like Amazon could open up their marketplace to cannabis or it could more closely resemble the alcohol industry with federally controlled retail channels. It's also possible that the FDA could begin to regulate cannabis just like other pharmaceutical companies suggesting a supply chain routed to pharmacies, potentially giving operators like Clever Leaves a noteworthy advantage considering we are already compliant by the standards of FDA's equivalent in Europe."
Onfleet believes that due to consumer demand and continual state-by-state legalization, federal governments will be forced to legalize the industry sooner than later.
What exactly the future holds for the cannabis and marijuana industry is unknown, but consumer demand and disrupters in the supply chain will continue to shape this industry into a force to be reckoned with.
Companies in this article