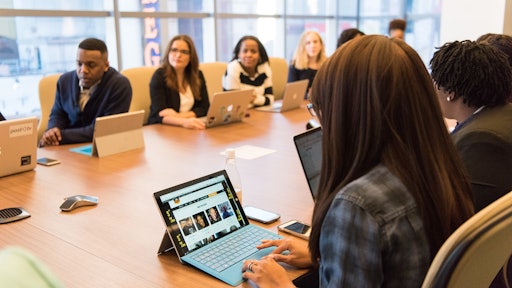 Pexels
What happens when you put a handful of supply chain professors on a live webcast to talk all things education, retention, upskilling and more?
Not sure, but let's find out.
Supply chain education has become more paramount than ever. From training to upskilling to increasing diversity and inclusion in the supply chain workplace, many of today's companies are expanding and enhancing their workforce development efforts. But, to do so, companies need to work with local colleges and universities in order to network with young talent.
Register today for SCN Summit: Workforce Development, where Marina Mayer, Editor-in-Chief of Food Logistics and Supply & Demand Chain Executive, will sit down with select Supply Chain Professors to provide insight as to what companies should be doing in terms of hiring, training and upskilling supply chain professionals. Also, discover how collaborating with local colleges and universities helps promote the supply chain field, and enables your company the ability to network with incoming talent.
SCN Summit: Workforce Development takes place April 27 at noon CST.
"Workforce development is such a pivotal conversation to have. Whether you're in trucking, warehousing or software development, all companies in the supply chain are currently dealing with the same workforce challenges," says Mayer. "SCN Summit is the go-to platform to learn, network and connect with industry experts and peers in the supply chain industry. And, these panelists continue to provide relevant knowledge, insight and use cases to the table that educate our readers."
The Supply Chain Network (SCN) Summit is a premier virtual event educating logistics professionals on critical issues impacting the supply chain industry. Our Future of the Supply Chains Week, which took place in December 2020, brought in over 3,300 registrants, 741 unique leads and a 53% attendance rate.
Interested in joining future speaker panels? We're in the process of securing panelists for our upcoming State of the Supply Chains Week in June. Don't hesitate to connect with our team to learn more.
REGISTER NOW for SCN Summit: Workforce Development.