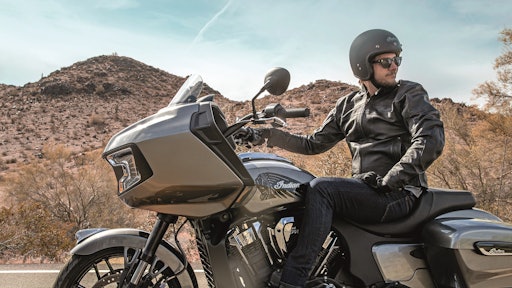 Polaris
Minnesota, famous for its 10,000 lakes, is also renowned for extremely cold winters and an abundance of snow. It's the natural home for Polaris, which manufactures snowmobiles, and also off-road vehicles (ATVs and side-by-side), Indian motorcycles and other recreational and utility vehicles, including electrical and military vehicles.
Although it had a presence in Europe for 35-40 years through independent distributors, Polaris established its first subsidiary in France 20 ago and its European headquarters nine years ago in another winter wonderland - Switzerland. Based in Rolle, in the Lake Geneva area, the operation serves Europe, the Middle East and Africa (EMEA) through a network of seven subsidiaries, 600 dealerships and 50 independent distributors.
After Polaris set up its EMEA operation, however, it came up against several supply chain planning challenges. Crucially, snowmobiles and other sports vehicles are usually impulse buys so customers want very fast delivery. Polaris's agricultural and utility customers, who depend on Polaris vehicles for work, also demand similarly high service levels.
Polaris customers also like to personalize their vehicles with accessories and modifications - at the point of sale. This means dealers and retailers must hold inventories of spare parts and accessories to make these customizations. Since Polaris has such a wide range of products, spare parts inventory levels can be hard to forecast and optimize, as Ilaria Maruccia, the EMEA WG&PGA SIOP Manager, explains, "Providing a high service level is crucial to the customer experience. However, this often comes at the expense of huge inventory levels and too much capital being immobilized in warehouses. Some inventory ends up never being sold and that's a huge risk."
No task for spreadsheets
Planning is tricky in EMEA, not only due to the wide range of vehicles and spare parts that Polaris manufactures, but the network complexity. Polaris supplies dealerships directly in 7 countries. In 40 other countries, Polaris supplies third-party distributors, which supply their own dealerships networks. Two European distribution centers stock the parts and accessories to serve the entire region and Russia. Across this large area, regulations vary by country and region, compounding the challenge.
With all this supply chain complexity and data held in two ERP systems—Ilaria - Polaris EMEA's only planner—knew she couldn't continue relying on spreadsheets to manage the company's spare parts and accessories business.
"We realized we needed to have a proper tool, one that was more robust, stable, reliable, efficient and effective," says Maruccia.
Modernized planning system in less than four months
Maruccia led an intense competitive search for an advanced supply chain planning system that Polaris could hit the ground running quickly with minimal capital outlay, eventually selecting ToolsGroup's Service Optimizer 99+ (SO99+). As a cloud solution, the tool required zero investment in infrastructure. Maruccia also appreciated the fact that it was easy to implement, which she did almost single-handedly.
"I worked on it with a little support from my IT team to synchronize the exchange of data. We got it done in three to four months. It was not labor intensive. It didn't require a huge investment in time, capital, or personnel. I loved it because it was fast, effective, and I could really tailor-design it for what we needed," adds Maruccia.
The new system helps Polaris more optimally balance inventory levels with its high service level targets. Planners now easily understand, review, and adjust the forecast when needed.
As Maruccia explained, "The forecasting in SO99+ is very visual. At a glance, you can see if things are working right or if there's something that looks weird. It really talks to you and it's super easy to switch between the dollar view and unit view, if you want to dig into details. When we do detail planning, we always look at the unit level, at the pieces that we're trying to sell. But when it comes to parts and accessories, the value of an engine and a screw aren't comparable, so being able to find a balance between cost and service is critical."
Planners can also easily make forecast adjustments - or commercial overrides - when necessary.
"It's very easy to apply commercial overrides. We can do it at a country-specific, regional level or when there's a little bit more uncertainty, we can do top-level overrides and the tool will automatically proportion the change across the region. It's extremely functional and easy to use," adds Maruccia.
SO99+ integrates well with Microsoft Dynamics, absorbing output from the ERP system, generating the forecast and setting optimal safety stock levels. This information feeds into Microsoft Dynamics' replenishment process.
Great service, less inventory
The new system has helped Polaris make significant improvements in key performance indicators.
"The first two years, we really turned the business around. We reduced inventory by 15 percentage points and improved service levels by 10 percentage points," says Maruccia.
One of the main benefits of the new system has been a huge boost in planner productivity. Now planners only need to manage the odd exception.
"One of the nice things about using SO99+ is that it basically runs itself. We intervene whenever needed, but the 'whenever needed' is limited, such as flagging exceptions or following up on some weird situations we need to fix," adds Maruccia.
Today, Maruccia leads a team of five planners, but insists that without the automation in SO99+ she would need at least two more people to handle very repetitive tasks.
"Now we can focus on more added-value work because the data crunching doesn't consume any time on our end. It's a good interaction between humans and machines. We let the machines do the dirty job, the one where humans don't add value and actually sometimes get things wrong. That way, we can really focus the team's efforts on the qualitative part of the job, like understanding trends and spotting exceptions. We can do what humans are supposed to do in an organization, which is add value," says Maruccia.
Companies in this article