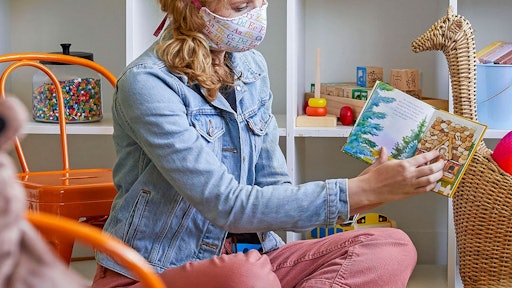 JOANN
While nearly all retail businesses have been impacted by the Coronavirus disease (COVID-19) pandemic, JOANN shows how a company can quickly pivot in the face of disruptions to become more resilient and customer-centric by expanding omnichannel fulfillment capabilities.
As COVID-19 spread and a severe shortage in medical personal protective equipment drew grave concern, the nation's largest fabric retailer saw demand for materials to make cloth face masks skyrocket. JOANN leaned into this opportunity to help protect healthcare workers, first responders and communities launching its "Make to Give" campaign to encourage mask-making at home. At the same time, in-store traffic sharply declined as broad shelter-in-place orders were instituted across the country.
That demand manifested in the company's online channel with orders for ship-to-home and buy online, pickup in store (BOPIS) suddenly jumping far beyond the seasonal average. In March, the company saw inventory inquiries online increase 3-4 times over their most recent holiday season peak demand.
"The response to our Make to Give campaign combined with the desire to shop from home was unlike anything we have ever seen," said Varadheesh Chennakrishnan, Chief Information Officer of JOANN. "The number of online orders was far beyond even our traditionally busiest time of the year – Black Friday through the holidays."
The company faced a challenge: how to fulfill extraordinary demand when its primary fulfillment channel – in-store shopping – had suddenly diminished.
But, JOANN has been a long-time client of IBM, and uses IBM's Sterling Order Management solution to run its order management and fulfillment platform.
IBM helped JOANN's order management capacity quickly scale to meet that demand, said Jeanette Barlow, Vice President – Offering Management, IBM Sterling. This allowed JOANN to quickly see if it had inventory on hand to fulfill customer orders. It helped strengthen JOANN's mail delivery channel, and extend new ways of getting merchandise to customers, in this case enabling curbside delivery across its 850-plus stores nationwide.
This new fulfillment capacity enabled the company to quickly pivot to supply raw material to make cloth facemasks at a time when these products were in short supply.
"With this exponential demand for fabric and materials to protect healthcare workers and communities, getting product to customers quickly, safely and cost-efficiently was critical," said Chennakrishnan.
IBM technology also addressed a problem for JOANN that has always confronted retailers – lack of inventory visibility. Many of the shortages of n95 masks or hand sanitizer that people experienced occurred because companies didn't know what inventory they had in their stores or warehouses at a given time, and therefore couldn't give customers an accurate estimate as to when an item could be delivered, or if it could be delivered at all. With Sterling Order Management, JOANN could advise customers of inventory availability even during a time of disrupted and uncertain supply chains.
All this enabled JOANN, with IBM's help, to effectively reinvent its business by reimagining its stores as fulfillment centers and decentralized warehouses to help increase order delivery speed as BOPIS and curbside pickup became the primary fulfillment channel. Given the uncertainty about the COVID-19 pandemic's prolonged effect on consumer behavior, this new capability means JOANN is better positioned to deliver on the customer experience going forward.
"The impact of the pandemic tested our business and supply chain models, but with the help of IBM technology, we've opened new omni-channel capabilities that will continue to be a major component of our business," said Chennakrishnan. "We're confident that we'll be able to continue showing this flexibility and adapt to our customers' ever-changing needs."