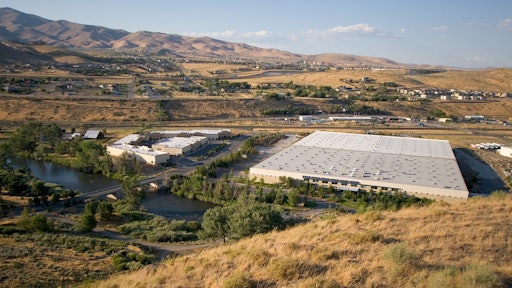 Patagonia
Embedding a sustainability strategy in warehouses and distribution centers ranges from reducing waste to installing alternative energy sources and even to deciding where to locate facilities. But balancing a cutting-edge environmental plan with a solid economic strategy is a tightrope walk many business and supply chain leaders find difficult to navigate. However, they agree it's an important balancing act to perfect because warehousing, logistics and transportation touch just about every segment of the economy.
At the core of a sustainability strategy in warehousing and distribution is an economic equation, explains Jim Frazer, vice president of smart cities at ARC Advisory Group. The three pillars of sustainability, he says, are:
Enhancing or preserving the physical environment
Enhancing or preserving the societal quality of life (safety, human capital)
Performing the first two in an economically reasonable manner.
While the third pillar is sometimes forgotten, Frazer notes, it's at the heart of sustainability because, in the business world, the ROI of sustainable practices and innovations are always top of mind.
"Often companies will say if we can't do this project with an ROI of two or three years, it's not going to get done," he adds.
A Business Case for Sustainability
The ROI hurdle in sustainable warehousing and distribution is a tough one for many companies to clear. That presents a dilemma for supply chain organizations that use a 3PL for logistics, warehousing and distribution, because they often rely on that third-party to help them meet their sustainability goals.
For Minneapolis-based Murphy Warehouse Company, the ROI challenge of sustainability is one the 114-year-old firm is willing to tackle. Richard T. Murphy Jr., FASLA, president and CEO of the full-service supply chain logistics company, says the company's environmental strategy addresses energy savings and power generation, carbon sequestration, pollution abatement, recycling and resource management.
"The business case for sustainability in our company is that a truly sustainable organization balances economic and environmental factors," says Murphy.
 It's a business case the company backs up with a five-part plan focusing on leadership, strategic business strategy, independent certifications, a financial strategy, and marketing and branding.
Murphy explains that the company's commitment to independent certifications helps its clients reach their sustainability goals. "I know they can't do it alone, they have to rely on their supply chain partners," he explains.
For example, the company's annual corporate sustainability report is prepared following the guidelines of the Global Reporting Initiative (GRI), which Murphy says "provides our clients a tool to use in their sustainability efforts." 
Making a Commitment to Sustainability
For Ventura, California-based Patagonia, its sustainability commitment is rooted in the company's mission statement: "Build the best product, cause no unnecessary harm, use business to inspire and implement solutions to the environmental crisis." Logan Duran, senior manager of environmental responsibility, metrics and reporting, says the statement is the lens the company looks through in all it does.
Patagonia grew out of a company that made tools for climbers and into an international brand that sells clothing and products for outdoor enthusiasts. Its environmental commitment has always been strong, Duran says, pointing to the company's Reno Service Center, originally built in 1996 with the latest green innovations at the time. Those early innovations paid for themselves within three to eight years with energy savings of 30 percent to 35 percent.  
 In 2006, the center's size doubled, and newer sustainable strategies earned it a gold level LEED certification. Some of the sustainable measures in the building include:
Skylights that track the sun and translucent roof-mounted smoke vents that reflect natural light
A night-flush vent system that replaces the hot day air with cool, night-time air, eliminating the need for an air conditioning system
Complex metering equipment that ensures the center is always operating at peak energy levels. 
Value in Certifications
Murphy says LEED certification and Energy Star are measures supply chain partners understand and can be a key step in getting the attention of clients. Frazer of ARC Advisory Group points out that certifications are expensive, however, and companies need to weigh them as part of their "economic equation."
Murphy adds that LEED certification is not only expensive, it's "extremely complicated," often requiring the help of an outside consultant. "But, one of the things that LEED and Energy Star has done for us is provide tools and systems to manage various sources of information," he says. "It has helped us develop measurable targets to focus on."  
He notes that the company has achieved LEED Gold certification for the four buildings it owns and is exploring certification for buildings it leases. Leased buildings present more of a challenge because the leases have to be long term, and the landlord must be willing work with the company as part of the certification process.
Murphy says it's important to understand the work required to obtain LEED and Energy Star. He suggests considering the following information before embarking on your journey to sustainability:  
Show me the data. Gathering and managing the data required for LEED certification can be difficult because some of the necessary data may reside with utility and supply chain partners. Murphy Warehouse has relied on a consultant to help with this aspect of the process.
Not one and done. LEED certification is for five years, and recertification is about a yearlong process that requires continual data collection and verification. "You just don't do this once and keep the flag up for the next 40 years," says Murphy. All Murphy facilities have been recertified.
Certification changes. Organizations must keep up-to-date with changes to LEED certification. "I would say, overall, LEED has gotten better organized, but the bottom line is you have to keep up with changes."
Taking the first step. Because Energy Star looks at energy efficiency, it is more focused and straightforward, Murphy says. It's a good first step for a company beginning a sustainable journey. 
Looking at the Big Picture
It's clear there's a variety of sustainable solutions to make warehouses and distribution centers more energy efficient and environmentally friendly. And because the buildings are basically "giant boxes" with minimal staff,  they also offer a good place to start.
Duran says Patagonia is committed to embedding practices from recycling to energy efficiency in its distribution center but is taking a more holistic view of sustainability by again looking at the issue through the lens of its mission statement.
"We are taking a deep dive into how we pack and prepare items for shipment, and how we ship products around the world with the goal of reducing our carbon footprint," he explains. "We work with our supply chain partners to improve planning and provide more accurate forecasts so we can reduce or eliminate air shipments."
He says a key sustainability issue in distribution and warehousing is where to locate facilities. In other words, it's not only about environmental efficiency in the building, it's where the building is located–and it's a lifetime challenge. 
Conquering the ROI Challenge
As for the ROI in sustainability, Murphy Warehouse Company's financial strategy focuses on "green practices that show financial payback and positive ROI." CEO Murphy says the company works hard to meet a reasonable period for ROI, something public companies often don't have the luxury to do. He recalls a warehouse project where perseverance to find an acceptable ROI paid off. 
The company purchased a building that needed upgrading, and as part of the work, Murphy wanted to include solar, something it had installed on other buildings it owns. The building's utility provider was a small co-op that was not required by the state to offer the same incentives as Minnesota's larger utilities. "So my ROI for solar, which normally for us is four years max, was going to be 11 years," Murphy says.
However, that didn't stop Murphy from looking at other avenues. While talking with the bank about financing, he was encouraged to talk to the Small Business Administration (SBA). "We filed a loan application with the SBA and put on our application that we wanted to install solar energy on the building," he recalls. "When the SBA saw we were installing renewable energy, we automatically became eligible for a loan where we only had to put 5 percent down, making the solar project financially viable. Sometimes being sustainable pays off." 
Finding Sustainable Solutions
Embedding sustainable practices in the warehouse sometimes takes out-of-the-box thinking. Many companies have harvested the low-hanging fruit such as recycling and LED light replacement, but now must look deeper to find strategies that benefit the company and its supply chain.
Murphy Warehouse Company found such a strategy when it became frustrated with the storm water fees it was paying. Communities charge fees for storm water runoff in order to control the volume and quality of runoff that goes into their system. Murphy says at one logistics campus, the fees started at about $58,000 a year but quickly began climbing to more than $81,000.
Knowing he didn't want to raise rates for the buildings' tenants, Murphy, who is a landscape architect, worked with an engineer to design retention basins, a complex piping system and the planting of native prairie to control water runoff. As originally designed, it was estimated the credit for controlling runoff would be 78 percent, but with a project cost of almost $600,000, Murphy was unsure whether to move forward.
However, the "as-built" drawing came back with a 102-percent storm water fee credit on the 22-acre site. Plus, it received a 50-percent federal depreciation deduction, which all together translated to an ROI of seven years, which was acceptable to the company.
The planting of colorful native prairie on the property had an added benefit that came as a surprise, even to Murphy. "We run 33,000 trucks a year out of that facility, but the number one thing I hear when I go to the city is, 'Oh, you're the guys with the pretty flowers along Main Street,'" Murphy says. "They talk about the flowers, not the trucks. That to me is branding." 
Looking to the Future
Sustainability in warehousing, or any other part of a business, should be looked at in the long term, Duran emphasizes. "Our founder said that what we do today sets us up for the future. That is why we look at everything from a lifecycle and total cost of ownership perspective."
He also understands the hurdle public companies have to clear when it comes to the ROI of sustainability measures, but believes many now are looking at sustainability measures to "de-risk their companies in light of rising sea levels, wildfires and more destructive hurricanes."
In the future, business and sustainability leaders believe there will be a greater emphasis on solar energy use, especially for battery storage; a greater push for environmental progress from supply chain partners; and a demand for greater transparency throughout the supply chain from customers.
Mary Siegfried is a freelance writer based in Chandler, Arizona. She has written about the supply chain industry for more than 20 years.