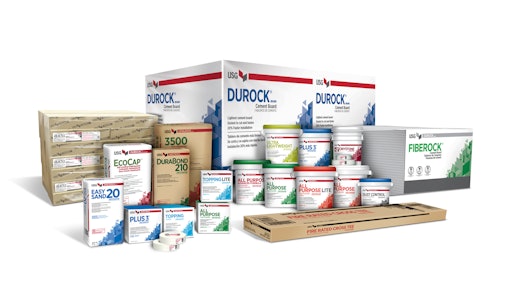 Built on a commitment to innovation, the ever-growing line of products at USG Corporation, a $3.8 billion manufacturer and distributor of high-performance building systems, has helped architects, contractors and workers meet and exceed goals for more than 100 years. With a commitment to strengthening current operations, the Chicago-based company continues to push toward its benchmark to "not only build better structures, but a better world."
USG is an industry leader in lightweight building material products. With 8,800 employees across the world, the company is best-known as the manufacturer of Sheetrock-brand drywall. Its retail footprint is centered on large home improvement retailers like Home Depot, Lowe's and Menards, and several smaller distributors.
"I feel that working with the large retailers has really informed us and made us a better company. It gives us insights into what's important and how to move product around the country," says Laura Hunter, director of sales operations at USG. "We are the only drywall manufacturer that has a nationwide network. We are very good at being able to forecast and understand what those demands are, and meeting our customers' fulfillment expectations thanks to the SPS Retail Network."
As an industry leader, USG rose to the challenge of staying on the cutting edge of innovation for fulfillment solutions. USG turned to SPS Commerce as a partner in its process.
"Fulfillment for us is paramount. We want to have the right product at the right place at the right time," says Hunter. "We sell big, bulky products, so we're bringing in an 18-wheeler full of product. The challenges to that are different than other business-to-business (B2B) or business-to-consumer (B2C) product."
As the carrier of nationally prominent, high-demand products, USG works to ensure every order is complete and on time. Predictability is an important aspect to this process.
"Our customers don't want back orders. They want to work with a repeatable lead time and they want to be able to predict when the material is going to be there," says Hunter.
This is when the SPS Fulfillment solution helps the company routinely stand out as a trusted, dependable supplier to all outlets, spanning from large retailers to smaller building supply yards. In the early stages of the partnership, SPS is meeting the large-scale needs for USG.
"The SPS partnership has been in place for us just over a year. We chose SPS as we realized the core competency of electronic data interchange (EDI) and fulfillment was not something USG wanted to invest in, nor did we need to," says Hunter. "We looked out in the landscape and we found throughout the process that SPS would be the right partner for us."
As USG continues to build its trading network, form new sales partnerships, and maintain a reputation for integrity and service, how does the company rank its experience with SPS so far? According to Hunter, SPS Commerce is a business-enabling solution.
"We are in the last phase of our implementation of the project [with SPS] and it's been very successful. We've learned a lot," says Hunter. "We've not only implemented a new technology foundation, but it's given us a chance to really look at the people and processes that go along with EDI and how technology enables the business."
One area where Hunter is especially seeing a difference is the way it revolutionized her ability to communicate with and build strategy around the unique specifications of her business partners and sales team.
"I have a way to predict and be repeatable on how we're going to onboard new documents or retail customers. Before, it was an unknown," mentions Hunter.
Hunter and the rest of the team at USG is finding the strength of the SPS Retail Network is making for more seamless transitions as they acquire new customers and grow the business.
"I feel like now, with SPS, because its network is so large, many of the retailers we're doing business with, SPS already has a relationship. We don't have to recreate the wheel so onboarding is now predictable and more timely. That's what I'm really excited about," says Hunter. "SPS brings diversity; it brings an exchange of ideas with SPS In:fluence and the power of its retail networks. They're more than an EDI fulfillment provider."
Companies in this article