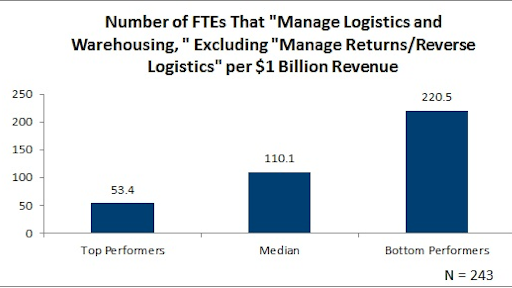 The process group that manages logistics and warehousing encompasses activities related to creating strategy, managing inbound material flow, managing warehousing and managing outbound transportation. Personnel costs are the largest component of the overall logistics cost. American Productivity and Quality Center (APQC) data shows that top performers are able to execute logistics processes (excluding managing returns and reverse logistics) with 167 fewer full-time equivalent employees (FTEs) than bottom performers.
The majority of logistics personnel costs are related to supporting the distribution operations: transportation and warehousing. When striving to improve transportation and warehouse process efficiency, logistics organizations should seek to maximize the output per FTE to minimize the personnel needed.
The data above originated from APQC's Open Standards Benchmarking in logistics, which contains metrics related to logistics performance as collected from participating organizations. These metrics can help your organization see where it stands in relation to its peers and identify potential areas for improvement.
APQC helps companies work smarter, faster and with greater confidence. The organization is a proponent for benchmarking, best practices, process and performance improvement, and knowledge management. APQC's structure as a member-based nonprofit makes it a differentiator in the marketplace. The organization partners with more than 500 member organizations worldwide in all industries. For more information, please visit www.apqc.org.