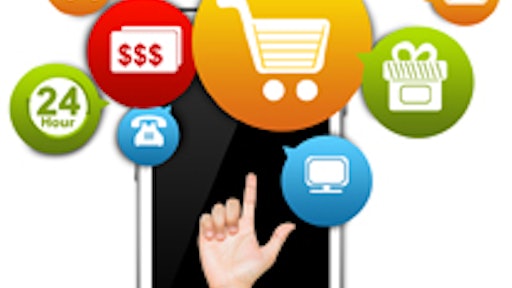 There's no arguing that mobile devices changed our daily lives. From smartphones and tablets to global positioning system (GPS) navigation systems, it's hard to imagine an unconnected lifestyle. And our reliance on mobile technology is only growing. It's estimated that there will be 200 billion smart devices in use by 2020—which means that these devices will outnumber people by a ratio of 26 to one.(1)
While mobile technologies are quickly taking over our personal lives, in general, companies are slow to adapt by bringing mobility into the workplace. According to a recent study, 61 percent of Gen Y employees, and 50 percent of workers aged 30 and over, believe the tech tools they use in their personal life are more effective and productive than those in their work life.(2)
The benefits of bringing mobile technology into the workplace are obvious. Research indicates that there is a 14 percent improvement in employee engagement when mobile self-service scheduling apps are used.(3) And a full 50 percent of workers report that a potential employer's technology tools are critical in their decision to accept a new position.(4)
With its many moving parts and fast-changing conditions, the end-to-end supply chain is a natural application for mobile technologies. For many years, mobile technologies were helping warehouses run more smoothly and devices are also becoming more common on the retail floor. But the truth is, mobile technology has applications across the global supply and demand network—even the executive suite.
Mobile technology can help the following key supply chain stakeholders do their jobs much more effectively, leading to cost and efficiency improvements.
Warehouse Managers and Associates
There's a good reason that the warehouse is the oldest and most obvious application for mobile technologies, because it is in constant motion. Managers need real-time visibility into inventory receipts, dock and yard activity, picking/packing task status and shipping completion in order to optimize flows and meet tight deadlines. Equipping associates with mobile devices allows them to constantly update the status of key warehouse activities.
Transportation Managers and Drivers
Similarly, transportation managers need to understand the real-time status of inbound and outbound shipments, while also having visibility into truck capacity, routing constraints and other key conditions. Mobile devices enable the minute-by-minute tracking of changing conditions that's critical to optimizing transportation assets. Recently, a large beverage company significantly cut transportation costs by creating a customized mobile app that lets drivers log their current status in real time.
Workforce Managers and Associates
Labor scheduling is incredibly complex, as it relies on the input of hundreds of people. It simply makes sense to have associates communicate their availability, as well as punch-in and punch-out, via mobile devices. In addition, task management can be more effectively conducted via mobile applications that let employees check off tasks electronically as they're completed. Two major grocery retailers are currently leveraging apps that increase their engagement with associates, while dramatically reducing infrastructure costs when compared to traditional tools.
Buyers
Their job description means that buyers are constantly on the road, meeting with suppliers and capturing ideas for future assortments. Having a mechanism for taking product photos and storing details can help buyers visualize their future assortments and make optimal decisions. Buyers can also collaborate with planners on the go, increasing response times.
Category Managers
As every inch of shelf space becomes more important, category managers can easily monitor compliance with plans via mobile devices, ensuring consistency across stores. Mobility also enables managers to simplify and improve in-store merchandising, as well as drive increased product availability to minimize lost sales.
Fulfillment Managers
In today's omnichannel world, it's challenging to combine high service levels with profitability. Mobile devices can help fulfillment managers monitor key metrics and trends, such as product availability and transportation spend, in real time as conditions change. They can track the fulfillment of individual orders, as well as achieve a high-level view of fulfillment planning and execution.
Salespeople
Sales professionals are rarely at their desks, making mobile access to information critical for this function. By sharing up-to-the-minute insights as they meet with customers in the field, salespeople can position the entire supply chain for maximum demand responsiveness, from forecasting to fulfillment.
Executives
Who is more pressed for time than top-level executives? Whether in the office or on the move, executives can easily monitor their company's big-picture performance in key areas such as customer service, forecast accuracy, inventory value, average days of supply, transportation spend and labor spend. By viewing critical information in real time, executives can zero in on areas of concern and quickly make course corrections.
Making the Move to Mobile
As the benefits of mobile access to information across the supply chain become apparent, more and more companies are making the switch. There's no doubt that employees are eager to bring mobile technologies into their work lives, but one of the keys to success is making the transition easy for employees.
To save costs and streamline the process, many companies are going mobile by allowing employees to use their own devices, which means simply downloading apps onto their personal smartphones or other devices. While some organizations are hesitant to enact this strategy because of security concerns, software providers and device manufacturers are addressing these issues. Companies that are already leveraging supply chain software should find that their solutions work securely and seamlessly on mobile devices as well.
For companies that are ramping up their mobility initiatives by buying and distributing devices, there are other considerations, including the technology platform of choice (e.g., Apple vs. Android). Leading software should be device- and platform-independent, working across many diverse systems.
Other considerations include providing consistent employee access to Wi-Fi, tracking company-owned devices, and creating and enforcing corporate policies to avoid data caching on personal devices. While these are complex issues, there is a wealth of expert knowledge available to help companies make these foundational decisions.
Whatever their hesitations or concerns about adopting a mobility strategy for the supply chain, executives need to realize that mobility is fast becoming a competitive imperative. Mobility investments provide a significant return on investment, and a meaningful competitive advantage, by increasing end-to-end visibility and responsiveness. As the supply chain moves faster and faster in response to changing market conditions, providing real-time information access is the only way to keep up.
Paula Natoli is the vice president of product management at JDA Software.
(1) Intel, "A Guide to the Internet of Things" infographic
(2) Dell, "The Evolving Workforce" study
(3) Aberdeen, "Enterprise-Grade Mobile Apps: Powering Organizational Transformation" study
(4) Dell, "The Evolving Workforce" study
Companies in this article