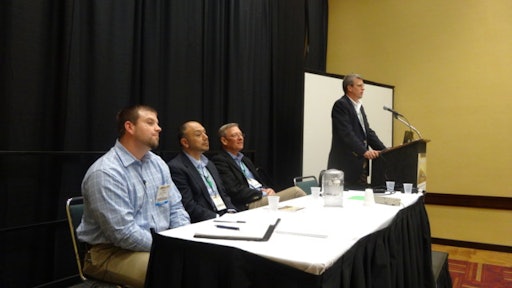 How do you get the best productivity from warehouse employees? The question has long perplexed warehouse supervisors, as was evident from an interactive session, "Warehouse Boot Camp," during the International Foodservice Distributors Association (IFDA) solutions conference at the Indiana Convention Center in Indianapolis.
Back by popular demand from a previous IFDA conference, the "Warehouse Boot Camp" allowed four warehouse supervisors to review the results of a survey the IFDA conducted on this topic, then share their thoughts with conference attendees. This year's panelists included Angel Garcia, director of operations at Salt Lake City, Utah-based Nicholas & Co.; Paul Lodics, senior vice president of operations at Naperville, Ill.-based Eby-Brown Co. LLC; and Shaun McFaul, operations manager at Fort Worth, Texas-based Ben E. Keith Co. Mike Hammond, vice president of operations at Moody, Ala.-based Red Diamond Inc., served as moderator.
The boot camp addressed a variety of supervisor concerns, such as how to recruit, how to train, what performance metrics to measure and how to compensate employees.
Hammond didn't encounter any objections when he stated that hiring and training is the top warehouse issue, and invited panelists to explain how they recruit and train warehouse employees.
Several of the panelist said they use employee placement firms, a practice that set the panelists apart from most of the members of the audience, based on a show of hands from the audience who were asked the question.
McFaul of Ben E. Keith Co. said employee placement agencies provide a good tool for evaluating new employees. Under the agreements these firms use, the employer has 90 days before deciding to hire the employee for a longer time period. "You need that 90-day window," McFaul said.
The best recruitment tool, he noted, is word of mouth. Word of mouth is especially helpful in getting people with experience, which reduces the training time, he noted.
Garcia of Nicholas & Co. said his company also uses placement services since they provide some helpful screening. His company has a two-week evaluation period for new employees.
Eby-Brown's Lodics said his company finds it helpful to promote from within.
At Ben E. Keith Co., new warehouse employees are first assigned to the night shift, McFaul said.
Garcia noted that the night shift positions pay more, so it is difficult to move people off of the night shift.
The discussion got livelier when the topic turned to incentive programs. The panelists indicated they have tried different types of incentives to improve employee performance.
Garcia said incentive plans are used for order selectors and forklift drivers. The employees are paid based on the number of pieces and pallets moved. The delivery drivers are compensated for long on loads that are returned back to the warehouse.
McFaul said a recent move to commission pay will take place across the company based on the success in two of the distribution centers (DCs) that operate on a direct incentive/commission basis. He said production and employee retention is better in these incentivized DCs.
Lodics noted that Eby-Brown has tested incentives in the picking department and the results have been such that they are expanding the test to other employees in the same facility. He said that an incentive plan for supervisors has been tested in yet another facility.
The question of what metrics are used to measure employee performance also engaged a fair amount of audience participation.
Lodics said his company measures order selectors' units picked per hour and lines per hour.
Garcia said his company checks pallets received per hour. The accuracy of inbound pallets is also tracked. Forklift driver performance is based on pallets put per hour and pallets dropped per hour.
McFaul said Ben E. Keith tracks order selectors' pieces picked per hour. He said the order selectors are paid based on the number of errors in a tier methodology. "The errors drive up and down where they (the employees) fall," he said.
Bulk picking is another matter, McFaul said. He said there is no good way to track this currently within the Ben E. Keith warehouse management software.
Lodics responded that the leadership team at his company recognizes the best performer daily and recognizes this person in front of the group the next day.
The subject of motivating poor performers was yet another topic that generated a lot of interest among the audiences.
McFaul said his company assigns mentors to mid-level performers, and mid-level performers are assigned to monitor subpar performers. He said this system improves both the mid-level and subpar performers. The mid-level employee is motivated by being asked to help a subpar employee. The personal instruction helps the subpar employee improve.
The task of training new hires falls to supervisors as opposed to mentors, McFaul said.
Elliot Maras is managing editor of Food Logistics Magazine.