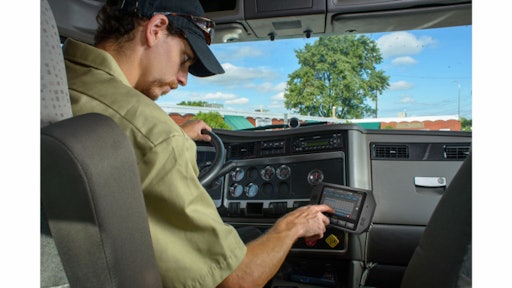 To help fleets comply with the electronic logging device (ELD) mandate, hours of service and other regulations, telematics solution providers have introduced a variety of vehicle management solutions, according to an article in the October Food Logistics. As the systems evolve, fleet managers and drivers alike find that many of the solutions improve record keeping, location finding, vehicle maintenance, safe practices, route planning, temperature monitoring and other aspects of the job.
A telematic device installed in a vehicle connects to the engine control module. The device collects data and sends it via modem to a server that organizes it into reports. The device can also send the data wirelessly to a mobile computer in the cab and/or to an office. The computer(s) receiving the data can use it for any number of functions, including driver compliance, engine diagnostics, driver coaching, video cameras, temperature sensors or radio frequency identification (RFID) readers.
To read the entire feature article, click HERE.