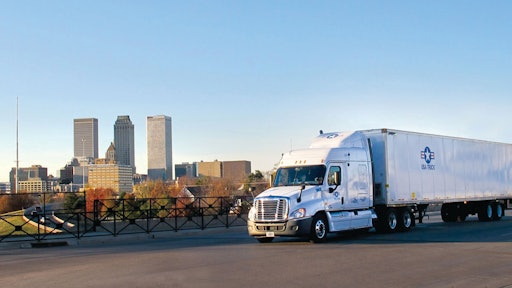 Despite the changing nature of both the transportation industry and its corporate structure during the last three decades, one thing has remained a constant at USA Truck—intelligent collaboration. As a leading North American dry van truckload carrier and general commodities transporter, USA Truck relies on electronic communication to interchange data with its vast partner network and to process transactions quickly, accurately and securely. The company's team of three electronic data interchange (EDI) coordinators relies on a transportation management system (TMS) to manage customer data and provide customers with advance shipping notices, delivery status updates and invoices.
EXTOL takes the wheel
In late 2010, USA Truck faced growing customer demand for more sophisticated electronic data interchange (EDI). Its EDI translation software was unable to handle USA Truck's growth and testing highlighted potential difficulties processing transactions for its network—now at 300 EDI trading partners. In addition, USA Truck's IT team sought greater reporting capabilities and visibility into its transaction data.
"With our prior software, if a mom-and-pop operation had trouble communicating, it could drastically affect or altogether stop transmissions for larger core customers," said Les Bicknell, Manager of Applications Support for USA Truck. "We understood that any future provider would need to support multi-threaded transactions to guarantee customer continuity."
After evaluating several providers, Bicknell and his team selected EXTOL's Business Integrator (EBI) to better manage the company's transaction load and ensure more efficient, secure communications across its trading partner network. EBI's multi-threading capability enabled USA Truck to communicate with multiple trading partners concurrently and to start processing transactions the moment the transmission completed. Its team could also connect its various applications and partners through configurable, automated business processes and integration services supported by EBI, including in-depth reporting and transaction history logs for complete system visibility.
"EXTOL offered the ideal combination of utility and price that caught our attention right away," said Bicknell. "With EXTOL, we expect to receive all the functionalities the larger providers offer but at a far lower cost. Our decision to go with EXTOL was an easy one."
Accelerating the transition
Once EBI was selected in January 2011, USA Truck and EXTOL jointly developed a plan to convert all of its 300 EDI trading partners to the new EXTOL software and dispatch system by July 2011.
"The seven month implementation plan was certainly a huge undertaking for us," said Bicknell. "We were confident that by working closely with EXTOL's support team, we could systematically move our customers to the new system without it being much of an event."
The first step for EXTOL and USA Truck was to configure EBI with the carrier's TMS. Once complete, USA Truck's infrastructure could extract transaction data from the TMS and transmit it to customers via EBI throughout the lifecycle of the order.
"When it came time to launch our new dispatch operations in July, we had already completely cut over to our new EDI system," said Bicknell. "We were extremely pleased to work with EXTOL's professional services group and they made our hard deadline possible. We are grateful to have worked closely with such a capable expert team, and we will continue to lean on them as we refine and update our software down the road."
Companies in this article