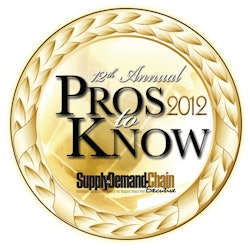 We all know that the past few years have taken their toll on every element of the public and private sectors including, of course, supply chain. While still bouncing back from the economic meltdown, we were faced in 2011 with natural and manmade turbulence seemingly without end—tsunamis, earthquakes, floods, nuclear accidents and war.
Through all the turbulence and volatility, supply chain professionals have applied their knowledge, experience and out-of-the-box thinking to keep products moving and the bottom line growing. Companies recognized the value of both practitioners and providers to strengthen the chain.
With the 2012 edition of Supply & Demand Chain Executive's Pros to Know (our 12th annual), we recognize a select group of supply chain executives who demonstrated leadership during troubled times by managing risk in the supply chain, providing competitive advantage and delivering value to the bottom line.
The listing includes the 2012 Provider Pros to Know—individuals from software firms and service providers, consultancies or academia, who helped their supply chain clients or the supply chain community prepare to meet industry challenges. These Provider Pros to Know offer thought leadership that is shaping the supply chain industry and advancing supply chain as a respected discipline.
2012 Practitioner Pros to Know
Lee Dame, Vice President, Global Supply Chain, CooperVision
According to Lee Dame the "holy grail" of supply chain is the ability to reduce inventory while significantly improving service levels. To achieve this he set strict goals and set his team up for success through the right training and use of advanced systems and tools. This process allowed the supply chain team to achieve impressive results and gain credibility from other departments across the organization.
The Team at Fortna Inc.
Mike Dunn, Group Vice President
Steve Johnson, Director
Brent Tymensky, Vice President
All aspects of the supply chain must fully understand the broader company strategy. They must look at the total cost or service level of the supply chain and recognize that efficiencies gained in the distribution centers could negatively impact the cost at the end users and ultimately the entire supply chain. In addition, the state of the current economy continues to challenge companies as they look to invest capital in their businesses. Fortna addresses such industry problems by providing their expertise in supply chain strategy and systems, distribution center operations and materials handling. Dunn works with several companies to help them understand the best opportunities to invest which will produce positive business impacts and allow them to continue to grow and take market share in this economy. Johnson helps companies re-evaluate their support chain to improve cross-functionality, grow market share and support customer requirements. In one case, he helped one retailer re-evaluate their supply chain to improve SKU availability at their stores, enable daily delivery of small orders if required but yet support a traditional retail shipment. Tymensky works with several major multi-channel retailers to upgrade their distribution centers to meet increased demands and improve their service levels.
Cynthia Dautrich, Global Procurement Officer, Kimberly-Clark Corp.
Dautrich is re-defining the role of procurement as a key contributor to sustainable value creation—not only to the bottom-line, but to the top-line. To achieve this vision, she called upon and empowered her team of more than 600 professionals around the world to bring new, innovative ideas and solutions that support the growth of the business while meeting customer and consumer needs.
Daron Whisman, CPSM, Director of Financial Services, Memorial Hermann Healthcare System
The impact of new healthcare reform provisions have pressured hospitals to seek innovative and creative ways to meet the challenges of providing high-quality care. Whisman is one of the forerunners of P2P implementation in the healthcare industry. He collaborates with operators, clinicians and other c-suite stakeholders to help them better understand that working capital is critical for executive attention.
Michael Martin, Manager, Global Supply Chain Strategy, Stanley, Black & Decker
Martin sees the supply chain as a business-driven initiative—not IT-driven. A key challenge is to continue to improve service levels while reducing costs at the same time. Prior to the merger with Stanley Works in 2010, Martin was instrumental in leading the initiative to improve fill rates and reduce inventory across Black & Decker's supply chain. Now and in the year ahead, the company is completing its rollout of the same initiative across the newly combined organization.
Joey Benadretti, President, SYSPRO USA
Rather than investing in technology, many U.S. manufacturing entities are cutting costs by shifting production to off-shore locations. Benadretti believes there is a need for governmental incentives that make it economically desirable for U.S. manufacturers to adopt technology to maximize the efficiencies of their US plants rather than having to seek savings by shifting production overseas. Benadretti continues to seek new ways of applying technology to build America's industrial base and provide a growing base of manufacturing jobs.
The Team at VHA Inc.
Scott Downing, EVP and Chief Sales and Marketing Officer
Jody Hatcher, President and Chief Executive Officer, Novation (of VHA Inc.)
Downing understands the importance for hospitals and the overall healthcare industry to reduce costs while maintaining their quality of patient care. He has been instrumental in developing and advocating VHA's innovative supply chain tools and processes to help hospitals understand the true costs of care from "door to discharge" and look more closely at their supply costs, workflow and clinical information to identify both areas of profit and potential reimbursement loss. Hatcher and Novation's strategy is to help the hospitals we serve continue to deliver the highest quality care at the lowest possible price and to do so using the industry's most advance data and analytical tools.
2012 Provider Pros to Know
Jim Preuninger, Chief Executive Officer, Amber Road (formerly Management Dynamics Inc.)
Preuninger understands the big picture of global trade and the challenges faced by companies conducting it. He has influenced and advanced the development of Amber Road's supply chain technology solutions into new markets and expanded its portfolio of solutions, including its platform for automating trade processes, through strategic partnerships and acquisitions.
The Team at Avercast
Clark Johnson, Co-founder and Chief Operations Officer, Avercast
Jason Averill, Co-founder and Executive Vice President, Avercast
Avercast helps companies in the industry manage their product demand with its business forecasting, inventory planning and Web collaboration software. Johnson oversees interactions with Avercast's customer base in providing them with greater visibility into their supply chain product inventory. To tackle lead-time problems, he advocates gradually ramping down inventory in incremental steps. Once the customer covers the anomalies, then they can ratchet down to the level they want to reach.
Averill is responsible for Avercast's cloud services launch in 2011 and continually improves the system to meet the demands of its customers. And while discussions seem to focus on bigger data sets and more complexity in supply chains, Averill and Avercast continue to focus on the data that really matters—your products, when and where they are sold and when they are not.
Gerry Fay, Chief Global Logistics and Operations Officer, Avnet Inc.
In managing a highly complex supply chain that services all facets of the electronics industry, Fay established a reputation as a thought-leader in the industry on a wide spectrum of supply chain issues ranging from the cost of fuel surcharges; to the security of electronic devices; to the increasingly complicated task of managing global trade compliance activities.
Marc Kalman, Chief Executive Officer, BizSlate Inc.
BizSlate understands that small and medium sized businesses (SMBs) demand tools that streamline their supply chain operations and free up working capital in order to survive and succeed. Kalman is committed to helping SMBs overcome supply chain problems and improve efficiency.
The Team at CDC Software
Steve Halula, Director of Customer Strategic Solutions, CDC Software
Anne van de Heetkamp, Director, Global Trade Compliance, CDC Software
Throughout his career, Halula initiated several strategies to solve supply chain problems including the design of one of the earliest flow-through retail systems; working with a company who provided a standardized WMS system; RFID; advanced mechanization (pick-to-light, put-to-light, AS/RS, carousels); and performed return on investment (ROI) studies and best practice analyses. Van de Heetkamp's Global Trade Management experience in trade consultancy, global trade software and global trade product development with both public and venture-backed technology companies spans multiple decades, countries and continents. For 2012, we expect to see continued changes to regulation and increased government audits. These, combined with the market need for more supply chain visibility, will continue to be a factor in our solution development.
Matt Gersper, President, Global Data Mining, CiGDM | Ron Lackey, President, CUSTOMS Info, CiGDM
Gersper helps businesses optimize global trade applications and streamline global trade automation. Under his leadership, Global Data Mining (GDM) developed a better way to work in helping multi-national companies increase the informational value of trade data and the productivity of global trade staff to reduce operating costs, improve customs compliance, accelerate supply chain speed and maximize the return on investment of this corporate function. Lackey understands the importance of strategic decisions made with data and how they affect the supply chain. He has helped clients integrate duty and tax data into their supply chain to better ensure that the product the customer receives is the price at which they made their buying decision.
Jason Evans, Senior Vice President, Corporate Development, Sales and Marketing, Corbus LLC
The supply chain is no different from other segments of the company in that strategies need to be followed and it often takes thinking outside of the box to make it work. Evans plans for clients' future states by listening to their goals and adapts his solution for success. His mentality begins with the immediate savings and efficiency but he works within the long term creating renewed partnerships past the original engagement.
Jim Lawton, President and GM of D&B Supply Management Solutions (SMS), D&B
Lawton is recognized as a forward-thinking leader in the field of supplier risk management. He is dedicated to improving all aspects of managing supplier relationships— from both the vendor and user perspective. His firsthand knowledge of the role that suppliers play in business success helps fuel D&B products and services that engender the kind of supplier relationships that result in concrete contributions to manufacturer's and supplier's top and bottom lines.
Bill Harrison, President at Demand Solutions (Demand Management, Inc.)
Since 2006, Harrison has led the company to improvements in its applications and provided industry thought leadership in broad issues from effective inventory management practices to technology innovation in supply chain management. He recognizes the importance of constant improvement to Demand Solutions' applications, the user interface and the communications and collaboration tools to link production, sales, customers and finance. Under his leadership the company has become a business partner. It doesn't just sell software or "solutions." It improves its customers' business.
Thuy Q Mai, Chairman and CEO, DiCentral
The supply chain's main function is to support and enable the company's overall business strategy through automating and streamlining current business processes, as well as driving down operational costs. When customer demand unexpectedly spikes, companies must re-evaluate the state of their operations in order to satisfy customer demand and remain profitable. Mai recognized this dilemma and responded by focusing on supply chain efficiency, helping customers to manage growth in a time of economic uncertainty through EDI enablement.
Ann Drake, CEO, DSC Logistics
Drake believes in continually strengthening communication and collaboration between DSC and its partners, as well as facilitating interaction and idea-sharing among those partners themselves. Under her leadership, DSC teams are expanding their focus on collaborating with partners in managing the regulatory environment. In 2011, she established a Health Care Strategy Board to consult with DSC on industry trends and challenges, enhancing DSC's two decades of experience in healthcare supply chain management.
Jason Beardall, Vice President, Truckload Sourcing, England Logistics, Inc.
In most cases, a company's transportation spend is the largest budgeted area of dollars spent. It is also the area that tends to have the most inefficiency. Driver recruiting continues to be and is forecasted to remain the primary challenge facing trucking companies of all sizes. Beardall and England Logistics together introduced new technologies to identify inefficiencies such as lack of route optimization, house processes and procedures or mis-alignment of lanes and schedules.
Jim Barnes, President and CEO, enVista
A leading expert in enterprise cost management from source to consumption, Barnes worked with a wide variety of manufacturers, distributors and retailers to drive continuous improvements and eliminate inventory, transportation and warehousing cost. "It is not often you can have one conversation with one individual who understands retail supply chains from source to consumption. From vendor compliance, inbound freight optimization, merchandise planning to store labor standards—Jim gets it," said Ted Jackson, Chief Information Officer, Sport Chalet.
Philippe Jadoul, Vice President International, Flash Global Logistics
Jadoul was an instrumental force behind the set-up and maintenance of Flash Global Logistics' growing trade management capabilities worldwide. He helped expand the company's reach into import and exportation capabilities by working with IT to implement the processes into an automated system, allowing clients a window into the compliance process via a single screen tracking software application.
Bruce Johnson, CEO and President, GHX
The supply chain represents the second largest operating expense for most hospitals, but it is also the fastest growing. Johnson is currently leading an initiative through which the GHX user community is working to drive $5 billion in costs out of healthcare during a five-year time period that began in 2010. To date, GHX documented more than $2 billion in supply chain cost reductions and the GHX community is on track to cut another $3 billion in healthcare costs by 2014. Johnson leads the world's largest electronic trading exchange for healthcare to bring together provider, manufacturer, distributor and group purchasing organizations in a connected community designed to improve efficiencies, visibility and accuracy in the healthcare supply chain.
Andy Stinnes, EVP, Products and Strategy, GT Nexus
Stinnes has been instrumental in designing and developing the GT Nexus cloud supply chain platform, a unique multi-enterprise platform which helps companies monitor and control inventory flows around the world. Under his direction, the GT Nexus products and engineering teams have developed a platform that puts entire supply chain communities on the same information "page," all seeing and operating against a common information set.
The Team from IASTA
David Bush, Chief Executive Officer | Mireia Brancos, Managing Director of Sales, Northeast | Sean Delaney, Vice President of Global Sales | Scott McBride, Director of Global Alliances
Matt McCarrick, Managing Director of Professional Services | Jason Treida, Chief Operating Officer
Aligning the supply chain with the broader corporate strategy is always a work in progress. Since 2000, Iasta has provided customers with effective solutions in enterprise spend management through SRM best practices. It supports clients through its Sourcing Acceleration Center, designed to quickly ramp up or down Iasta's involvement with clients in order to help them meet deadlines and fill talent gaps. Bush has been integral to the growth of Iasta by supporting and influencing the development of new products and advisory services to help Iasta's clients become best-in-class procurement organizations. A 14-year veteran of the supply chain, Brancos continues to put procurement on the map, working with key leaders to help them viewing procurement as a strategic function in their organizations. In 2011, Delaney launched Iasta's sales enablement program and helped reposition Iasta's message in the marketplace. McBride led process improvements and the expansion of Iasta's spend analysis capabilities and sales support team. He also provides the expertise behind Iasta's sales strategy for its SmartAnalytics platform. McCarrick helps Iasta clients identify, understand and resolve strategic problems related to spend management. He led several consulting engagements for Iasta clients that have collectively achieved more than $225 million in realized P&L savings. Treida is leading the development of new training and augmented service opportunities to help clients offload and amplify their efforts to make a greater impact on the company.
Fabio Domenech, General Manager, Latin America, Procurian (formerly ICG Commerce)
Combining strategic, operational and organizational experiences, Domenech believes that supply chain is crucial to properly deploy a corporate strategy. Different industries have specific needs and requirements, and in some, supply chain can really be the differentiator between being the leader or not in the marketplace at all.
Kevin Gavin, Senior Vice President, Supply Chain Services, IES, Ltd.
EDI integration remains the key challenge when delivering automated global supply chain management solutions. The key visionary behind the eCellerate product group at IES, Gavin consults regularly with CBP and customers to provide Web-based security and supply chain management solutions to global trading partners.
William Leedale CFPIM, CIRM, CSCP, Senior Advisor for Manufacturing & Engineering, IFS North America
There are three main areas where supply chain professions' focus lies for 2012: sustainability, supply chain risk, and sales and operations planning (S&OP). Together with IFS, Leedale works with customers to educate them into how they can use the IFS product to track the CO2e and other materials used in the supply and to roll up these factors to first present where they are and then how they can improve.
Mark Wright, Chief Information Officer, Inmar
The supply chain is ripe with data that can provide a company with the necessary insight to meet its goals. When companies don't collect data from their forward and reverse supply chains, they lack visibility to the root causes of inefficiencies that impact the top and bottom lines, such as hidden damage and inaccurate deliveries. Throughout his 30-year career, Wright demonstrated keen insight as to how computer infrastructure and business processes can deliver tangible enterprise benefits. At Inmar, Wright leverages this insight to help ensure manufacturers and retailers have access to the data needed to build more efficient, effective and safer supply chains.
The Team at Insight Sourcing Group
Tom Beaty, President & CEO
Brent H Eiland, Executive Vice President
Since 2002, Beaty and Eiland have worked hard to grow the company in terms of clients, resources and tools and meet client satisfaction and successful sourcing projects. Speed to results and deep expertise are the key thing Beaty provides his clients with, which enables them to meet sometimes unrealistic goals and save jobs as the companies are able to reduce costs in the procurement of goods and services as opposed to head count reduction. Many organizations don't have the personnel, tools or expertise critical to optimize their supply chain activities. To address these challenges, Eiland helped lead the company's development of delivery structure, project methodologies and diagnostic tools and leveraged all of these to solve significant client supply chain issues.
The Team at JDA Software
Joseph King, Senior Vice President, Cloud Services, JDA Software
Paula Natoli, Sr. Director, Product Management, JDA Software
Key challenges facing customers and their supply chains are not so much the problem of who to run their cloud but rather how to handle, access and interpret all of the available information in the supply chain. With 28 years of experience in software services, consulting and cloud computing, King leads JDA's cloud offering to help customers better understand the ability to deliver supply chain expertise via the cloud. Natoli focuses on demand management, collaboration and S&OP processes and engages with companies to determine new functionality to develop into the JDA software that is being leveraged by customers to run their supply chains on a daily basis.
Anne Omrod, President & CEO, John Galt Solutions
The recent recession and current economic recovery pose several challenges for planners. Data integrity has been a difficult issue for John Galt's clients in the past year, as historical data from the peak of the recession is unlikely to predict the performance of clients' business in the recovery. Omrod has driven a redesign of John Galt's software to help deal with this—with the most recent release of John Galt's Atlas Planning tool which offers supply chain teams new options to forecast products where the data may not be reliable. She helps supply chain executives improve their forecasts, lower inventories and better balance supply and demand via solutions provided by her company.
James V. Kelly, C.P.M., CEO JVKellyGroup
Over his 30-year career as a sourcing and procurement professional, Kelly has used metrics to increase purchasing performance; process re-engineering; change management; contract negotiation and supplier management.
Diego Pantoja-Navajas, Founder, President and CEO, LogFire LLC
Logfire founder Pantoja-Navajas views the supply chain as an opportunity to gain an edge in an increasingly competitive economy. By bringing a Software as a Service (SaaS) model to the warehouse management space, companies no longer have to fork out a large upfront investment for their supply chain technology. A forward-looking industry leader, he leveraged his deep supply chain expertise to provide a suite of SaaS products for the supply chain industry based on a cloud or on-site hosting model.
Michael Edenfield, President and CEO, Logility
Today, companies face two key challenges: forecast accuracy; and balancing cost and service levels. With an eye towards innovation, Edenfield realizes companies want a
powerful, scalable system that will take them through good and bad markets. They want a system that is intuitive to use, implemented quickly and delivers a fast ROI. His grounded business practices and conviction to focus
on the customer has helped Logility become one of the leading supply chain solutions providers.
Matt Akin, Regional Manager, Metafile Information Systems, Inc.
Akin recognizes that the most significant challenges facing supply chains in the year to come are factors that threaten productivity in the accounts payable (AP) and accounts receivable (AR) departments, including a surplus of paper, a lack of visibility and process-based breakdowns. He helps customers work with their vendors to eliminate paper before it is ever created. One example of this is the implementation of MetaViewer's email capture capabilities, that automatically process incoming invoices and inputs the data into the system.
Charles Dominick, SPSM, SPSM2, President & Chief Procurement Officer, Next Level Purchasing Inc.
Over the last year Dominick developed the Next Level Purchasing Association (NLPA)—a free, online purchasing association, created three new Express courses on the topics of services contracting and business ethics, co-authored a procurement book, and is currently working on a full-length course on inventory management to be released in 2012. Dominick plans to continue offering new courses that cover rising trends in the purchasing field and developing course delivery techniques and student services which enhance the students' experience and the value achieved by their employers.
Robert A. Novack, Associate Professor of Supply Chain Management at Penn State, Smeal College of Business, The Pennsylvania State University
The challenges of acquiring, developing and retaining supply chain talent, paired with the exodus of seasoned supply chain leaders as they retire, must be addressed. Novack is involved in all levels of supply chain education at Smeal and has advanced the 'upstream supply' of potential supply chain professionals by working with the State College Area High School, State College of Pennsylvania to develop a supply chain college prep course for grades nine through 12.
Erin Moore, VP of Product Strategy, ProcureStaff Technologies
For more than eight years within the ProcureStaff Technologies organization, Moore has played a vital and pivotal customer-centric role in analyzing customer needs and designing and implementing customized Consol Vendor Management System (VMS) solutions that meet demanding customer objectives.
Craig Zawada, Senior Vice President, Pricing Excellence, PROS
Between fluctuations in raw materials and rising input costs, manufacturers are having a difficult time managing profitability and mitigating risk. Zawada works with companies to help them gain visibility into the financial supply chain and understand the impact of pricing decisions so that they could react in real-time. To meet those needs, he developed innovative new pricing concepts and ideas in the areas of market strategy, post-merger pricing, Internet pricing, pricing in distribution, price implementation and pricing infrastructure.
E. Allen West, CEO & President, Railinc Corp.
West believes that managing the health and vitality of freight rail cars is a challenge that his primary customers will continue to face and evidence supports it is a significant challenge. In leading Railinc since 2006, he has been instrumental in working with the rail industry and the Association of American Railroads to develop software systems that improve the effectiveness and efficiency of the North American rail network.
Emily Rakowski, Global Head of Procurement Solution Marketing, SAP
Rakowski plays a key role in driving SAP's leadership in the procurement area. She engages with prospects and customers to discover their biggest challenges, talks with the analyst community, regulatory bodies and industry associations about current issues and trends, and then works to define product requirements.
Dave Brooks, Senior Director, Strategic Business Solutions Supply Chain Practice, Software AG
The key challenge in the year ahead will continue to be the issue of supply chain visibility. Brooks continues to help his customers address this challenge through a concept called the "Path to Agility" which goes a step beyond measuring company performance through just financial metrics and instead deconstructs those metrics into the supply chain process components that support it to examine the effectiveness of a company's business model.
Robert F. Byrne, President and CEO, Terra Technology
Byrne meets regularly with executives from some of the largest consumer products companies to help manufacturers improve profits through supply chain efficiency. He recently established the annual Terra Technology Forecasting Performance Benchmark Study so that manufacturers could compare demand planning performance relative to leading consumer products companies, evaluate supply chain strengths and weaknesses, and adopt forecasting excellence best practices.
Kurt Cavano, CEO, TradeCard
By borrowing from today's popular social media model, supply chains can allow their entire network of parties to be updated instantly on orders or changes and to collaborate on better decisions. Cavano led a movement to address the financial side of the supply chain more than a decade ago. Today, he is the visionary behind a cloud-based platform that connects all parties in the supply chain including buyers, sellers, financial institutions, freight forwarders and customs brokers.
Chris Morrow, Vice President, Consulting Service Delivery, Volt Consulting Group
The struggling economy forced many organizations to add different types of labor inputs to their workforce as a means for increasing their competitive advantage. As a result, complex organizations are finding themselves with workforces that are not fully synchronized. Bringing human resources, procurement and finance together for maximum efficiency will go a long way in support of overall corporate strategies. With Volt Consulting Group for almost 10 years, Morrow developed deep expertise in client account management, solution design and service delivery of state of the art services procurement solutions to help clients better address such challenges.
2012 Pros to Know—Team Recipients
The Team at IHS, Supply Chain Experts
Gustav Ando, Director, Global Healthcare Products, IHS
Glenn Bassett, Vice President, Supply Chain, Global Products & Services, IHS
Daniel Bronstein, Senior Solution Engineer, Electronic Products & Solutions, IHS
Thomas Dinges, Principal Analyst, EMS & ODM, IHS
Dale Ford, Senior Vice President, Electronics Market Intelligence, IHS
Greg Jaknunas, Senior Product Manager, IHS
Rory King, Director, Supply Chain, Global Product Marketing, IHS
Sarah McDowall, Senior Analyst, Country Intelligence, IHS
Rick Pierson, Principal Analyst - Semiconductors, IHS
Kristal Snider, Vice President, ERAI Inc.
Mark Snider, President, ERAI Inc.
Greg Wood, Senior Product Manager, IHS
Scott Wilson, Senior Strategist, IHS
More Provider Pros to Know
Phil Marlowe, President and Founder, Acuitive Solutions
Mike Lee, CEO, Airclic
Ralph McCoy, Executive Vice President, Government Services, Apptricity Corp.
Andrew Bartolini, Chief Research Officer, Ardent Partners
James Tucker, Global Director, Product Marketing, Ariba Collaborative Finance Management Solutions; Drew Hofler, Director, Solutions Marketing, Working Capital Management, Ariba
Laura Rokohl, Chemicals Industry Supply Chain Manager, Aspen Technology
Michael Fiore, Senior Vice President, Distribution, Supply Chain and Federal, Axway
Esa Tihilä, CEO, Basware
Kelly Barner, Co-owner, Buyers Meeting Point
Travis Sumner, National Sales Manager, Cass Information Systems
Kevin Zweier, Principal, Transportation Strategy, Chainalytics
Rich Wilson, President and COO; Bob Dusch, Director, Client Services; Steve Brooke, CTO; Alex Kozak, Director, Account Management, CombineNet
Robert Wiedmaier, CEO, Container and Pooling Solutions (

CAPS

)
David Clevenger, Vice President, Corporate United
Jeff Silver, CEO, Coyote
Henry Singer, Solution and Business Architect Lead, CSC
Priyadarshan Deshmukh, Director of Global Operations, Denali Group
Chris Jones, EVP, Marketing & Services, Descartes Systems Group
Paul Strzelec, CEO, Digital Tempus
Leslie Lenhart, Director of Consulting and Business Development at DSSI, LLC and Director of

DSSI's

Mexican entity, Sourcing Direct International,

DSSI

William Gindlesperger, Chairman and CEO, e-LYNXX
Terrence Curley, Senior Vice President of Product Strategy, Management and Development; Martin Berr-Sorokin, SVP and General Manager for Supplier Lifecycle Management, Emptoris
Michael Schmitt, Senior Vice President of Marketing and Product Management; Rob Schoenthaler, Senior Vice President of Deployment, E2open
Michele J. Flynn, President, Expense Management Solutions
Betsy Harrington, Chief Executive Officer, The Faculty
Arun Srinivasan, VP Product Strategy and Marketing, Fieldglass
Matthew Bardell, Senior Director, Global eProcure (GEP)
Robert A. Rudzki, President, Greybeard Advisors
Jim Cantrell, Director, Channel Programs, Hubspan
Patricia J. Moser, President, i3 Advantage
Michael Lyle, President and CEO, InfinityQS International
Michiko Lloyd, Director of Global Solutions; Karen Lobdell, Director of Global Solutions; Kevin Shoemaker, Vice President of Global Solutions, Integration Point
Malcolm Buxton, President and CEO, Just Enough Software
Teresa Carroll, SVP and Global MSP Practice Lead, KellyOCG, Kelly Outsourcing & Consulting Group of Kelly Services
Mark Mototsune, Vice President of Research and Development, Kinaxis
Amy Villeneuve, President & COO, Kiva Systems
Bernard Gunther, CEO, Lexington Analytics
Jeffrey Wincel, Principal Partner, LSC Consulting Group
Dalip Raheja, President and CEO; Anne Kohler, Founding Partner and Executive Vice President, The mPower Group
Eric Anderson, Senior Associate; Tom Burson, Senior Associate, Pace Harmon
Joe Weisskopf, Vice President of Global Supplier Solutions, PrimeRevenue
Louise O'Sullivan, President and CEO, Prime Advantage
Rose Kelly-Falls, Senior Vice President of Supply Chain Risk Management, Rapid Ratings
Michael Mayoras, CEO, RedPrairie
Robert Arndt, Vice President, Lean Supply Chain Solutions, Ryder System Inc.
James A. Kandilas, Principal & VP, Consulting Services; Melissa Drew, Manager, Consulting Services, The Shelby Group
Omer Abdullah, Managing Director, The Smart Cube
Charles N. Smart, President & CEO, Smart Software
Joe Payne, Director of Strategic Sourcing, Source One Management Services
John Haber, Founder and CEO, Spend Management Experts
Joy McCaffrey, Senior Product Marketing Manager; Brian Daniels, CEO; Rod True, COO; Cindy Barlow, Senior Vice President of Sales and Marketing; Teressa Erickson, Director of Business Development; Bill Ryan, Director of Business Development; Sean Regan, Director of Partner Alliances, Spend Radar
Scott Bolduc, Senior Supply Chain Strategist; Jim Frome, EVP & Chief Strategy Officer, SPS Commerce
Nari Viswanathan, VP of Product Strategy and Solutions Marketing, Steelwedge
Jacqueline Bailey, President, TidalSeven
Susan Evans, Managing Director, Tompkins Associates
Ashif Mawji, President & CEO, Upside Software Inc.
2012 Practitioner Pros To Know—Team Recipients
The Team at Treya Partners
Rahul Ahuja, Partner
Mark Usher, Partner
Mark and Rahul helped Treya's private equity clients achieve significant improvements in the financial performance of their operating companies through the implementation of cross-portfolio procurement programs. These programs utilized best practices in spend analysis, strategic sourcing and consortium contracts to identify and implement cost savings opportunities in spend categories as diverse as telecom, transportation, office supplies, temporary staffing and commercial print.
More Practitioner Pros to Know
Chad Rosenberg, CEO, American Global Logistics
Shekar Natarajan, Senior Director of Supply Chain Planning, Anheuser-Busch InBev
Heather Rodgers, Chief Procurement Officer, Centrica
Gary Cooper, Senior Director, Supply Chain Operations, Cisco
John P. Willi, Director of Materials Management, Dana-Farber Cancer Institute
Don Dougherty, Managing Partner,

Denali Group

Mike McGuigan, CEO, Elemica
Jaymie Forrest, Managing Director of the Supply Chain and Logistics Institute, Georgia Tech
Scott DeFreitas, Strategic Supply Chain Manager, Hypertherm Inc.
Eddie Capel, EVP and COO, Manhattan Associates
Leonard Han, Vice President, Asia-Operations, ModusLink
Paul Stamas, Vice President of Information Technology, Mohawk Fine Papers
Gary A. Smith, Director of Supply Chain Operations, New York City Housing Authority
Carlton Adams, Senior Vice President of Global Supply Chain, Peabody Energy
Staci Hargraves, Senior Director, Global Clinical Supplies, Pharmaceutical Product Development
Don Klock, Professor of Supply Chain Management, Rutgers University
Todd Jadin, Senior Vice President & General Manager of Integrated Delivery Services, Schneider Logistics
Jason Liner, Product Marketing Director, SciQuest
W. Lamar Chesney, EVP and CPO, Suntrust Banks Inc.
Ben Cubitt, Senior Vice President, Consulting & Engineering, Transplace
Patrick McGivern, Senior Vice President, Global Supply Chain Operations, VeriFone Systems
More Supply Chain Team Pros
BMC's Global Procurement Contingent Workforce Team
DynCorp International
Fidelitone Logistics
Sodexo
Companies in this article