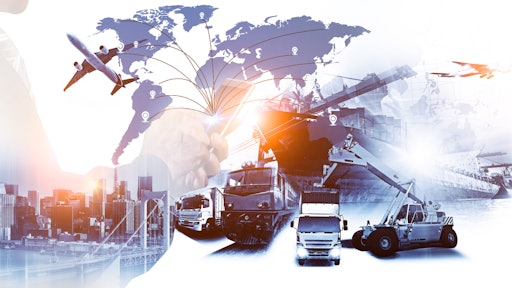 Travelmania/stock.adobe.com
Small to medium-sized businesses (SMBs) face many supply chain challenges that large companies don't face because they lack expertise or have limited resources. Small businesses often use manual processes to manage their logistics operations. Without visibility into its operations, the SMB doesn't know what is happening, where a shipment is or if there is an issue.
Small businesses may also experience fluctuations in demand, with high periods of demand followed by lulls. When this happens, the business may not properly use its transportation resources and may be competing with larger companies for these same resources.
Small businesses face a range of challenges when it comes to managing their transportation needs, which include:
Supply outages

Rising raw material costs

Labor shortages
Fluctuating transportation capacity and rates
Consumer demand variabilities
Sustainability laws and due diligence strategies
During the pandemic, over half of supply chain professionals experienced moderate disruptions in their supply chains that forced them to change strategies. Per FinancesOnline.com, businesses had to pivot their supply chains to find alternative sources, renegotiate contracts, modify distribution networks and much more.
Larger enterprises can deploy multimillion-dollar software applications to guide everything from sourcing to warehousing to overcome these challenges. Many SMBs remain stuck in yesterday. They need similar tools to the larger enterprises to be competitive, yet SMBs struggle to afford or understand these how technologies can help.
Automating Manual Processes
Many SMBs use paper-based processes and Excel spreadsheets to manage purchase orders, freight quotes and bills, damage or loss claims, import/export documentation and more. Automating processes that involve paperwork and manual tasks frees logistics managers to focus on growing their business and meeting customer needs.
Manual processes are prone to errors in data entry and lost documents. When these processes are automated, data entry errors are eliminated. Admin improves efficiencies by automating time-consuming tasks and eliminating double-entry errors. Automating order processing and fulfillment can help SMBs to process orders more quickly and accurately, which helps to improve customer satisfaction and reduce the risk of stockouts.
Technologies to Deploy
Transportation Management System (TMS). A TMS helps SMBs to improve efficiencies and save costs. By optimizing transportation routes and carrier selection, the TMS can reduce transportation costs by lowering mileage and fuel usage. Optimizing routes improve delivery times. Working with quality carriers means shippers improve customer satisfaction with more on-time deliveries and better responsiveness. While quality carriers may charge higher rates, the higher level of service and reliability justifies the cost.
A TMS hosted in the cloud uses APIs for easy integration with other systems, such as load boards, accounting apps, IoT devices and business intelligence tools. SaaS-based TMS models are supported by the vendor, so users don't have to worry about employing an IT staff for software implementation and upgrades, which helps to keep operating costs at a minimum.
A TMS provides visibility into transportation processes to track shipments from the point of origin to the end customer. Customers will be alerted if there is any delay in a shipment. By tracking shipments, small businesses can identify inefficiencies in their operations and work to make profitable decisions on improvements.
A TMS can help businesses select the most sustainable transportation mode, such as rail versus truck. Businesses can consolidate shipments to reduce the number of vehicles needed for transportation, which reduces fuel usage. A TMS can also address backhaul challenges to help trucks ship fuller, so space is not wasted.
Some TMS systems provide route optimization features that can optimize transportation routes to reduce fuel consumption, speed fulfillment, and minimize emissions. The TMS uses algorithms and data analysis to optimize routes for greater efficiency, cost savings, and environmental impact reduction. Route optimization systems consider vehicle types, load size, traffic conditions, time windows, driver availability and capability and delivery requirements to create the most efficient route. The system optimizes the routes based on predefined optimization criteria, such as reducing delivery time, minimizing the number of vehicles required or minimizing fuel consumption and carbon emissions. The system may also simulate multiple scenarios to find the best possible routes for a given set of parameters.
Sourcing Marketplace. A supply chain sourcing marketplace is a digital tool that connects suppliers and buyers, allowing companies to streamline their procurement processes by providing a centralized location for sourcing and purchasing goods and services from multiple suppliers. The marketplace may provide tools to evaluate suppliers based on pricing, quality, product availability and delivery time. When an SMB uses a sourcing marketplace, they gain the advantage of choosing from a broader range of suppliers. Sourcing marketplaces facilitate buying power through access to a large supplier pool, helping SMBs negotiate better prices for goods and services.
Inventory Management. Keeping tabs on your inventory levels is critical for businesses of any size to help minimize costs and ensure timely delivery of products to customers. An inventory management system must manage safety stock levels, forecast demand, and optimize inventory turns. The inventory system uses historical sales data to forecast future demand, allowing businesses to optimize inventory levels and avoid stockouts.
GPS, ELDs, and Telematics Devices. Transportation technologies, such as GPS, ELD and Telematics systems, can improve trucker navigation and help shippers track shipments. GPS devices provide real-time information on vehicle locations, traffic conditions and optimal routes to help drivers avoid traffic congestion and reduce fuel consumption. ELDs track driving time, hours of service and other information used to improve safety and compliance. Telematics devices provide real-time information on vehicle location, speed, fuel consumption and other key performance indicators. These devices can provide real-time data on fuel consumption, carbon emissions and other sustainability metrics, allowing businesses to track their carbon footprint and identify areas for improvement. These transportation devices can improve efficiency, customer service and sustainability.
Network Optimization. A supply chain network optimization system is a software application that uses mathematical models and algorithms to optimize the design and operations of a supply chain network. The system considers various factors, such as transportation, production, inventory and demand, to identify the optimal configuration of the supply chain network that meets business objectives, such as minimizing costs, maximizing service levels, or reducing environmental impact. The network is designed to provide the optimal location and number of production facilities, distribution centers and suppliers.
SMBs should use transportation management systems that are designed for small to medium-sized businesses to address their transportation challenges. Some TMS vendors offer a basic version of their software for free, with limited features and challenges, to help SMBs get started managing their transportation processes. A TMS freemium model offers basic features, such as shipment tracking, carrier selection and basic reporting, at no cost to the user. This allows small businesses or companies with limited transportation needs to access basic transportation management capabilities without investing in a full-featured TMS. Users can upgrade to the software's premium version, which offers more advanced features like claims management, freight bill audit and payment, advanced analytics and reporting.